George Best: Why Manchester United Doesn't Need a Lionel Messi
April 3, 2012

Getty Images/Getty Images
What more is there to say about Lionel Messi? 234 club goals, five La Liga titles, three UEFA Champions League winners medals, two FIFA Club World Cups and a Copa del Rey, all for his beloved Barcelona.
Oh, and the small matter of being the recipient of the prestigious Ballon d'Or three years in a row. Critics have run out of superlatives for the diminutive Argentine genius—he's surely the greatest player of all-time?
That is, of course, if you base a player's prowess on landmarks and achievements.
It is unarguable that Messi is one of the greatest players to have graced the sport. Aside from his tremendous list of club and personal accolades, watching him perform is a joy to behold. It seems a long time since the world watched a footballer take to the field with such boyish vigour—and have the skills to match the dynamism.
He plays with a smile, a cheeky impish grin plastered across his face every time he dinks, rounds or bamboozles a 'keeper for yet another goal.
However, there is one man who will always be regarded by Manchester United fans as the real entertainer of the sport. Long before Messi was sticking five past Bayer Leverkusn or single-handedly demolishing arch-rivals Real Madrid, there was a young lad from Belfast who was making fools out of defenders with virtually every touch of the ball.
In the sacred hallows of Old Trafford, where greats such as Charlton, Robson, Cantona, Keane and current Messi-nemesis Ronaldo are revered, Messi is but a mere pretender to the crown of the greatest footballer ever.
A bold claim? Almost certainly. For one, many will ask, where are the greats of the game—Pele, Maradona, Cruyff, Platini? The rest will dispute ever labelling Messi a "pretender."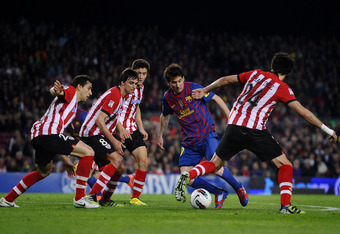 David Ramos/Getty Images
For every record shattered, every landmark surpassed seemingly with the utmost ease, there remains the straightforward case that, as a footballer, Messi is simply not the greatest ever. Second, arguably—and it is a very strong argument—but best? The man with the fitting name takes that one.
As a pure footballer, George Best was everything Messi is and more.
Despite playing for one of the most successful club teams in football history, with 60 recognised honours, George Best has a rather modest haul in winners' medals in comparison with Messi. Still, let this not diminish the magnitude of Manchester United's achievements during Best's time, nor Best's own ability as a footballer.
With the ball, Messi is virtually unstoppable. Now imagine him on a quagmired, half-frozen pitch with Ron "Chopper" Harris making repeated attempts to break his legs. Not quite the same image. This is what George Best had to put up with nearly every week.
When people employ the hyperbole "the ball is glued to his foot!" it cannot be any truer than when applied to Best. Fancy tricks were almost nonexistent in the world of "El Beatle;" instead a drop of the shoulder, a feint, a jink were all that it took for the whippet-quick Best to dart round two, three, four players in the space of a few seconds.
On pitches that resembled "No Man's Land" more closely than they did billiard tables, Best very rarely lost control of the ball. He was an entertainer—playing seemingly for the pleasure of the sport and for the fans themselves.
Who else but Best would take to the pitch for a World Cup qualifying match against Holland (midway between successive World Cup final appearances) with the sole intention of nutmegging the then World Player of the Year, Johann Cruyff?
As the story goes, five minutes into the game, Best—who was out on the right wing—received the ball, immediately cut inside instead of heading toward goal and beat four Dutch players to find Cruyff out on the opposite wing. A jink of the shoulder later, Cruyff had been successfully nutmegged and a delighted George Best was punching the air as he made his way toward the goal.
For sheer footballing brilliance and bravado, George Best remains simply unmatched. There are many questions that still linger, the biggest two being: what would he have become had he beaten the bottle?  And what if he had been born into one of the great footballing nations? For, of course, Best never graced the 'biggest" stage of them all, the World Cup.
If anything, records, and to some extent, even trophies, seemed inconsequential to the maverick George Best. Though he collected winners' medals for the first division on two occasions (1965 and 1967) and one for the revered European Cup (1968) Best is quoted as saying, "I used to dream about taking the ball round the keeper, stopping it on the line and then getting on my hands and knees and heading it into the net." He later added, "When I scored against Benfica in the European Cup Final I nearly did it. I left the keeper for dead, but then I chickened out. I might have given the boss a heart attack."
That a player would even dream of doing that on the greatest club stage of all is almost unimaginable, but then again, no other player is George Best.
And on the subject of Benfica, who could forget Best's masterclass performance in the quarterfinal of the 1965 European Cup, where he was transformed into the most recognisable footballer almost overnight?
This wasn't a weak Bayer Leverkusen side playing the mighty Barcelona with seemingly no chance of qualifying; this was a team that were unbeaten in 19 European Cup matches at home and with the current Ballon d'Or recipient spearheading their formidable attack.
Inside 12 minutes, Best had scored a glancing header before scoring a wondrous goal with a feat of Usain Bolt-like acceleration to take him past three Benfica defenders en route to his second. Aged just 18, "El Beatle" was christened.
Another great achievement of Best's came not in the form of a medal or trophy but in sheer brilliance as almost single-handedly decimated Fourth Division Northampton Town in the fifth round of the FA Cup in 1970. An 8-2 scoreline, 6 goals for Best, the last of which will go down in legend as he sent the 'keeper sprawling with a drop of the shoulder, leant on the post for a breather and knocked the ball into an empty net.
Lionel Messi is a gifted sportsman who appears more than happy to simply be able to play the game in the way he desires. It just so happens he is incredibly good at playing the game, and with every goal he scores, every record he breaks and every trophy he wins with Barcelona, his appetite only seems to grow. Not one football fan could deny how wonderful an attitude that is.
As for George Best, his musings on the game were as follows, "I wanted to outdo everyone when I played." The tragedy of his career was that when there was no one left to beat, he simply got bored; and the love of football was superceded by booze, girls and cars.
When the mercurial genius passed away from multiple organ failure attributed to alcoholism, a memorial was held for him a few days later as United faced West Brom, ironically the team the great man made his debut against. 75,000 fans held aloft pictures of their all-time hero as the entire of Old Trafford fell silent for sixty seconds.
A player of Messi's talent would always be welcomed by the Old Trafford faithful, but he could win as many Ballon d'Ors as he likes, he'd just have to settle for second place. Oh, and even then, he'd have to ask King Eric very politely if he'd mind stepping down off the podium.
Good luck, Lionel.