Big Ten Football: Denard Robinson Leads Heisman Hopefuls in 2012
March 23, 2012

Gregory Shamus/Getty Images
It's going to be a banner year for Big Ten football in 2012, and there's a very real chance that for the first time since Troy Smith in 2006, a Big Ten player will be holding up the Heisman Trophy this December. Here's a look at the Big Ten's best shots at coming home happy from the Downtown Athletic Club this season:
The Front-Runner
Denard Robinson, QB, Michigan
Denard Robinson's senior season is finally upon us, and with that comes an appreciation for all he's done for Michigan football in his tenure at quarterback. The Heisman committee likes the do-everything player (Charles Woodson), the dual-threat quarterback (Robert Griffin III, Tim Tebow, Eric Crouch), and the B1G player who sets a career rushing record for his position (Ron Dayne). Michigan's going to need another double-digit win season and probably a trip to the Big Ten Championship Game at a minimum to keep Robinson in the Heisman conversation, but that's hardly too much to ask of the Wolverines in 2012.
Also in the Mix
Montee Ball, RB, Wisconsin
Now, some might look at this list and say, "I protest! Montee Ball was a Heisman finalist last year! He should be higher than Mr. Robinson!" Indeed, Mr. Ball was. He scored 39 total touchdowns in one season, which is insane, and ended up fourth in the Heisman voting. 39 touchdowns... fourth place. Ball's problem is that I don't see how he can do any better than in 2011, and this time he won't have Russell Wilson leading the charge on offense. At best he'll have Danny O'Brien as his quarterback, and more likely he'll have Jon Budmayr, who has not given much of an indication that he's a starting-caliber Big Ten quarterback. I fully expect Ball's numbers to dip in 2012 for those reasons, but he's still a fantastic running back.
Rex Burkhead, RB, Nebraska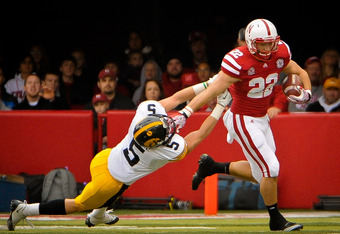 Eric Francis/Getty Images
Rex Burkhead got a little bit of Heisman hype last season before it became apparent that A) he wasn't the best running back in his own conference, and B) the Heisman class was unbelievably loaded in 2011. Seriously, look at the years Matt Barkley and LaMichael James had, then consider the fact that they weren't even Heisman finalists. Anyway, this is Burkhead's swan song at Nebraska, and the Huskers will be leaning on him just as much as last year, when he firmly established the fact that he was a workhorse of the highest caliber. There's very little sex appeal to Burkhead's game, no jaw-dropping agility or 95-yard touchdowns, so he's going to have to fill the stat sheet instead, and do so in big games. I suppose that would be "Rex appeal," instead.
This Would Be A Surprise But Okay
Braxton Miller, QB, Ohio State
Braxton Miller has world-class athleticism and throws a pretty decent ball, so his potential is basically limitless. He's also a true sophomore, however, and adjusting to a new head coach and a new position coach; presumably, his offense will be different too. Assuming nothing calamitous happens, Miller's going to be on the list of 2013 Heisman candidates, but he's probably not going to make the leap to superstardom this season.
Le'Veon Bell, RB, Michigan State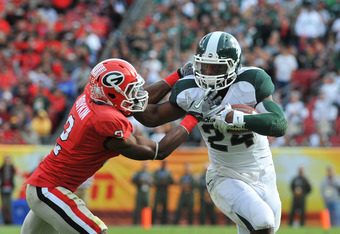 Al Messerschmidt/Getty Images
Last year looked like a step back for the Michigan State rushing game; it was 11th in the Big Ten in rushing yards per game, and Edwin Baker was so frustrated by his playing time getting eaten into by Le'Veon Bell that he just declared for the NFL draft, despite some numbers that would be charitably described as "modest." But despite playing in a pass-heavy offense and sharing snaps with two other decent running backs, Bell still managed 13 touchdowns and almost 1,000 yards in 2011. All those talented receivers that MSU depended on last year are gone, and so is QB Kirk Cousins. Thus, this should be Bell's offense in 2012, and that should mean much bigger numbers and a much better Heisman profile.
James Vandenberg, QB, Iowa
3000 yards, 25 TDs, and six interceptions in a QB's first year starting is mighty, mighty good. James Vandenberg's going to need to add at least 10 touchdowns to his yearly total if he wants to start thinking about New York—and Iowa's going to have to pull a major resurgence in the win column—but there's no question the guy can throw as well as anybody in the conference.
Archie Griffin, RB, Ohio State
He's overdue for Heisman No. 3.