NCAA Tournament 2012 Schedule: Seniors Who'll Be Guaranteed Winners Tonight
March 23, 2012

Mike Ehrmann/Getty Images
Being a senior in the NCAA tournament means that with one loss your college career is over. It's why tonight we will see a huge performance from North Carolina's, Tyler Zeller and this other senior. 
Zeller will lead the Tar Heels to a Sweet 16 victory over the Ohio Bobcats, despite the Tar Heels missing one of their best players—point guard Kendall Marshall. 
Tyler Zeller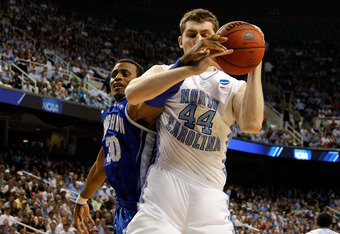 Mike Ehrmann/Getty Images
Zeller has been a driving force for the Tar Heels this year. He finished second on the team in scoring, rebounds and blocks averaging: 16.4 points, 9.4 rebounds and 1.4 blocks per game. 
During the NCAA tournament, Zeller has put up solid numbers averaging 14 points and 10.5 rebounds. Zeller did have his best outing in the opening game for the Tar Heels with 17 points and 11 rebounds. 
Zeller cooled off against Creighton only scoring 11 points and grabbing six rebounds. 
However, in both games Zeller made four field goals, with his shooting percentage improving. Against Vermont, Zeller shot .444, while against Creighton he shot .571.
Zeller will provide a double-double stat line tonight against Ohio, giving the Tar Heels 18 points with 10 rebounds with a shooting percentage around .500.
C.J. Williams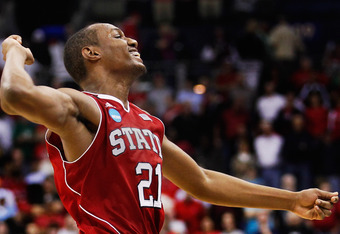 Rob Carr/Getty Images
Williams is having a great senior year, as he's had his best stats during his four years at North Carolina State. He's doubled his points per game, from 4.7 to 10.6, while increasing his minutes per game, field goal percentage, steals, rebounds and assists. 
During NC State's shocking tournament run, Williams has had two solid games. Against San Diego State, Williams may have only had six points, but he was able to grab seven rebounds while playing 34 minutes. 
However, against Georgetown, Williams led the Wolf Pack in scoring with 14 points helping them pull off a shocking upset over the No. 3 seeded Hoyas.  Williams shot an effective 5-12 (.417) from the field, while going 2-5 (.400) from three-point land. 
Williams will be a factor tonight against the No. 2 seed, Kansas Jayhawks. He will find a way to score in double figures, going off for 16 points and 10 rebounds. 
These two seniors do not want to see their season come to an end tonight. They will carry their team with solid efforts, that will result in a Sweet 16 victories.