Yaya Toure: Is the Manchester City Star the Best Player in the World?
March 23, 2012

Laurence Griffiths/Getty Images
Forget Cristiano Ronaldo and Lionel Messi. Forget the spectacular goals and mind-blowing aura that exude every time these two stars of the Spanish league step onto the pitch. Forget the idealized notion that their style of play is what every child should aim for.
Yaya Toure is really the best player in the world.
Now, before you dissect this bold and contentious statement, bashing me for everything I am worth, understand the philosophy I approach the game with.
I love to watch Messi make his runs. The way the ball glues itself to his feet is on the same level of mysticism as Willie Mays' over-the-shoulder catch at the 1954 World Series—the kind of play that no matter how many times you watch it, it leaves you scratching your head.
His surpassing of Catalan legend César Rodríguez to become the all-time leading goal scorer at age 24 is the kind of accomplishment that speaks volumes to his legacy.
His chief rival in the debate for best player in the world is also his main rival in Spain, Cristiano Ronaldo.
The Portuguese winger/forward is the most devastating player in the game. He can crush shots from 35 yards at a standstill, has a pace that is unrivaled by any defender he may encounter and can pinpoint a pass with laser-like precision.
These two are phenomenal players. They are the stars on star-studded teams. The question is often posed simply as such: Messi or Ronaldo? We all know what it is asking.
But for all the pure brilliance the two phenoms bless us with, it is always limited to one side of the ball. We rarely see them becoming integral into their sides' defense, and they often are even coached to rarely distance behind the halfway line.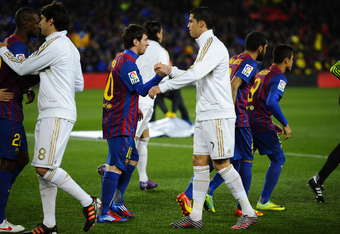 David Ramos/Getty Images
This is, of course, a smart tactical move. Why would you want to risk the injury and exertion that comes with defending, when instead you can have them comfortably sitting and waiting to display the qualities that make them great?
But it is still inaccurate to declare these players as the best all-around in the game. This is where the argument for Yaya Toure begins.
Never will he have the kind of unmitigated star power that the La Liga studs do. His brand will never reach as deep into the pockets of the fans. His accomplishments in terms of success will also never meet their levels. But this has to do more with the role he plays than the quality of his game.
As a holding midfielder, his game is more subtle. It is about being a pivot point in the attack and the buffer for the defense. If you noticed, neither of those incites heroism on a direct level, but rather the first-point action.
In a game where stats are almost indefinable in subjectivity, they become even vaguer when the role of the player himself is blurred. But there are some which are less debatable than others, such as passing accuracy.
Toure leads the English Premier League with incredible 91 percent passing on 1,848 passes. Messi settles in at a more average 84.5 percent and Ronaldo at 80.9 percent—hardly making a case for teammate of the year.
It is, of course, easy to argue that Messi and Ronaldo are not as much passers as they are scorers, and this would be true. But to the same accord, Toure is not a scorer, but a passer, so it would become more a question of how each stacks up in his respective role.
Messi and Ronaldo clearly dominate any kind of international scoring title, but how does Toure play into a theoretical "passing title"?
If this title were to exist, the front-runner would likely be Messi's teammate, Xavi. There is little denying his ability to be a playmaker for his team. On the season he has slightly better accuracy than Toure at 92.5 percent and seven assists compared to Toure's four. The numbers alone give Xavi a slight edge, but the eye test could suggest otherwise.
Barcelona is renowned for their "beautiful" approach to the game. The finesse they display in meticulous movement of the ball has captivated the footballing world. They average more passes a game than any other team in the world, but this is based mostly on their short, indirect approach to the game.
Compare that to City, who are much more aligned with the English style of directness. Nearly half of Toure's passes are going forward, with only 11 percent going back—an astonishing sum given the accuracy of his game.
Furthermore, the amount of possession would further indicate why Toure could be the better passer. As of mid-January, Barcelona was averaging possession at over 70 percent. City, on the other hand, hovered around 58 percent, a comparably small number given their prowess in their league. Not only is Toure playing a more direct game, but he is doing it with fewer opportunities. Statistically speaking, he makes more out of his passes than Xavi in terms of opportunities.
When you also add in the fact that the teams surrounding the two are vastly different, the argument weighs more in the Ivorian's favor. Xavi may be the best passer on his team, but he has plenty of help around him. Nine other players on Barcelona who have started in at least 10 games have a passing percentage of 89 percent or better. With those same parameters, Toure is only accompanied by Samir Nasri at City.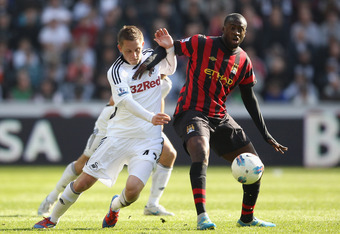 Scott Heavey/Getty Images
So while it is unclear exactly who is the better passer, it is quite obvious that there is no definite winner. Much like who is the better goal scorer, this topic remains up for debate and may fall more along party lines than anything. But the fact that he is in the debate for the title should make him relevant to the grand question of who the game's best player is.
Just as he is separated from Messi and Ronaldo by his role, he is also separated from Xavi by being the more complete midfielder.
His defensive responsibilities play in a much greater deal to his overall argument for being the world's best. While at Barcelona and a teammate of Xavi and Messi, he was a truly integral part of the entire makeup of the team. Some could even argue that the abilities of the others were in some part due to Toure's reliability on defense.
Toure arrived at Camp Nou in the summer of 2007. That season, they lost to Real Madrid twice and finished runner-up in the league. But it was also a period of transition for the team, when it became quite obvious that the likes of Rafael Marquez, Thierry Henry and Gianluca Zambrotta were no longer useful.
Following the team's transference to Pep Guardiola, Barca went on a run that saw them win the treble in 2009 and the league in 2010. It was an explosion of offense, the likes we had not seen before, but all anchored in the defense of Toure. Messi, Xavi, Andres Iniesta and even the full-backs could bomb forward with ease, knowing that one of the best cover men in the game had their backs.
Further evidence of his quality showed once he left Spain. While the winning ways continued, there was a frailty to the kings that did not exist before. Madrid finally got their victory in the Copa del Rey final and today are sitting comfortably atop the table six points clear.
But as things became more equal in Spain, England was skewing more toward City. Much can be made about the purchasing of Sergio Aguero, Samir Nasri, Joleon Lescott and Carlos Tevez, but none of those names proportionally raised the competitiveness of the club as much as when Yaya Toure was brought in.
He solidified a much-maligned midfield whose ability to go forward never made up for its liabilities going back. In his first season in Manchester, the team jumped from fifth in the league to level on points with Chelsea for second. This season, they got their first glimpse of being on top in over 50 years, as they are now in a position where they can control their own fate heading into the home stretch.
Everything I have laid before you is up for debate. As previously mentioned, stats in a team game such as football can be misleading and are always manipulated to favor the argument. I am not writing this to claim some sort of radical change in the perception of the world's best player, but I think the evidence supports an expansion that should include Yaya Toure.
I really would like to see how the fans (you) reason this. Do Toure's stats and intangible qualities match up to the sheer goal-scoring fortitude of the incumbents? Or does what Messi and Ronaldo are so much greater than anyone else in the game in mean that they deserve to stand alone?
Let's get a good debate started that at least explores the notion of potentially challenging the status quo!
Follow me on Twitter: @thecriterionman