New Jersey Devils: Top 5 Prospects to Be Excited About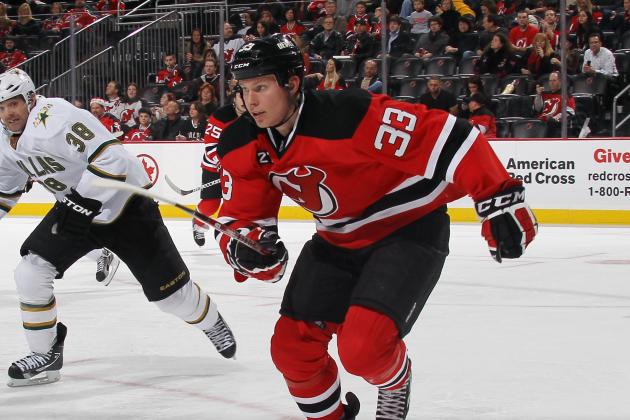 Bruce Bennett/Getty Images

Over the past few years, the New Jersey Devils brass has built up the organization's farm system, gathering talent from around the globe and synthesizing a group of players that could one day be the core of a proud franchise.
The following list is made up of skaters, so the three-headed-goalie monster of Maxim Clermont, Keith Kinkaid and Scott Wedgewood is not included. To be considered for inclusion on this list, a player must not have played in more than 20 NHL games, so rising stars like Jacob Josefson, Adam Larsson and Adam Henrique will also not be found in this ranking.
These players have come from far and wide, across continents and oceans to compete for the team we love, so without further ado, here are the top five prospects for the Devils.
Begin Slideshow

»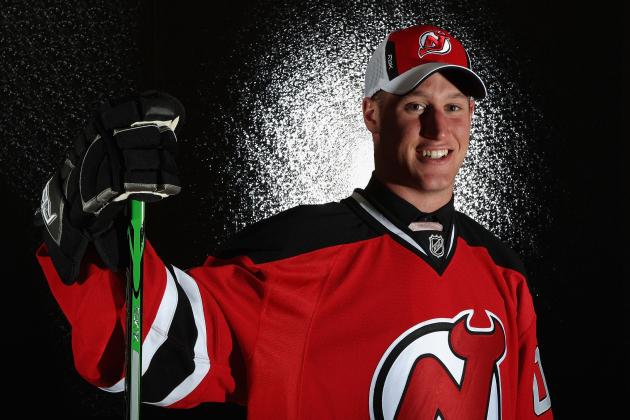 Andre Ringuette/Getty Images

The Devils' second-round pick in the 2008 NHL entry draft, Brandon Burlon is an all-around defensive commodity, utilizing quickness in his own end to defend on-rushing forwards, while also possessing the ability to lead an offensive rush and set up an offensive zone attack.
Burlon spent three years playing for the University of Michigan Wolverines before making the jump and entering the professional landscape by joining the AHL's Albany Devils for the 2011-2012 season.
He has played in 51 games and owns a respectable minus-3 rating, which is pleasantly surprising considering his team only wins about half of its games and has given up almost 30 more goals than it has scored.
The 6'0", 190-pound 22-year-old is still developing as a quality defenseman, but his promise is undeniable. He will need to fulfill that promise if he is going to separate himself and rise above the rest of the crowded pool of defensive prospects in New Jersey.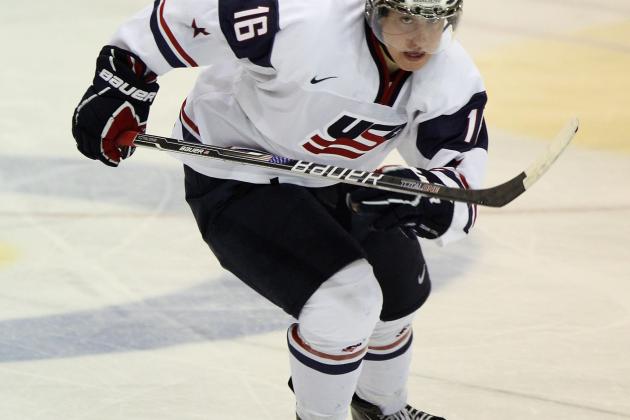 Bruce Bennett/Getty Images

Born and raised in East Lansing, Michigan, Reid Boucher was drafted by the Devils in the fourth round of the 2011 NHL entry draft with the 99th overall pick.
Renowned for his wickedly accurate shot and quickness on the puck, Boucher has produced a quality season with the Ontario Hockey League's Sarnia Sting, notching 50 total points including 28 goals and 22 assists in 67 games played.
In fact, he is only three twine-seekers behind the No. 1 prospect in the world, Nail Yakupov, for the Sarnia Sting team lead in goals, though Boucher has competed in more contests this season.
At 5'10" and 192 pounds, Boucher is an offensive force who has only gotten better as he has ascended the ranks of the hockey world. At just 18 years old, look for him to get his chance on the big stage sooner rather than later.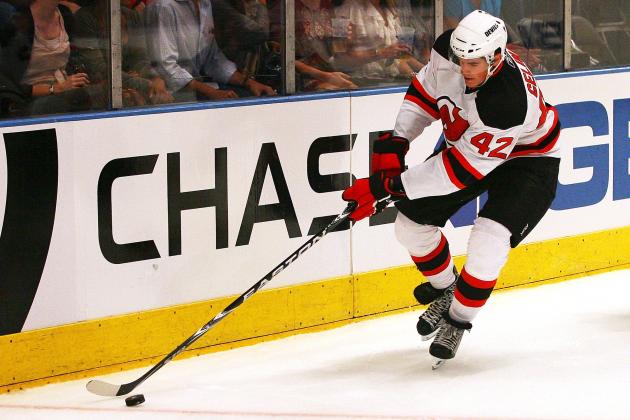 Andrew Burton/Getty Images

Eric Gelinas is a 20-year-old Canadian defenseman who the Devils picked up with the 54th overall pick in the second round of the 2009 NHL entry draft.
Since then, Gelinas spent two years in the Quebec Major Junior Hockey League, first for the since-folded Lewiston MAINEiacs, then with the Chicoutimi Sagueneens and finally for the Saint John Sea Dogs.
Gelinas is brimming with raw talent and offensive instinct.
A converted forward, it may take Gelinas some more time to raise the level of his defensive play to adequately compete in the NHL, but at 6'4" and about 205 pounds, he has the natural tools to become a feared defender to complement his offensive flair and devastating shot.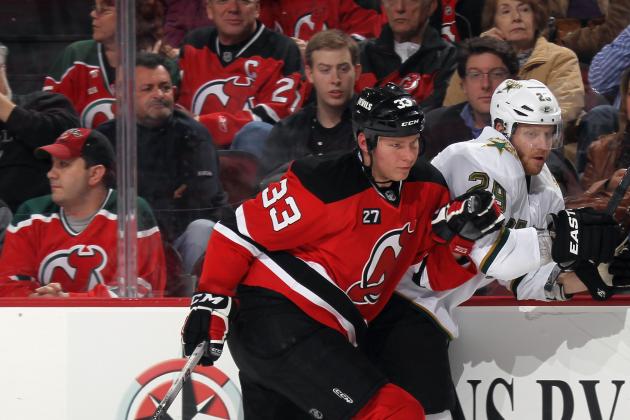 Bruce Bennett/Getty Images

The 20-year-old Alexander Urbom is a physically gifted specimen of a hockey player. He stands at a daunting 6'5" and uses his 215 pounds of defensive matter to patrol his blue line and stand up opposing forwards.
Urbom was drafted by New Jersey in the third round of the 2009 NHL entry draft with the 73rd overall pick. He got his first taste of NHL action during the disastrous 2010-2011 season, when he played in eight games that saw him score his first NHL goal and finish with a minus-2 rating.
Urbom then experienced his second dose of big league action at the beginning of the 2011-2012 season, as he played in five games, scored his second career goal and earned a very respectable plus-1 rating.
Urbom has spent the rest of the current season in Albany, as he was pushed from the big club by a multitude of proven veterans and elite rookie Adam Larsson.
If he continues the upward trend of offensive production and defensive reliability, it would surprise no one to see Urbom as a mainstay in the Devils lineup as early as next season.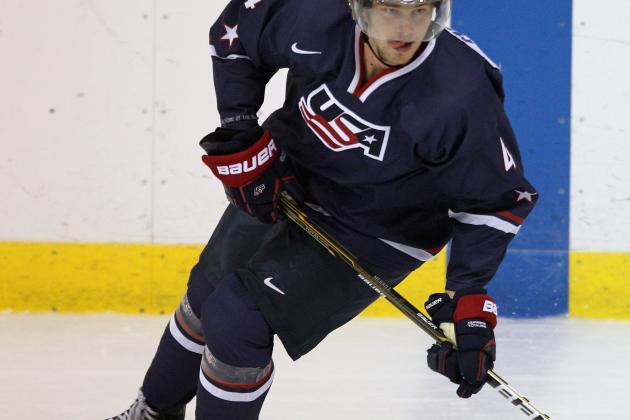 Bruce Bennett/Getty Images

By now, most of the hockey community has, at the very least, heard mention of Jon Merrill's controversies and suspensions during his time with the University of Michigan. He was suspended for 12 games at the beginning of the current season for "team violations" and undisclosed off-ice issues.
Despite his somewhat shady history, 6'3", 210-pound Merrill was drafted in the second round of the 2010 draft as the 38th overall pick. The general consensus is that GM Lou Lamoriello got a second-round pick with top-10 talent whose off-ice antics scared suitors away from the idea of spending a first-round selection for his services.
Merrill's freshman year at Michigan saw him amass 25 points, including seven goals in 42 total games played. The following year, after his reinstatement with the team following his suspension, Merrill was stellar, posting 11 points in 18 games.
There is no doubt that Merrill is a bit of a wild card, but the general consensus is that he is working hard to get his career back on track at the University of Michigan, on the ice and in the classroom.
Whether or not Merrill will decide to leave the University of Michigan to embark on his professional career remains uncertain, but Lamoriello is in no rush to utilize his prospect, as evidenced by his comments following Merrill's issued suspension late in 2011: "He's committed to Michigan and we support that 100 percent."
There is no doubt, however, that when Merrill does eventually decide to make the jump to the pros, fans and Lamoriello alike will be thrilled to have this controversial young man's incredible potential in the Devils organization.