Auburn Football: Extensive Spring Ball Preview for the Tigers
March 23, 2012

Kevin C. Cox/Getty Images
Since January 11, 2011 - the day after Auburn won its first national championship in more than a half-decade - Gene Chizik has heard the criticism.
After a rebuilding year, Chizik and the Tigers are out to prove that 2010 was not "all Cam," and the foundation built by the Auburn coaching staff for the last three years is one that will produce a college football juggernaut rather than a flash in the pan.
Here's a quick look at what's in store for the Tigers this spring.
Important dates - Spring practice starts Friday, March 23.  The spring game will be held on Saturday, April 14; and spring practice will finish up on Monday, April 16.
Biggest Question Marks


Quarterback
The quarterback position was in flux all year long in 2011, and things haven't changed much since then.  After saving the day in the Chick-Fil-A Bowl, Barrett Trotter decided to forgo his senior season and move on to the next phase in his life.  That leaves returning starter Clint Moseley, Kiehl Frazier and Zeke Pike as the primary contenders for the quarterback job.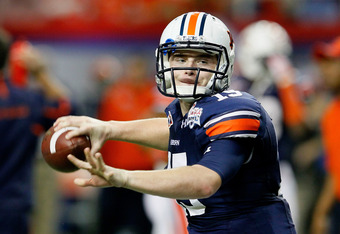 Kevin C. Cox/Getty Images
Moseley didn't exactly impress in his six games as Auburn's starter last season.  He completed 61.1 percent of his passes, but pick-sixes at key times vs. Georgia and Alabama have raised doubt on whether or not Moseley is ready for the spotlight.
Frazier didn't get much of a chance to succeed last season.  Former offensive coordinator Gus Malzahn used Frazier primarily as a wildcat quarterback, and only let him throw meaningful passes on the road at Arkansas when Auburn was trailing.  He completed only 12 passes all season, so Fraizer remains a mystery.  If he was able to handle the responsibility, you'd think he would have been used more last season.
The newcomer to the mix is Pike.  At 6'6", 225, Pike has the stature and arm strength of an SEC quarterback already.  He enrolled at Auburn in January, so he will have as much of a grasp on new offensive coordinator Scot Loeffler's offense as his competitors.
Running Backs
We hit on the Auburn running back position yesterday.  Loeffler is more of a pro-style/hybrid coach, so finding an every-down running back is a key for the Tigers in 2011.  Onterio McCalebb is the likely candidate; but at 5'9", 170, questions linger about whether or not McCalebb can handle the punishment that comes along with being an every-down running back in the SEC.  After McCalebb, sophomore TreMason, Alabama transfer Corey Grant and Florida transfer Mike Blakely all are in line to work their way into the mix.  Don't be surprised to see 5'9", 205-pound Blakely emerge as the the heir to Michael Dyer's throne.
Linebacker
The Tigers return senior outside linebackers Jonathan Evans and Daren Bates, but lose middle linebacker Eltoro Freeman.  New defensive coordinator Brian VanGorder has stated that he wants more size on defense, so there's a decent chance that Bates, a former safety, could move back to the spot for his final season on the Plains.  If he does, watch out for freshman Kris Frost to make a push.  Frost was expected to be a contributor last season, but shoulder surgery in August forced a redshirt.
Junior Jake Holland improved as the season went on last year, but his spot is still up for grabs.  One player that could push Holland is Chris Landrum.  The 6'3", 240-pounder redshirted last season after injuring his knee in high school.
Early Predictions for 2012
Pressure may be on Chizik, but there's still a ton of youth on this roster.  Expect another eight-win season.  Is that enough to keep the heat off Chizik?  It depends on how Auburn looks.  All five of Auburn's losses last season were by 14 or more points.  That can't happen in 2012.