Michigan Football: Offensive Coordinator Al Borges Searching for Best '11'
March 23, 2012

Kevin C. Cox/Getty Images
Michigan's evolving offense will take on another personality in 2012. Last season, offensive coordinator Al Borges planned on transitioning toward a pro-style attack.
The presence of dual-threat quarterback Denard Robinson kicked that idea down the road, however, as Michigan reverted back to the read option.
With Robinson orchestrating the offense a given, there will be numerous personnel changes when Michigan opens the season in September. 
While you'll see most of the changes during April's spring game, Borges may be saving a few for the Alabama opener.
"We're always trying to figure out how to get our best eleven on the field to do what they do best," Borges said at a press conference earlier this week, "That may not be consistently the same eleven guys all the time."
To accomplish this, Michigan is experimenting with a few position switches this spring.
The Wolverines must replace center David Molk, right tackle Mark Huyge, tight end Kevin Koger and a trio of wide receivers. Backup center Rocko Khoury deciding to leave early didn't help matters, either. 
LT Taylor Lewan and RG Patrick Omameh are fixtures at their positions, while Michael Schofield will be moving from left guard to right tackle
The position battles are keen at left guard, center and tight end. Because of his experience in the program, it's expected that senior Elliott Mealer will win the starting left guard slot, as incumbent Ricky Barnum moves over to center. Barnum missed most of the 2011 season due to injury, but spent some of his rehabilitation working out at center.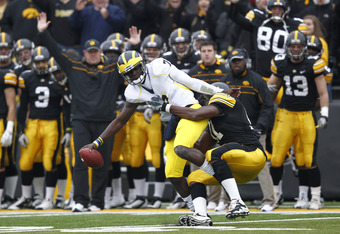 Joe Robbins/Getty Images
The coaches see plenty of competition at tight end, with Brandon Moore and Ricardo Miller the early leaders. Jordan Paskorz and Chris Eddins have moved over from defense to add to the fun. Don't be surprised if freshman A.J. Williams earns some playing time when he arrives this September.
Another freshman, Devin Funchess, is listed as a tight end, but will most likely end up at wide receiver. At 6'5", 205 pounds, Funchess could be dangerous running fade routes in the end zone.
With Robinson entrenched at quarterback, one might consider the future of primary backup Devin Gardner. Last season, he was sometimes seen in the "diamond" or "deuce" formations, where Robinson and Gardner were in the game at the same time.
But without another scholarship quarterback on the roster, (the coaches were preserving Russell Bellomy's redshirt year) there were definitely injury concerns.
This year is different. Bellomy will show he's more than an adequate backup, so the risks of injury become nearly irrelevant. Leaving someone on the bench with the athletic ability of Gardner definitely goes against Borges' "Best Eleven" theory.
Moving Gardner to a wide-slot or flanker, could make him extremely dangerous. Placing him in motion could position him for an option pass or other nasty possibilities.
When asked if if Gardner would spend more time at receiver this fall, Borges answered: "Practices are closed for a reason."