English Premier League: Picking an All London Clubs XI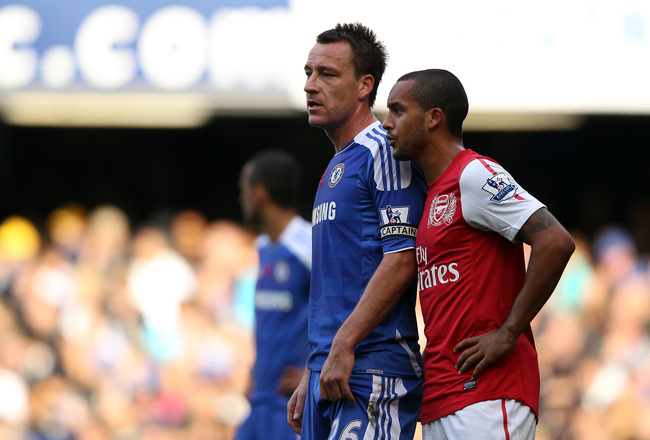 Ian Walton/Getty Images
With the Premier League title a two horse race between two Manchester clubs, it's no secret that Manchester is a city on the rise in football. Sure, it's always had Manchester United, one of the golden standards when it comes to football clubs, but Manchester City is now a major powerhouse in England—and don't expect them to go away any time soon.
Nonetheless, Londoners will still claim that their city is the capital of football—and they have every right to do so. A quarter of the teams in the Premier League currently play in London: Arsenal, Chelsea, Spurs, Fulham, and Queens Park Rangers. Three of those teams are in the top five, and four of them are in the top half of the table.
As you're about to see, London still has plenty of talent on its clubs to boast about.
GK: Wojciech Szczesny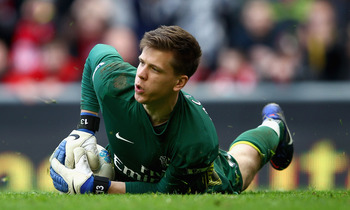 Clive Mason/Getty Images
This, I must say, was a very tough choice—but it is the right one. The other two goalkeepers in contention for this spot are Petr Cech and Brad Friedel.
While Cech still remains a world class goalkeeper, he's seen much better seasons in a Chelsea shirt than his current one, and despite improvement in recent performances, the Blues' number one has still had some torrid outings this season.
Brad Friedel, on the other hand, has had a magnificent season. Signed by Spurs on a free transfer from Aston Villa, Friedel has proved himself as one of the best shot stoppers in the league this season, with cat-like reflexes despite being 40 years old.
But in the end, it had to go to Szczesny. After breaking out in the middle of last season, Szczesny has single-handedly solved Arsenal's goalkeeping problems and will surely be the Gunners' number one for the next decade.
At just 21 years of age, Szczesny's agility and strong presence in the box mean he's bound to be the best in the world one day.
RB: Bacary Sagna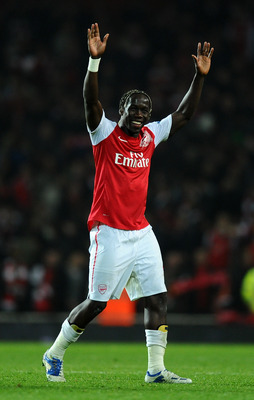 Mike Hewitt/Getty Images
In contrast to the goalkeeper selection, this was an easy choice.
Sure, Kyle Walker has been outstanding for Spurs this season and is arguably the best young right back in the world, but Bacary Sagna is still the best right back in the Premier League.
Nicknamed "Mr. Consistency" by Arsenal supporters, Sagna puts in solid performances week in and week out. His tidy defensive work as well as his gut-busting runs up the right wing make him both a strong defender and an efficient attacker—and a simple choice for this team.
CB: John Terry
Alex Livesey/Getty Images
That picture pretty much says it all about John Terry. The now former England captain is one of the biggest contradictions of the Premier League: he seems to have had a rough season, but at the same time his presence is essential to Chelsea.
So for that sole reason, he makes this team. Despite the Blues' leaky defense this season, Terry is still a relatively solid defender as well as one that can score goals. And of course, arguably his best trait of all is his leadership. Sure, he gets into controversies left and right, but he's nonetheless one of the best captains in the Premier League.
CB: Thomas Vermaelen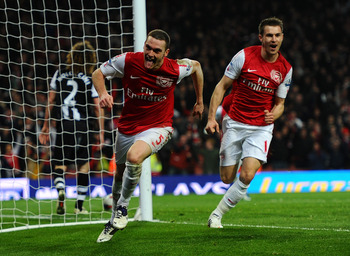 Mike Hewitt/Getty Images
The Verminator's recent performances speak for themselves, with two goals in 10 minutes of match time.
Despite some niggling injuries, Vermaelen seems to have picked up where he left off before the achilles injury that lasted the whole of last season. He's rarely beaten in defense aside from one or two unspectacular performances (but wasn't everyone bad on that night at the San Siro?), and is possibly the best centre back at goal-scoring in the league.
Did I mention his awesome nickname?
LB: Benoît Assou-Ekotto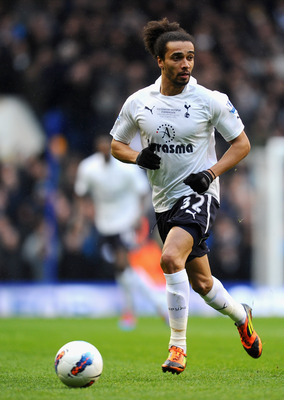 Mike Hewitt/Getty Images
This, I must say, was a very tough choice, but I think Benoit Assou-Ekotto's performances this season have been just slightly better than those of Ashley Cole.
Sure, Ashley Cole seems to always be one of, if not the best left backs in the league, but despite a solid season it's clear that age is getting to him.
So although it may be close, Assou-Ekotto is the best left back in London. His defending is rarely suspect, and his attacking is that of a world class wing back.
CDM: Scott Parker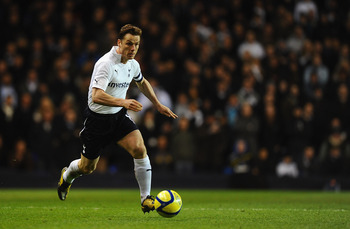 Mike Hewitt/Getty Images
This was one of the hardest decisions of this team. The Arsenal fan in me desperately wanted to have Alex Song as the defensive midfielder, but I've got to admit—as much as I don't like him—that Scott Parker just edges Song in his performances this season.
Parker may just be Spurs' best player this season, earning the England captaincy thanks to his brilliant tackling and never-say-die presence in midfield.
Expect him to be on the PFA Team of the Year.
CM: Juan Mata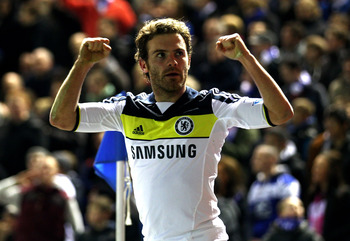 Clive Mason/Getty Images
I know, Chelsea aren't smart enough to actually play him at centre midfield—but I am, so here he is.
The signing of Juan Mata was one transfer that actually panned out well for Chelsea, unlike so many others.
Mata has undoubtedly been the Blues' best player this season, providing them with their main creative spark as well as a source of goals and assists from midfield. The Spaniard's first season in the Premier League has undoubtedly been a successful one, and he has proved himself as one of the best attacking midfielders in the league.
Mata is one of the best footballers you'll find in London, and an easy choice for this team.
CM: Clint Demspey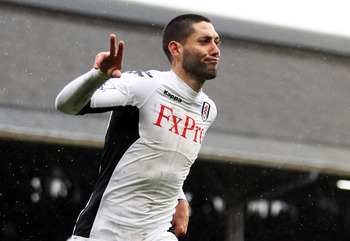 Scott Heavey/Getty Images
We all knew that Clint Dempsey was a good player, but this season the American has established himself as one of the best midfielders in the league.
Sure, he's extremely overrated by Americans and USMNT fanatics, but the average Premier League fan will acknowledge Dempsey as an excellent attacking midfielder—nothing more, nothing less.
Fulham have had a good season by their standards so far, and Clint Dempsey is largely responsible for that with 12 goals and five assists.
RM: Daniel Sturridge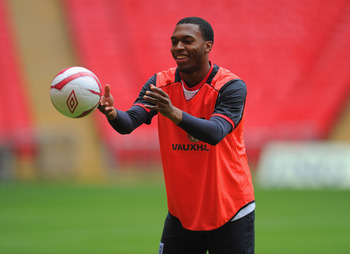 Michael Regan/Getty Images
Another player that Chelsea plays out of position, but who also brings tons of attacking prowess to his side.
Sure, Daniel Sturridge may very well be the most selfish player in the Premier League, but he's also one of the best young attacking talents in England and, ironically, the Blues' best forward. That's right, he's better than both Didier Drogba and 50 million pound Fernando Torres.
One of England's several exciting young players, expect Daniel Sturridge to be one of the best forwards in the league in a few years' time.
LM: Gareth Bale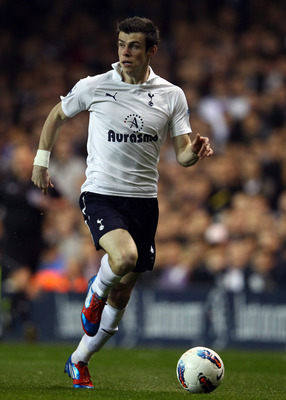 Julian Finney/Getty Images
He dives, he cheats—but boy is he good.
I'm not going to lie. I dislike Gareth Bale quite a bit, not just because he plays for Spurs but because he's one of the biggest divers in World Football. It's an enmity that I'm not afraid to hide.
But I also can't deny that Gareth Bale is one of the best wingers in the world and probably the best winger in the Premier League. Not only is he fast, but he can deliver accurate crosses as well as pump in powerful shots.
Love him or hate him, he's an incredibly easy pick for this team.
ST: Robin Van Persie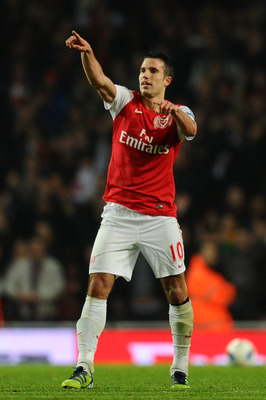 Mike Hewitt/Getty Images
Choosing Robin Van Persie for this team was a complete no-brainer—as in I literally didn't need to think for a second before I wrote his name.
He's the best player in the Premier League, let alone in London. It's not just his brilliant statistics (26 goals and 11 assists, if you were wondering), it's the way he plays. Robin Van Persie is what every center forward should be.
Not only does the Dutchman "score when he wants," but he creates loads of chances for himself as well as his teammates.
Van Persie isn't just the easiest pick on this team, he's also pretty much guaranteed to win both the Golden Boot and the Player of the Year awards. Now let's just see if he sticks around to win some club silverware with Arsenal.
Substitutes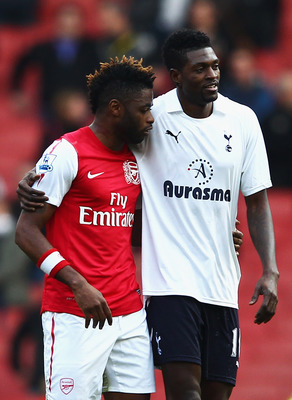 Clive Mason/Getty Images
Brad Friedel
Laurent Koscielny
Alex Song
Emmanuel Adebayor
Ashley Cole
Luka Modric
Rafael Van der Vaart
Keep Reading