28 Most Bruising Runners in NFL History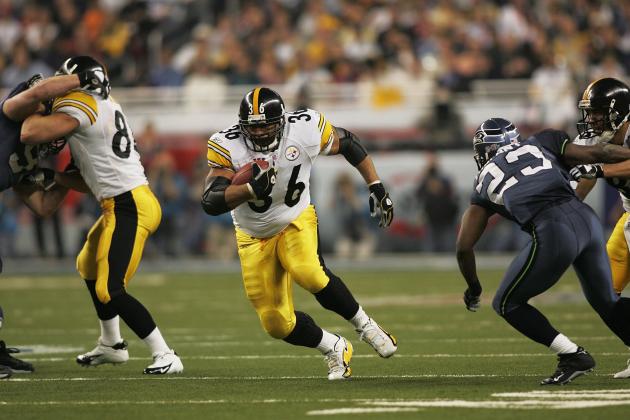 Jonathan Ferrey/Getty Images

Over the past few decades, the NFL has been relying more and more on finesse as the game is slowly shifting towards a pass-first league—which is rather depressing, in my opinion.
Personally, I love old-school football. I love seeing guys line up across from each other and simply beating the snot out of each other. I love seeing running backs try to run through defenders—not trying to spin around them or dance their way for positive yards.
In that spirit, let's take a look at the 28 most bruising runners in NFL history.
Begin Slideshow

»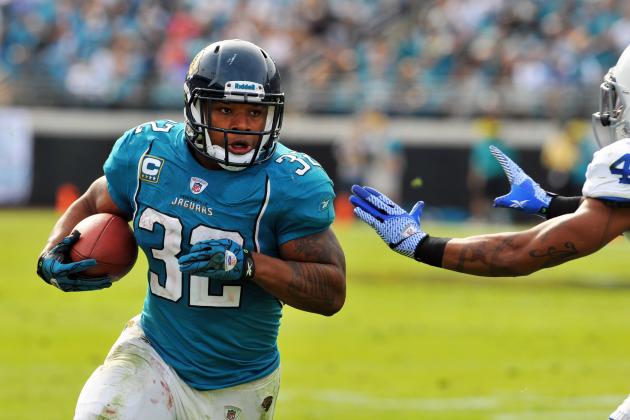 Al Messerschmidt/Getty Images

Maurice Jones-Drew is a fiesty little fellow.
At just 5'8" and 205 lbs, Jones-Drew manages to run through his opponents and is one of the elite running backs in the NFL today.
Entering 2012, Jones-Drew has ran for 6,854 rushing yards as he's averaging 4.6 yards per-carry and has ran for 1,000-plus yards in the last three seasons with the Jacksonville Jaguars.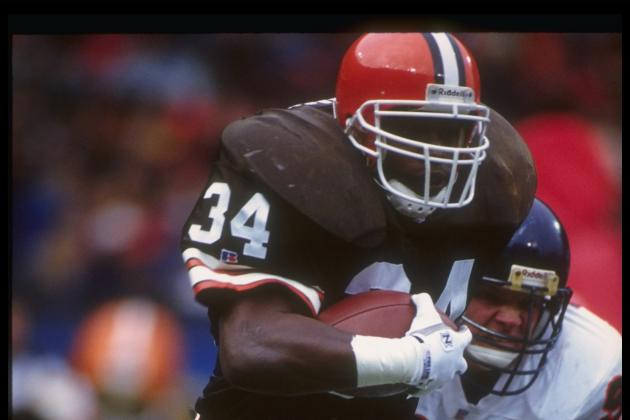 Jonathan Daniel/Getty Images

Kevin Mack wasn't nicknamed "The Mack Truck" for nothing.
Mack played from 1985 until 1993 for the Cleveland Browns as a fullback and managed to accumulate 1,104 rushing yards in just his first season in the NFL.
Mack was such a productive runner for a fullback as he combined with Earnest Byner to become just the third pair of teammates to compile 1,000-plus yards in a season back in 1985.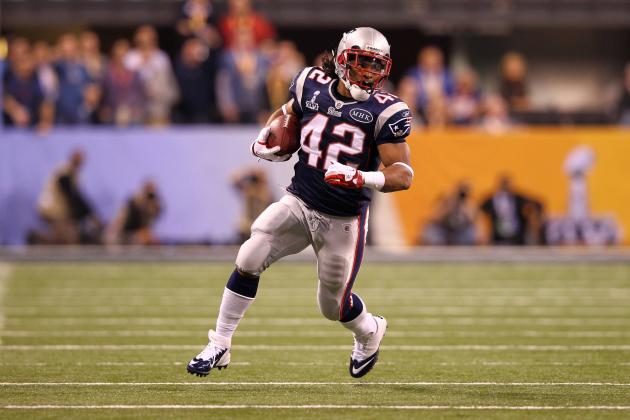 Al Bello/Getty Images

No one understands how effective a running back BenJarvus Green-Ellis is—he is so underrated.
Green-Ellis is always fighting for extra yardage and is one of the best north-and-south running backs that the NFL has to offer today.
Green-Ellis averages 4.0 yards per carry as he's scored an incredible 29 career touchdowns while never, ever fumbling the ball—which is remarkable.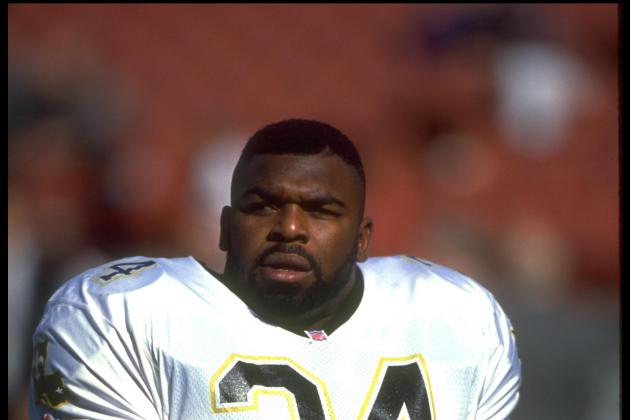 Mike Powell/Getty Images

Craig Heyward was an incredibly punishing runner for the New Orleans Saints, Atlanta Falcons, Chicago Bears, Indianapolis Colts and the St. Louis Rams.
Heyward was the 24th overall pick in the 1988 draft and lasted until 1998.
Heyward retired with 4,301 rushing yards as he scored 30 touchdowns while averaging 4.2 yards per-carry.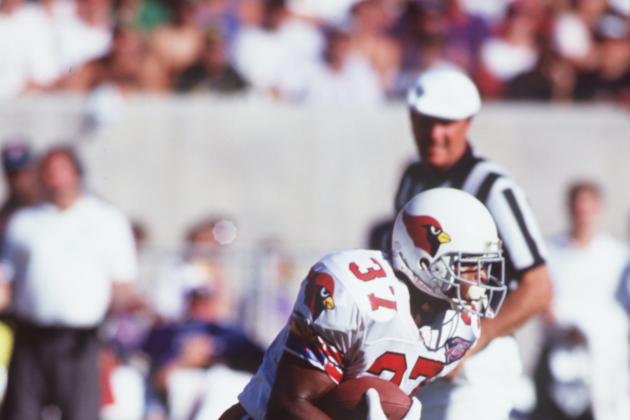 Stephen Dunn/Getty Images

Larry Centers was the greatest receiving fullback that we have ever seen in the NFL.
Whenever Centers had the ball in his hands, he was always picking up positive yardage by running through any defender who stood in his way.
Centers played from 1990 until 2003 with the Arizona Cardinals, Washington Redskins, Buffalo Bills and the New England Patriots.
Scott Halleran/Getty Images

Many will argue that Daryl Johnston is the greatest lead-blocker in NFL history—I think he's certainly one of the best.
Johnston was the lead blocker for Hall of Famer Emmitt Smith, and I guarantee to you that Smith would have not been as productive without Johnston.
Whenever Johnston got the ball he always picked up positive yards, as he ran for 2,227 career rushing yards on just 294 touches.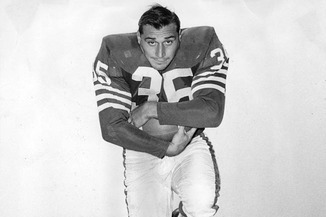 Alan Ameche played from 1955 until 1960 with the Baltimore Colts and really knew how to pick up positive yards by lowering his shoulder.
Ameche wasn't the fastest guy out there—but he was one of the toughest. Ameche retired with 4,045 career rushing yards while scoring 44 touchdowns.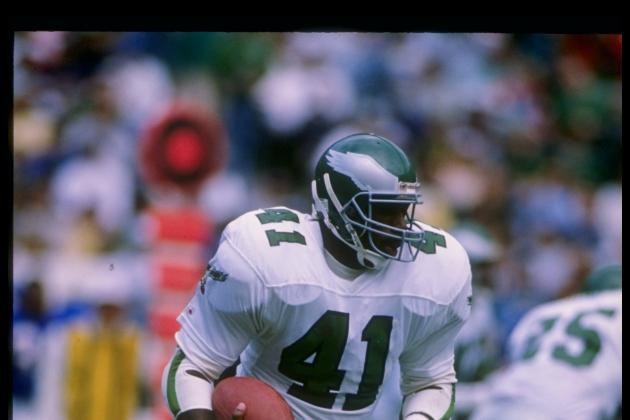 Joe Patronite/Getty Images

Keith Byars could simply do it all.
Byars was a great blocker, one of the greatest of all time, as well as a very talented receiver and a bruising runner.
When this fullback got the ball, he always fought for positive yardage and needed at least two tacklers to bring him down.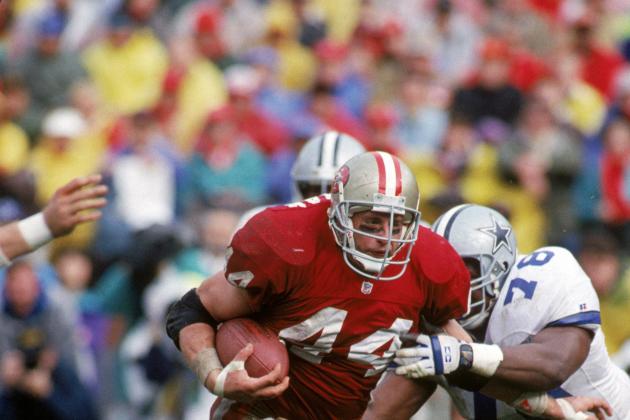 George Rose/Getty Images

Tom Rathman may be remembered as one of the greatest blocking fullbacks in NFL history but he sure knew how to run the ball when the San Francisco 49ers decided to call his number.
Rathman retired with 2,020 rushing yards on 544 carries while punching in 34 touchdowns.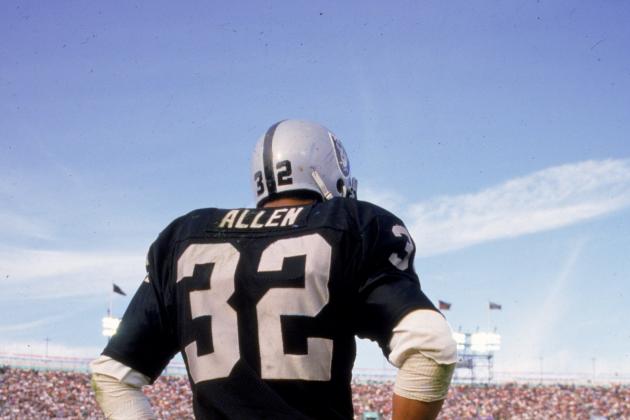 Mike Powell/Getty Images

Marcus Allen was the perfect combination for a running back. Not only was Allen able to run around defenders and break their ankles but he was also able to lower his shoulder and punish them with fierce blows.
Allen is just an absolute incredible runner who will forever be remembered as one of the greatest Raiders in NFL history.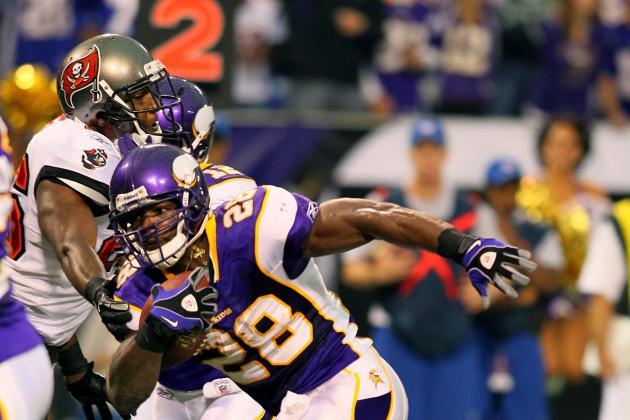 Adam Bettcher/Getty Images

Adrian Peterson is a dying breed—you don't see every-down running backs like him in the NFL nowadays.
Not only is A.P. an every-down running back but he is one powerful runner who will bruise anyone who stands in his way from the line of scrimmage to the endzone.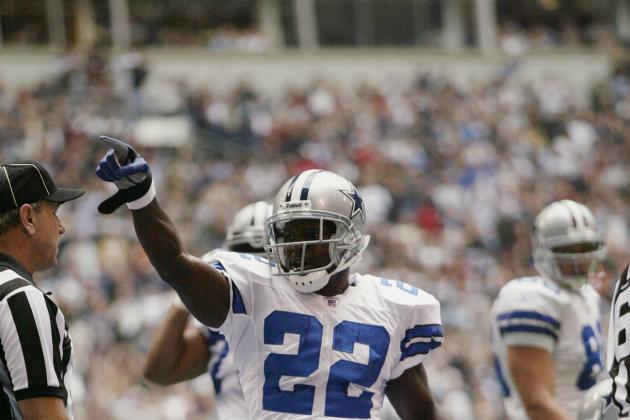 Ronald Martinez/Getty Images

Emmitt Smith may have been a dodger, as he had such devastating moves in his arsenal, but he wasn't afraid to lower his shoulder and bulldoze defenders.
The thing that really stuck out the most to me is how powerful Smith was, as tacklers would simply just bounce off of him when they tried to bring him down.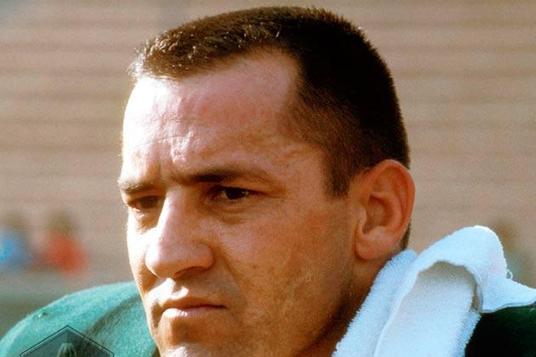 Jim Taylor was a man who was very hard to tackle back during the 1960s.
Taylor spent most of his time with the Green Bay Packers, as he ran for 8,207 career yards with the team and punched in an impressive 83 touchdowns in just nine seasons in the Frozen Tundra.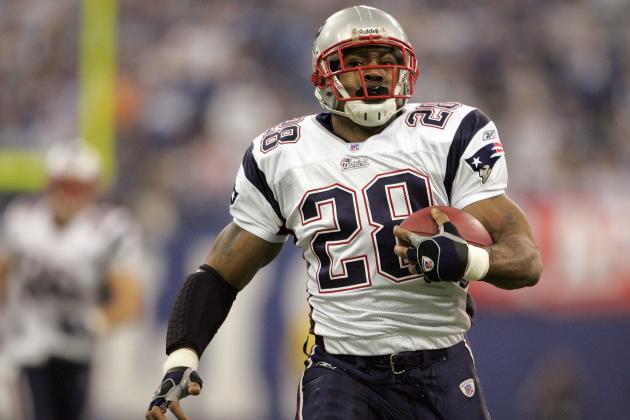 Andy Lyons/Getty Images

If you ask me, Corey Dillon is one of the most underrated running backs in NFL history.
Dillon ran for an incredible 11,241 rushing yards, 82 career touchdowns and averaged 4.3 yards per carry.
If you can remember the days of Corey Dillon, he was always looking for contact and fighting for extra yardage.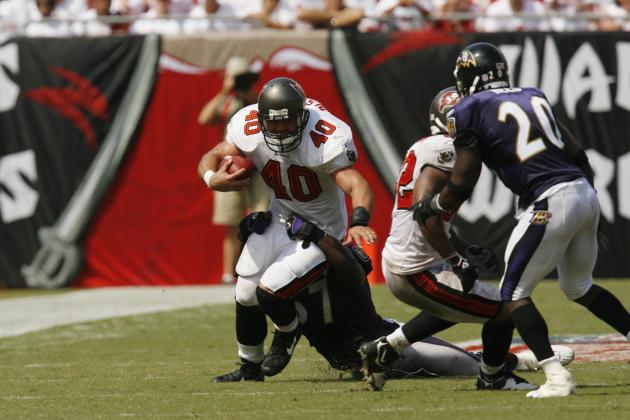 Matt Stroshane/Getty Images

I miss the days of Mike Alstott playing for the Tampa Bay Buccaneers—he was one of the most exciting runners that I can remember watching as a kid.
Alstott was a force to be reckoned with, as the 250 pounder ran for 5,088 career yards and punched in 58 touchdowns on the ground for the Bucs throughout his career.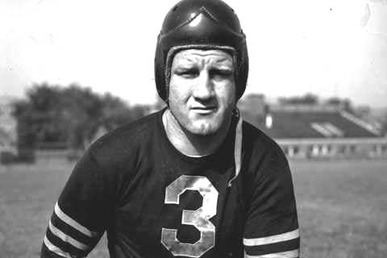 It's too bad that Bronko Nagurski didn't play in modern football, as he was such an animal during his ways in the 1930s and the 1940s.
Let's just say if you have the name "Bronko" then you have to be one mean S.O.B fullback—and he certainly was.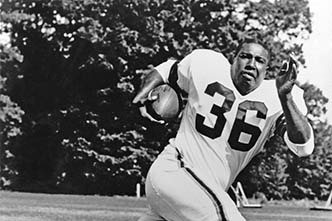 Marion Motley was a man among boys during the late 1940s and all the way through the 1950s.
Motley was not only a powerful fullback but he was also a nasty linebacker who always looked for ways to punish opposing players.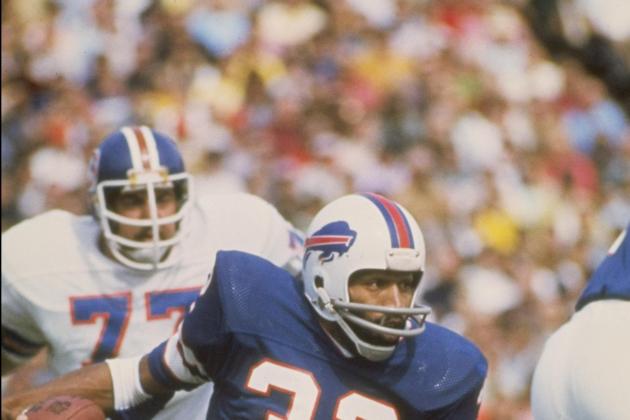 Getty Images/Getty Images

O.J. Simpson was the complete running back.
Simpson was graceful, as well as being a bruiser.
O.J. played nine seasons with the Buffalo Bills and two seasons with the San Francisco 49ers, as he racked up 11,236 rushing yards and averaged 4.7 yards per carry.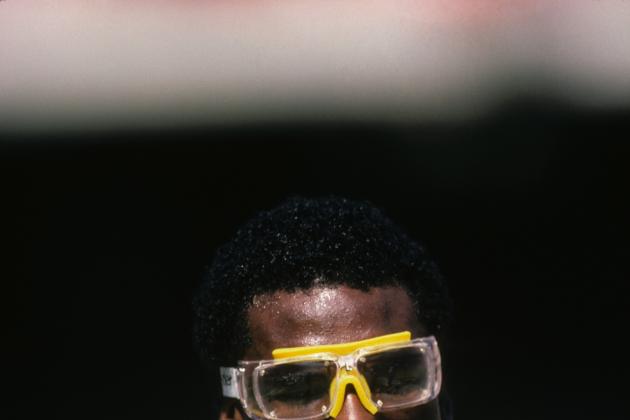 George Rose/Getty Images

Eric Dickerson may have been known for his graceful running style but he was also a bit of a bruiser—that is when he had to.
Dickerson had a pretty impressive career in the NFL, as he retired in 1993 after compiling 13,259 rushing yards and scoring 90 career rushing touchdowns.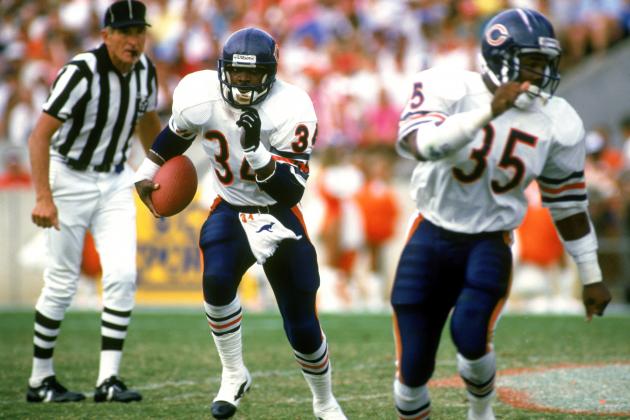 Jonathan Daniel/Getty Images

Walter Payton is someone who you did not want to mess with on the football field—he knew had to make opposing tackles hurt.
Payton was an extremely well-rounded running back but was also a bruiser for the Chicago Bears.
Payton retired in 1987 after a stellar career, as he compiled 16,726 rushing yards while scoring 110 rushing touchdowns.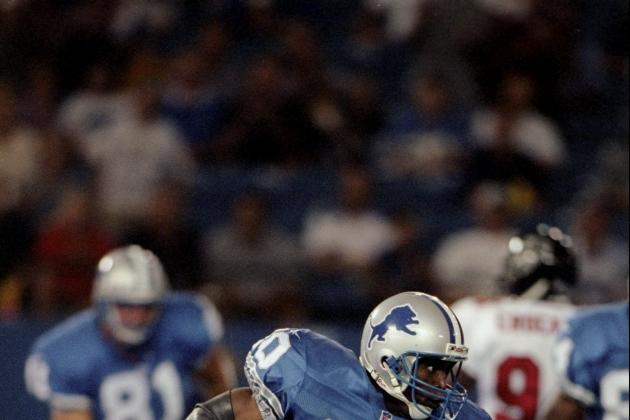 Tom Pidgeon/Getty Images

Barry Sanders a physical runner? Sure he was.
Sanders is the greatest running back in NFL history—well, in my opinion—and he not only could use his speed to beat defenders but he was also very physical when he had to be.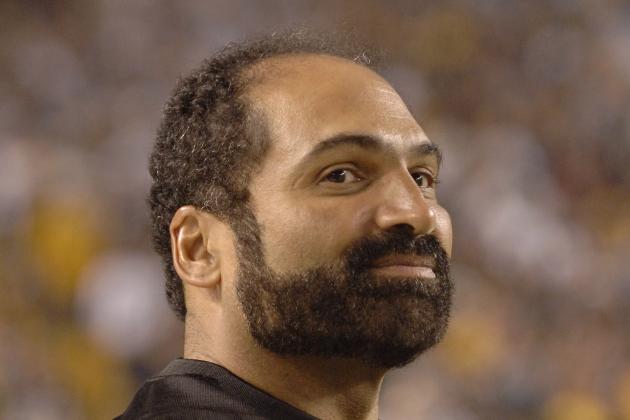 A. Messerschmidt/Getty Images

Franco Harris is one of the greatest running backs in NFL history, as he was one of the most physical runners who we have ever seen.
Harris was the ideal Pittsburgh Steeler, as he was such a hard-nosed player who wanted to punish anyone who got in his way.
Harris retired after 13 seasons, as he racked up 12,120 rushing yards and punched in 91 rushing touchdowns.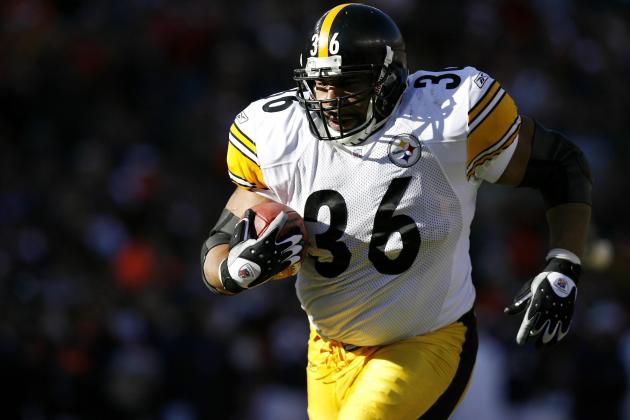 Allen Kee/Getty Images

They didn't call Jerome Bettis "The Bus" because he was afraid to fly (The Office reference)—it was because he was an absolute monster. And it was like staring down a bus when a defender attempted to tackle him.
Bettis played 10 seasons with the Pittsburgh Steelers, scoring 78 rushing touchdowns with them while accumulating a whopping 10,571 rushing yards.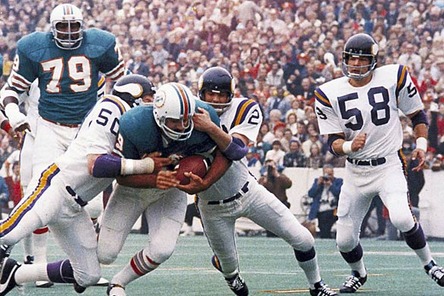 Larry Csonka may not have been a halfback or a tailback but he was a fullback and a real bone-bruiser.
Csonka was an absolute monster, dominating from 1968 until 1979, and spent most of his time with the Miami Dolphins.
Csonka retired with 8,081 career yards while scoring 64 total rushing touchdowns.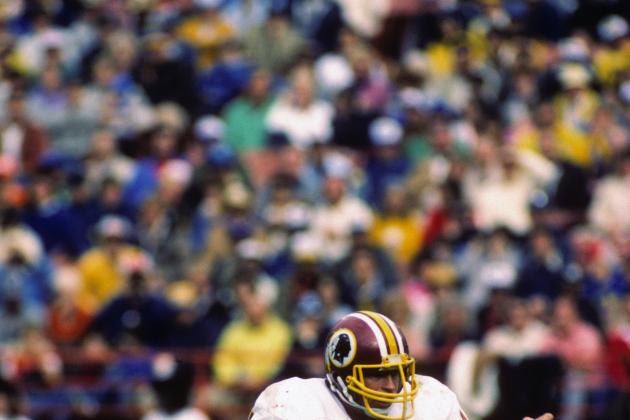 George Rose/Getty Images

John Riggins was my kind of player.
He was far from being the most talented but he sure knew how to get the job don—and that was by running through anyone that stood in his way.
Riggins played from 1971 all the way until 1985, as he spent nine seasons with the Washington Redskins and five seasons with the New York Jets. With the 'Skins, Riggins averaged only 3.8 yards per carry but still managed to punch in 79 touchdowns and accumulate 7,472 yards.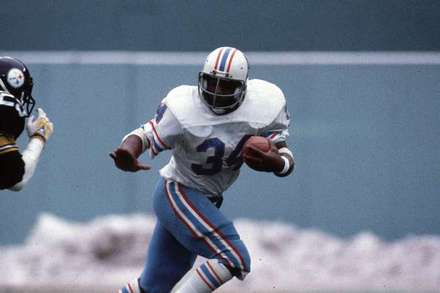 Earl Campbell was a real bruiser. When he had the ball he wanted to run through anyone who stood in his way.
Campbell played from 1978 until 1985, playing for the Houston Oilers and the New Orleans Saints.
Campbell was best known for his time spent with Houston, as he accumulated 8,574 yards in seven seasons with the Oilers and punched in 73 touchdowns and averaged 4.3 yards per carry.
George Rose/Getty Images

It's a real shame that Bo Jackson played just four seasons in the NFL, as he was well on his way to being one of the greatest running backs in history of the game—and some will argue that he is the greatest that ever was.
Jackson was a well-rounded runner who could do it all—especially running through opposing tacklers. He was simply a beast.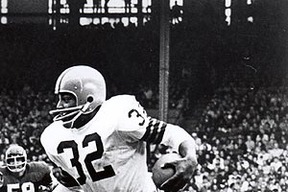 Jim Brown is not only the most physical running back in NFL history but he is arguably the greatest running back who we have ever seen.
Brown would not try to run around defenders, he wanted to run through them—and I mean he wanted to punish opposing defenders.
It's a real shame that Brown played far before I was born, as he was something truly special, and I would have loved to watch his artwork each and every Sunday.