Jon Jones: 5 MMA Fighters Who Have the Potential to Be the Next Floyd Mayweather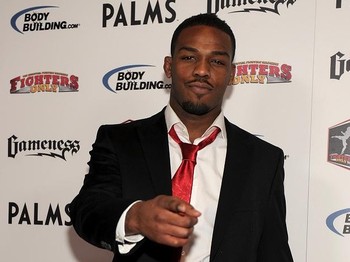 Courtesy Thewellversed.com
The world of MMA is fast becoming the equivalent of what boxing used to be and to some degree still is—one of the meccas of sporting entertainment.
In the pantheon of the sweet science, there are stars, and then there are superstars, and the same now applies to professional mixed martial arts.
UFC light heavyweight champion Jon "Bones" Jones' rise to superstar status has been nothing short of meteoric, and as things stand, he has the potential to mirror some of the achievements of boxing's own pound-for-pound great Floyd "Money" Mayweather.
Mayweather has several attributes that sets him apart from his peers—skill set, championship pedigree and promotional savvy. That and the fact he's undefeated in 42 outings in a career spanning almost 16 years.
Apropos MMA, fighters are lucky if they can acquire just two of the aforementioned qualities.
NB Mayweather's PPV pulling power not included.
With that said, here's a look at some fighters with the potential to be the next Money May.
5. Chris Weidman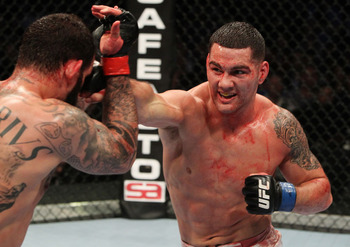 Courtesy Uk.ufc.com
Albeit Chris Weidman has only eight professional fights to his name, the former NCAA Division l standout has been victorious in all.
Following four fights in the Ring of Combat, Weidman headed to the UFC and immediately began making waves.
On his debut for the company, "All-American" defeated veteran Alessio Sakara, having taken the fight on two weeks notice. He followed that up with submission wins over Jesse Bongfeldt and Tom Lawlor.
However, his biggest test came in the guise of BJJ specialist Demian Maia—a fight he took on 11 days notice as well as his third replacement bout.
Against Maia, boring though the fight might have been, the native New Yorker did enough to secure the win and propel himself to No. 7 in MMA's middleweight ranks.
The 27-year-old has the submissions skills, wrestling background and improving standup to make it all the way to the top and eventually capture UFC gold.
Weidman has certain Mayweather elements and is presently working on hard selling himself, as was evidenced when he said he could finish current UFC 185-pound lynchpin Anderson Silva.
The "Money" potential is definitely there.
4. Renan Barão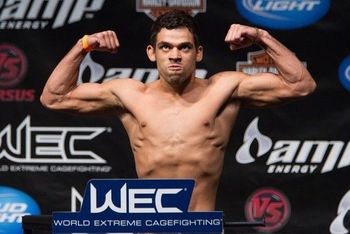 Courtesy Themmanews.com
Renan Barão might not have the requisite brashness of WBC welterweight champion Floyd Mayweather, but everything else says he more than has the potential of following in his footsteps.
The 25-year-old "Baron" has plied his trade mostly in his native Brazil—most notably Shooto Brazil.
The BJJ black belt lost a split decision on his MMA debut; however, since then, he's compiled a mind-boggling 29 undefeated (Mayweather would be proud) streak comprising of 13 submissions and six stoppages.
His two outings in the WEC ended in submissions wins, and he's presently 3-0 in the UFC—he garnered Fight of the Night honors following his submission of Brad Pickett at UFC 138 and recently won a unanimous decision against Scott Jorgensen.
He's next slated to throwdown with Jeff Houghland at UFC 148—one or two more fights later should lead to a championship bout with whoever holds the bantamweight title at the time.
After that, the sky's the limit.
3. Benson Henderson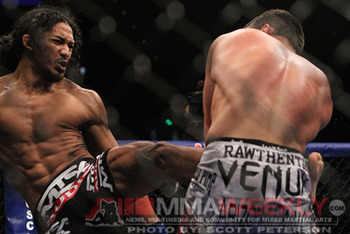 Scott Petersen MMAWeekly.com
The current UFC lightweight titlist isn't one for calling out his opponents, but with his new found status, he now has the stage to milk any and all publicity traffic that ventures his way.
Furthermore, being a former WEC champion puts Benson Henderson (16-2 MMA) in the category of two-time titlist, five less than Floyd Mayweather, but it's a start.
His most significant defeat came at the hands of Anthony "Showtime" Pettis when he lost his WEC crown. However, he's rebounded nicely, with wins over Mark Bocek, Jim Miller, Clay Guida and Frankie Edgar, whom he unseated as the 155-lb king.
"Smooth" has the skills as well as championship mentality to reign over his division for a while yet, and that's taking into account the fact he has a future his rematch with Edgar and a potential showdown with Pettis.
2. Jose Aldo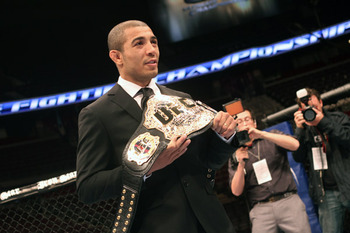 Courtesy Heavy.com
The former WEC and current UFC featherweight titlist is arguably the greatest 145-pounder to have ever graced the MMA stage.
Jose "Scarface" Aldo is currently riding a 14-fight win streak and doesn't seem like letting up anytime soon. Even though the Brazilian is an adept BJJ practitioner (black belt), he prefers to end contests via strikes.
He holds notable wins over former WEC champions Mike Brown and Urijah Faber, as well as victories against Mark Hominick, Kenny Florian and one of the division's best wrestlers, Chad Mendes.
Aldo (21-1 MMA) has a lot going for him at the moment and has more than a fighting chance of being the next Floyd Mayweather.
Also, a step up to the lightweight division to challenge for honors wouldn't hurt his cause either, especially if he were to succeed in that quest.
1. Jon Jones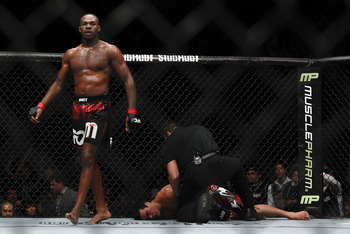 Esther Lin/MMAFighting.com
The phenom that is Jon Jones has the best case and most potential to attain the title as the next Floyd Mayweather.
Jones is near enough the prototype for future professional MMA exponents—he possesses matrix-esque skills and is improving all the time.
At present, he holds sway over the 205-lb. assemblage and has defeated three former UFC champions—Mauricio "Shogun" Rua (at 23, making him the youngest ever UFC titlist), Quinton "Rampage" Jackson and Lyoto "The Dragon" Machida.
The fanzine both loves and hates him in equal measures akin to Mayweather, and he hasn't done a bad job of self promoting himself either—media appearances, foiled a robbery and came to the aid of a stranded woman and her child by footing their hotel bill.
Mayweather was recently in the news for saving a baby's life by paying his medical bills to the tune of $49,000, which is all par for the course in furthering his celebrity, something which the 24-year-old Jones seems to acquiring a knack for.
In addition, "Bones" Jones (15-1 MMA) has only lost once in his career, and that could be put down to a default.
For additional information, follow Nedu Obi on Twitter.
Keep Reading