NCAA Scores 2012: Ousting Top Seed Michigan State Proves Louisville Is Contender
March 23, 2012

The Louisville Cardinals, not about to follow the script, have ousted the top-seeded Michigan State Spartans, solidifying themselves as title contenders. 
Michigan State picked the wrong time to go cold and ended up losing to No. 4 seed Louisville, 57-44. Rick Pitino's young men now wait with bated breath to see if they draw Marquette or Florida in the next round. 
There was nothing pretty about this game, and the outcome proved to be more about how Louisville could win a game in the trenches. 
The Cardinals had to weather a couple of storms, including their own cold shooting at points, but they proved to be a far grittier team that will lead with the hunger to get to the next round. 
If you want to put a simple spin on it, Louisville just wanted this one more. They out-rebounded a Spartans team that is known for crashing the glass. The loose balls and hustle plays all belonged to the guys in the loud, fluorescent uniforms.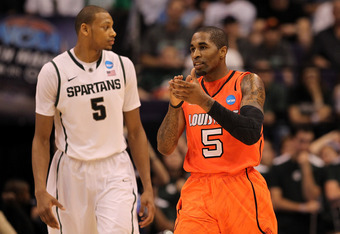 Jamie Squire/Getty Images
Perhaps blinded by the jerseys, Michigan State was forced into a funk as Louisville's defense took over. I am not about to put this game on Draymond Green, because he still finished with an admirable 13 points and 16 rebounds. 
However, the offensive production was down across the board. Louisville was unrelenting all game, and it paid off to the tune of Adreian Payne scoring four points and Keith Appling scoring just six. 
Louisville owned the interior when most thought they would have to give that up in lieu of other advantages before the game began. 
The Cardinals emerged as a more balanced and hungrier team, at least in the eyes of the nation that just saw them tear apart a contender. 
If you want heroes from the game, there are a few to target, but Chane Behanan and Gorgui Dieng make Louisville a scary team going forward.
Behanan scored 15 points on 6-for-10 shooting and grabbed nine boards. If you need a defensive presence to be a contender, Dieng had seven blocked shots, making sure Louisville owned the paint. 
This is certainly an upset, but going forward, Louisville is a bona fide contender.