Kansas Jayhawks: Bill Self Deserves NCAA Coach of the Year
March 23, 2012

Eric Francis/Getty Images
The NCAA Tournament round of 16 is underway, and the Kansas Jayhawks find themselves in familiar territory—on the short list of teams to cut down the nets in New Orleans. As the No. 2 seed in the Midwest region, Kansas (29-6) will look to punch their ticket into the elite eight with a win over the upstart N.C. State Wolfpack tomorrow night. Win or lose, it's been another great season for the Jayhawks, and Bill Self deserves all the credit.
Since arriving in Lawrence in 2003, Self has taken one of the most historic, tradition-riched and excellent basketball programs to even greater heights. In his nine seasons as the Jayhawks head coach, Self has won 262 games, more than any other college basketball team during that time. The last five seasons alone he has racked up 165 victories, the most wins for a head coach in any five year period in the history of college basketball.
Self's career home record at "The Phog" is 145-7 and is currently riding a staggering 91-1 streak at home. He has won eight consecutive Big 12 regular season championships including this season after many experts predicted either Missouri or Baylor would bring home the crown. Yet, Self's squad prevailed again and the success deserves attention. The 2011-12 Jayhawks are by far the least talented Kansas team Self has ever coached, making it his most impressive coaching job yet.
Sure, Thomas Robinson is in contention for National Player of the Year, but remember this is his first season as a starter. We all knew the talent and potential was there, which is why Jayhawk nation is not surprised by his success. But his stellar season is that much more impressive considering he saw limited action the past two years playing behind Cole Aldrich and the Morris twins. Despite the lack of experience, Robinson has turned into a star and Self deserves a great deal of credit for the power forward's maturation.
As good as Robinson is, he wasn't even a McDonald's high school All-American. In fact, not a single player on Self's roster was a McDonald's All-American, which is almost unheard of for a program as prestigious as Kansas. Even Kansas' No. 15 seeded first-round opponent Detroit had a Micky D's stud to their name!
Not only is this year's Kansas roster not as talented as year's past, but for the most part the squad is largely unproven. Tyshawn Taylor is the only returning starter this season. I don't care what team you are and what conference you play in, it is a tall task trying to win a conference championship with one returning starter, yet Bill Self found a way. In fact, Taylor is the only Jayhawk who averaged over 15 minutes a game last season.
Elijah Johnson saw about 13 minutes a game last year, Travis Releford played roughly 10, and Jeff Withey only averaged six minutes. All three players stepped up this season and have successfully molded into exceptional role players behind Robinson and Taylor. While they are not the most talented players, Bill Self has done an outstanding job getting the most out of all three. With Johnson's explosiveness, Releford's hustle and Withey's shot blocking, Bill Self has been able to utilize their strengths to build an extremely cohesive and complete team that can compete with anyone in the nation.
In his first eight years as Kansas coach, Bill Self had the benefit of a deep bench with talented players capable of starting on most teams elsewhere in the country.
Not this season. This year's bench lacks depth and experience. Self's bench is three players deep, and collectively these three players combined for 218 minutes of experience prior to this season. All 218 of those minutes come from Senior walk-on Conner Teahan who accumulated those minutes over three years of garbage time play. The other two bench contributors are Kevin Young and Justin Wesley, both of whom are transfers that were not on the team last year.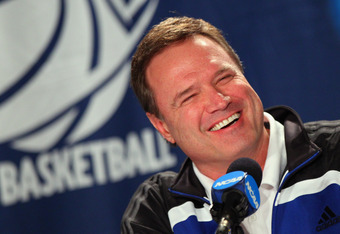 Doug Pensinger/Getty Images
The Jayhawks had many reasons to suggest it could be a down year this season, and early on the team did not show much promise. The roster lacks the typical Bill Self NBA talent, which presented a new challenge for Self to coach. Molding this year's Kansas team into a winning ball club was a tough project for Self, and considering the tough schedule, it is absolutely remarkable that he has this team sitting at 29-6 on the verge of the elite eight.
If anyone attempts to challenge Self's coaching abilities by claiming any coach could win with Kansas' roster, please direct them to the 2011-12 Kansas Jayhawks. There is not a single coach more deserving of receiving coach of the year honors than Self, and he has unquestionably proved his status as one of the elite coaches in college basketball today.
Like my article? You can follow all my sports opinions @NolanGauvreau01. Tweet me for a follow back!