NFL Rumors: Stephen Tulloch Gets $25.5 Million from Detroit Lions
March 22, 2012

Gregory Shamus/Getty Images
The linebacker market was set high this offseason by big-money deals to D'Qwell Jackson and Ahmad Brooks.
Stephen Tulloch, who recently re-signed with the Detroit Lions, wanted a deal somewhere in the $6 million a year range.
According to Anwar Richardson of MLive.com, Tulloch didn't quite there.
A source told Richardson that the deal Tulloch signed with the Lions is good for five years and $25.5 million, with $11 million guaranteed.
Overall, it's a good deal for Tulloch. But the money is dwarfed by what Jackson and Brooks received before free agency, and the annual pay isn't what Tulloch thought he was worth. 
Jackson got a five-year, $42.5 million ($19 million guaranteed) deal from the Cleveland Browns, and Brooks received a six-year, $44.5 million ($17.5 guaranteed) extension from the San Francisco 49ers.
Tulloch outperformed the one-year, $3.25 million deal he signed with the Lions last offseason, and Richardson reported last week that the middle linebacker wanted a deal that would pay him "no less than $6 million per year."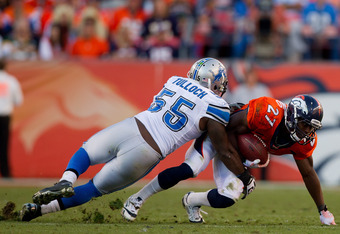 Justin Edmonds/Getty Images
When the Lions threatened to bring in free agent David Hawthorne for a visit—he was en route to Detroit—Tulloch eventually caved on a deal that will pay him slightly less than $6 million a season. 
The deal is certainly a win for the Lions, who return a productive player from last season at a somewhat discounted price. 
In 16 starts in 2011, Tulloch registered 111 tackles, three sacks and two interceptions as the Lions' top linebacker.
Over the last three seasons—two of which came in Tennessee—Tulloch tallied almost 400 total tackles, including 160 his final season with the Titans.
Pro Football Focus ranked Tulloch as the No. 7 overall interior linebacker last season—two spots ahead of Jackson.