NCAA Bracket 2012: What Xavier Must Do to Defeat Heavily Favored Baylor
March 23, 2012

Streeter Lecka/Getty Images
Xavier has been known to go on some NCAA tournament runs throughout the years, but this season's team is weaker and now must face Baylor in the Sweet 16.
There is no questioning Xavier's talent this season. The Musketeers have one of the nation's best backcourts in Tu Holloway and Mark Lyons.
But many have questioned the team's psyche this season, particularly after the infamous brawl with Cincinnati, and the Musketeers didn't have the most difficult draw of the tournament with Notre Dame and Lehigh.
Nonetheless, their talent alone gives them a shot against Baylor, albeit a long one.
Here's what Xavier must do to upset Baylor.
Attack the Glass
While Xavier has one of the best backcourts in the country, Baylor has one of the best frontcourts.
Perry Jones III is an athletic freak of nature. Quincy Acy has a great post game and has become the heart and soul of this team. Both combine for nearly 15 rebounds per game.
On the other hand, Jones has been inconsistent throughout the season, including in the tournament, and Xavier has actually averaged more rebounds per game than Baylor. Dezmine Wells, Kenny Frease and Andre Walker all have the ability to limit the Bears' impact on the glass.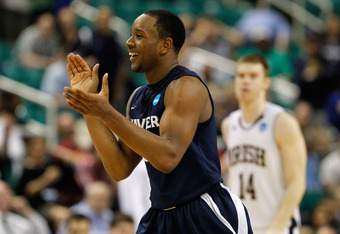 Streeter Lecka/Getty Images
Put Pressure On the Ball
Xavier doesn't rack up steals, but the Musketeers do play good man-to-man defense.
Xavier held opponents to under 40 percent shooting in the regular season and played good defense against Notre Dame and Lehigh, holding them to 63 points and 58 points, respectively.
Baylor has been known to score the basketball. The Bears averaged 74.9 points this season (38th in the nation) and shot 47 percent from the floor (37th). They just dropped 80 points on Colorado.
It's going to be quite the test.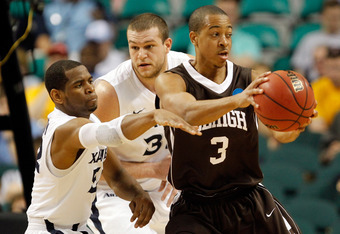 Streeter Lecka/Getty Images
Dominate the Backcourt
Xavier must dominate the backcourt battle to have a chance in this one. The Musketeers have a clear advantage with Holloway and Lyons.
But if Holloway and Lyons have an off night, there isn't much depth to pick up the slack offensively. For Baylor, point guard Pierre Jackson has been stepping up lately (averaging 16.5 points, 6.0 assists and 3.5 steals in two tournament games).
Holloway and Lyons need to take Baylor's backcourt by storm.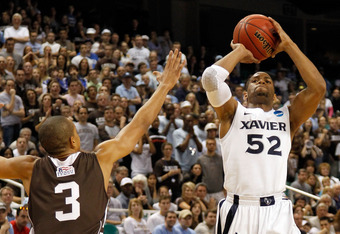 Mike Ehrmann/Getty Images
Follow me on Twitter. We can talk about Xavier vs. Baylor.