Ohio vs. North Carolina: Tar Heels Will Decimate Overwhelmed Bobcats
March 23, 2012

Mike Ehrmann/Getty Images
There is only one true Cinderella-type team left in the NCAA tournament, and that's the 13th-seeded Ohio Bobcats. Unlike previous Cinderella-type teams, like the Butler Bulldogs or the VCU Rams, this Bobcats team will not go on a magical run that ends in the Final Four or championship game. 
The North Carolina Tar Heels are an insanely deep team that can rotate a number of players into their starting lineup. 
The Tar Heels may be without their starting point guard, Kendall Marshall, but because of the lack of talent on Ohio, the Tar Heels will not miss a beat. Despite missing Wright, the Tar Heels still will showcase three starters that averaged 13 or more points this year. 
They will be led by sophomore Harrison Barnes who led the team in points averaging 17.3 points per game.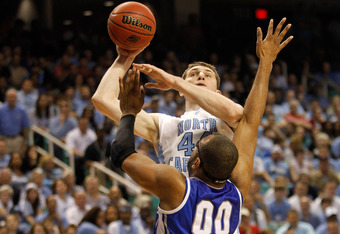 Streeter Lecka/Getty Images
Picking up the scoring slack shouldn't be hard for Barnes, as he is on a six-game streak where he's scored in double figures. Barnes has enough talent that he should find a way to find space against the Ohio defense to maintain his double-figures average. 
Let's say that Barnes' play happens to dip because of missing Marshall's playmaking ability. Then the Tar Heels can rely on the senior Tyler Zeller. 
Zeller finished second to Barnes with 16.4 points per game and second to John Henson with 9.4 rebounds per game. He's a solid forward who can provide a cool head if by some chance Ohio keeps this game close on Friday. 
Mike Ehrmann/Getty Images
Aside from the talent difference between these two teams, the Tar Heels have a tremendous advantage in coaching with Roy Williams. 
Williams is a two-time ACC Coach of the Year, a three-time Big 12 Coach of the Year with the Kansas Jayhawks and a two-time Associated Press Coach of the Year. 
Ohio cannot do anything that Williams hasn't seen. Williams will be the biggest factor in North Carolina's success against Ohio in the Sweet 16. 
North Carolina will advance past the Bobcats in a blowout victory, moving onto the Elite Eight against the winner of North Carolina State and Kansas.