Sweet 16 2012: Sophomores Who Will Dominate Their Competition
March 22, 2012

Gregory Shamus/Getty Images
The NCAA tournament is filled with a number of great players who have played amazing in the first two games. However, a majority of those dominant players have been sophomores. 
Ohio State's Jared Sullinger has had a great tournament so far, and he will continue to have a great run in the Sweet 16 against the Cincinnati Bearcats. 
Jared Sullinger 
Ohio State has a number of good sophomores who have helped lead the Buckeyes to victories over Loyola (Md.) and Gonzaga. However, the leader of this group of sophomores was Sullinger and his ability to be a dominant force on the glass and as a scorer. 
Sullinger has improved in Ohio State's two victories, by having a moderate 12 points in their first game, only to carry the Buckeyes with 18 points against Gonzaga. 
In the Sweet 16, Sullinger will be a big reason why the Buckeyes will move onto an Elite Eight matchup against the winner of Wisconsin and Syracuse. Sullinger will explode against Cincinnati, carrying the Buckeyes with 22 points and 14 rebounds.
Harrison Barnes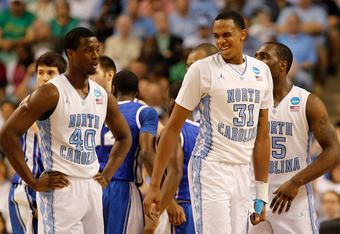 Streeter Lecka/Getty Images
The talented sophomore will have to be the leader of this North Carolina team now that point guard Kendall Wright is out after surgery to his left wrist. 
Picking up the scoring slack shouldn't be hard for Barnes, as he is on a six-game streak where he's scored in double-figures. Barnes has enough talent that he should find a way to find space against the Ohio defense to maintain his double-figures point average. 
Against the Bobcats, Barnes should have no problem finding the basket and going off for 23 points, as North Carolina moves onto the Elite Eight.
Brady Heslip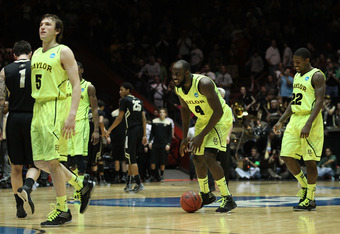 Christian Petersen/Getty Images
Heslip may be only a sophomore, but he has been a big reason why Baylor is in the position they are in right now. He went off in Baylor's opening game in the NCAA tournament, hitting five three-pointers against South Dakota State. He then had an even better game against Colorado, draining nine three-pointers, leading the Bears with 27 points.
Heslip enters the Sweet 16 on a five-game double-figures streak. Over those games, Heslip has averaged 17 points per game and 4.8 three-pointers made. 
Heslip will continue to find his shooting stroke against Xavier, which will result in another 20-point game for the talented sophomore.  
These three sophomores may be young, but they have the talent and have proven that they can lead their team to victory. 
You will be seeing more of these players when the Elite Eight starts this weekend.