Portland Trail Blazers: An Awkward Situation for the Rip City Faithful
March 27, 2012

These days being a Blazers fan is more awkward than a Rush Limbaugh appearance at a Planned Parenthood convention.
With the trade of Marcus Camby and Gerald Wallace in exchange for a broken Mehmet Okur and Shawne Williams, a couple of lottery busts, and a potential top five pick in the draft, the overlords at Vulcan Inc. have announced their utter disregard for the current season. 
But where does that leave the fans?
Do we still continue to cheer for a team that will get annihilated by Durantula and Co. if it manages to defy the odds and sneak into the playoffs as an eighth seed? Or does the rest of the season suddenly become a race to the bottom in hopes of earning two top 10 lottery picks? 
I've been a Blazer fan since I was eight years old and I never thought I would see the day where losing to the Lakers kind of felt alright. 
But recently a small dose of schadenfreude infects me every time I see the Blazers on the wrong end of the scoreboard. 
That thought may trend towards the sacrilegious, but the realization that every loss brings Portland closer and closer to landing a Jeremy Lamb or Cody Zeller makes defeat easier to swallow. 
The problem is hoping your team tanks the rest of the season is like Harold Camping rooting for the apocalypse in order to fulfill his end-of-the-world prophesy. 
It was different before the trade deadline. On paper, Portland's collective talent should have been competing with the upper echelons of the conference, but with Camby and Wallace's departure no one can say with a straight face that the Blazers are a playoff club. 
Even the front office can barely maintain the façade of a team with post season aspirations.    
"I know we are in a pretty good hole to get into the playoffs," interim general manager Chad Buchanan said Sunday, according to Jason Quick of The Oregonian. "But we are not throwing in the towel. We are trying to win games until we are eliminated." 
The recent claim of J.J. Hickson off waivers does lend some credibility to Buchanan's statement. The move makes a lot of sense for a team trying to steal the last playoff spot, but a decision that would have been a no-brainer a couple of weeks ago now elicits a what's-the-point response. 
Some Rip City devotees would point to the fact that the Blazers are only three games behind Houston, the current eighth seed. True, and I think this team matches up with the Thunder better than most Western conference contenders, but after seeing OKC embarrass King James and the gang do you really want to endure another one and done playoff performance?  
In order to avoid yet another three-to-four year rebuilding process, Portland needs the highest draft picks possible and like it or not the best way to achieve that goal is to rack up the L's.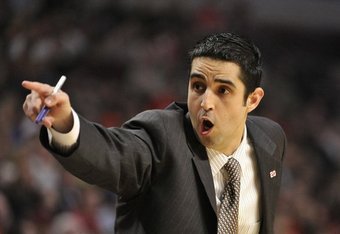 What will this take? First, only giving playing time to the players who will be in Portland next year. That means Raymond Felton gets a nice comfy seat next to Bernie Bickerstaff and Nolan Smith handles starting point guard duties for the rest of the season. Second, test out the value of the two newly acquired, former top-seven picks to see if they may be part of any future plans. It's well established that Hasheem Thabeet and Jonny Flynn will never live up to their original projections, but resurrected careers happen everyday, just ask Robert Downey Jr.    
Kaleb Canales has been put in a less-than-enviable position and I wish him all the best after his inspiring intern to head coach story. But unfortunately this team is not built to win now and there is little he can do to change that trajectory. 
I hope the Blazers prove me a fool and pull out a Golden State style eight over one seed upset come playoff time, but in the mean time remember the words of Vince Lombardi. If you can't accept losing, you can't win.