Sweet 16 Predictions: Last-Minute Predictions for the Sweet 16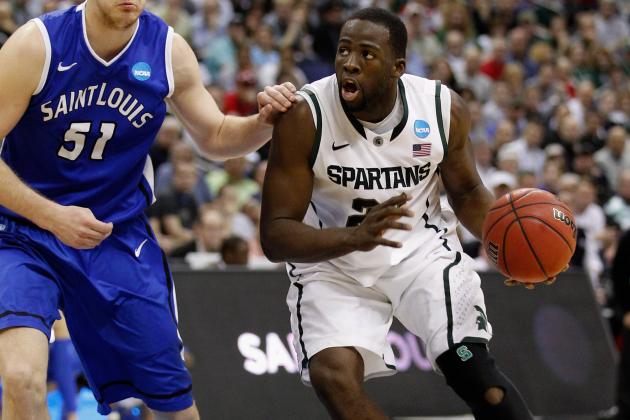 Rob Carr/Getty Images

The NCAA tournament has been an exciting one so far. There were a few upsets, a few borers and numerous great games this season.
It always seems that the Sweet 16 brings out some of the best games of the tournament and surely it won't be any different this season.
With numerous exciting match-ups, no one has a free pass.
Here are my last-minute predictions for the Sweet 16.
Begin Slideshow

»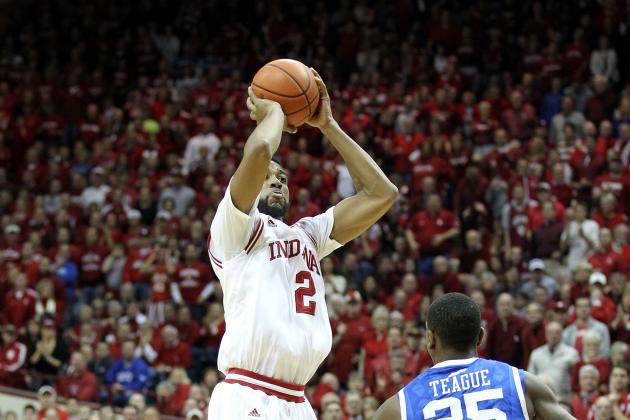 Andy Lyons/Getty Images

Everyone remembers this moment earlier in the season when Christian Watford drained a last-second three-pointer to clinch an Indiana victory against Kentucky.
Indiana fans have been gloating about this moment the whole season, and Kentucky fans have been pleading for a rematch.
A rematch is what they got and this time it will be on a neutral floor in the NCAA tournament with a chance to go to the Elite 8. It cannot get much bigger than this!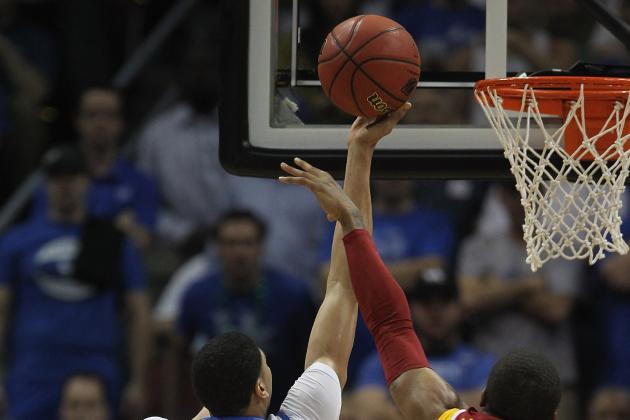 Jonathan Daniel/Getty Images

Kentucky 75, Indiana 62
Kentucky is just going to be too good for Indiana in this one. Indiana is coming off a hard-fought game against VCU and Kentucky has had a breeze of a tournament this season.
With this game being played on a neutral floor, it's going to be very tough for Tom Crean's squad to get enough momentum to beat Kentucky.
Expect Anthony Davis to have a huge game, as we see a battle of two of the elite freshmen in the nation, the other being Cody Zeller.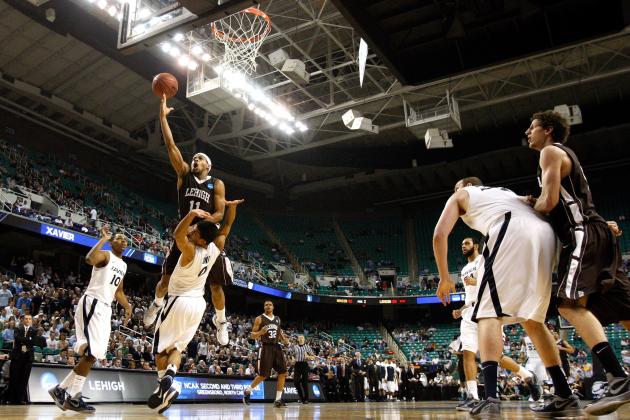 Streeter Lecka/Getty Images

Xavier is lucky to even be in the tournament, but they proved they belonged after dropping off following the fight against Cincinnati earlier in the season.
Baylor is starting to get it together, and with their new highlighter uniforms, they have been very hard to miss in this tournament so far.
After defeating Colorado and North Dakota State, Baylor is on a roll and looks to continue running through the tournament.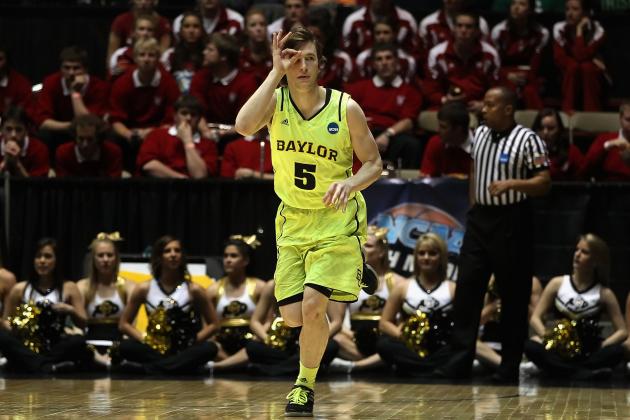 Christian Petersen/Getty Images

Baylor 75, Xavier 72
I just think Baylor is going to be too much for Xavier. Xavier has had a great run and are a decent team, but the way Baylor is playing right now, they are going to be hard to stop.
Although he has been in a slump lately, look for Perry Jones III to have a huge game against Xavier.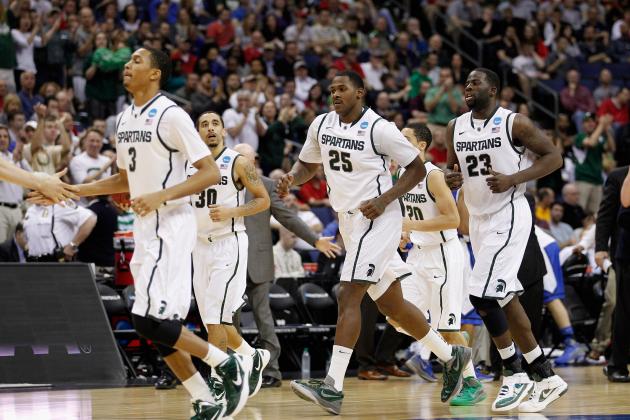 Rob Carr/Getty Images

Louisville has not lost a game since they lost their last regular season match-up against Syracuse. They went on to the Big East Tournament and the shoe fit perfectly. Now that Louisville has won six straight, they are a popular upset pick and rightfully so.
Michigan State hasn't lost since March 4 and look to make it six straight against the Cardinals.
After defeating the Buckeyes for the Big Ten Tournament Title, the Spartans have been on a roll and have been riding their seniors led by Draymond Green.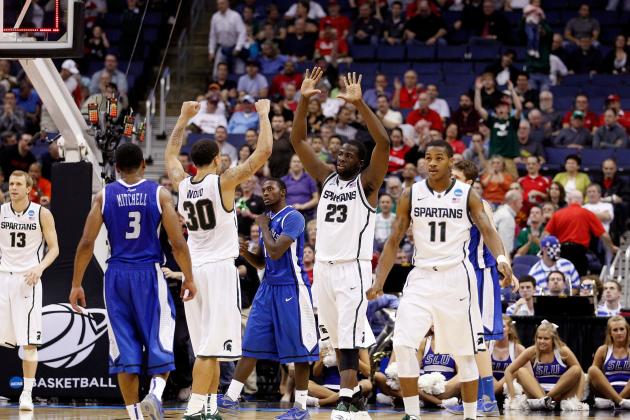 Rob Carr/Getty Images

Although Louisville is hot right now, so is Michigan State. After seeing the Spartans play multiple times this season in person, I find it hard to think that they are going to get beat in this one.
They are playing with a lot of emotion and you know they are not going to come out flat against Louisville. Look for Draymond Green to have a huge game in this epic coaching battle pitting Rick Pitino vs. Tom Izzo.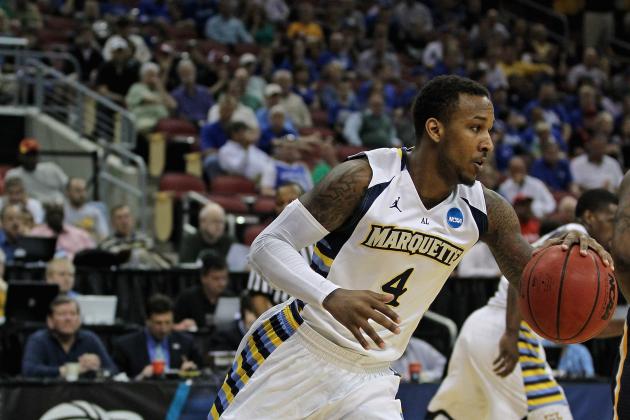 Jonathan Daniel/Getty Images

Florida is on a tear right now through the NCAA tournament and are kind of going overlooked right now.
Although they haven't had to face the toughest battles, this team seems to be clicking well right now and has won some great games as of late.
Marquette is a very good team that have also flown under the radar this season. Not a lot of people could tell you that Marquette is a three seed, because they are so underrated right now it's ridiculous.
Darius Johnson-Odom is one of the best guards in the country and often the most overlooked.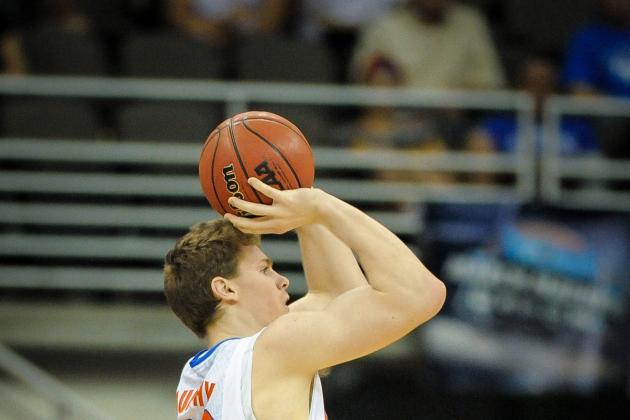 Eric Francis/Getty Images

Florida is just playing too well right now for Marquette.
They are heading on the path to the Final Four with the way they have been playing this season, but I think this one is going to be close and come down to the final seconds. Under Billy Donovan, I just think this Florida team is going to get it done.
Watch out for this often overlooked Florida squad, they may not have been clicking during the regular season, but they are now.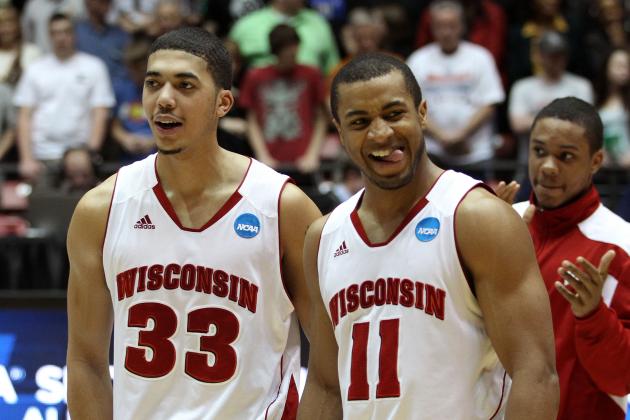 Christian Petersen/Getty Images

Wisconsin is a team that is very boring to watch. They play a slow game, but if you like that brand of basketball, it will fit you well.
Everyone in the Big Ten pokes fun at the Badgers offense, but it works usually and they seem to find a way to win while scoring in the 50s.
Syracuse is the exact opposite. Although Wisconsin is full of college players, Cuse is known for their NBA talent.
The zone might be able to give Wisconsin fits, but if they are hitting, it could be deep trouble for Syracuse, especially without Fab Melo.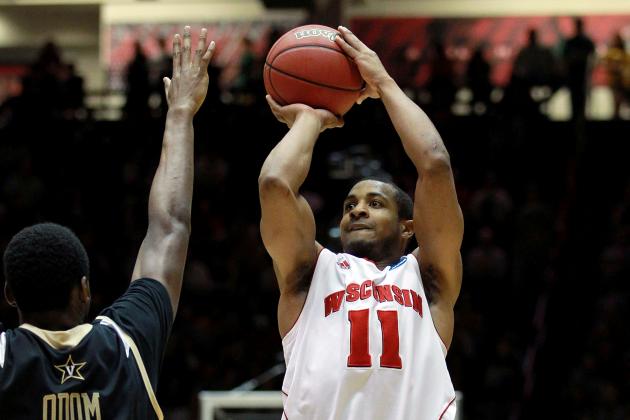 Ronald Martinez/Getty Images

Wisconsin 64, Syracuse 60
Let's face it, Syracuse is the weakest one seed and that is even if they had Fab Melo.
It's going to be tough for Cuse to deal with Wisconsin's great defense and prevent the Badgers from shooting the three ball on their famous zone.
Look for the Badgers to win this one, but it should be a close game.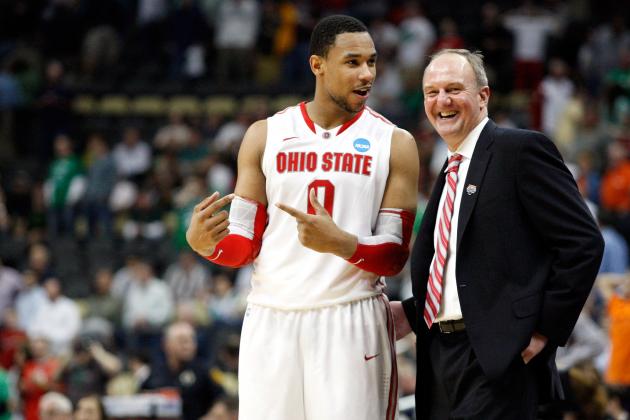 Jared Wickerham/Getty Images

Just like Xavier, Cincinnati has figured out a way to get back into business following the fight and have it going. After losing to Louisville in the Big East Tournament Final, they have been on a run to the Sweet 16 and it's been fun to watch. A team with few expectations has been able to make it this far.
Ohio State is a big team that has so much size, it should be illegal. They are truly close to the size of an NBA team and can just keep pounding in the paint as much as they want.
They have Jared Sullinger, who is one of the best players in the country, and Aaron Craft, who is a great defender.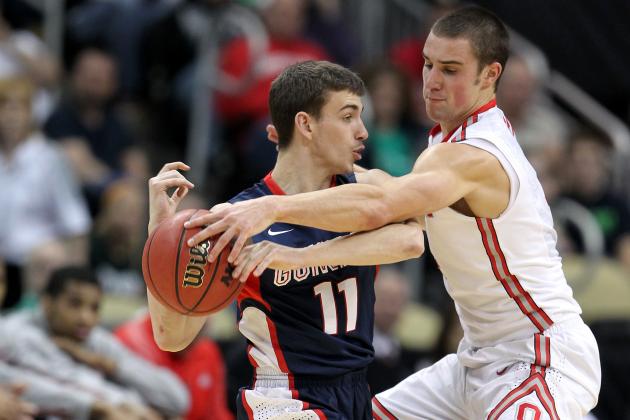 Gregory Shamus/Getty Images

Ohio State 77, Cincinnati 65
Although this is somewhat a rivalry, I can't see Cincinnati winning this one. Although they have a history of making early tournament exits, this Ohio State team is just too good.
Under Sullinger, this team will glide easily through this match-up.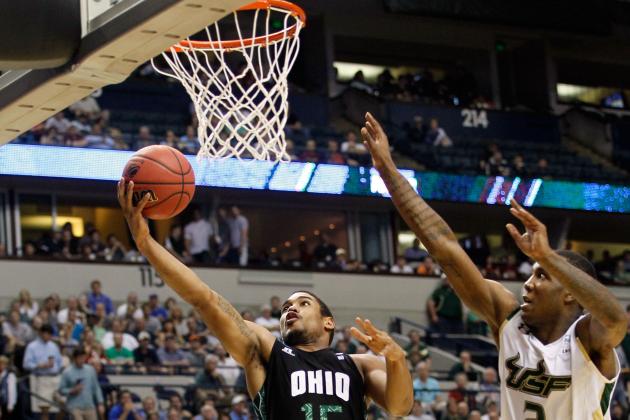 Kevin C. Cox/Getty Images

Ohio is this season's Cinderella, and if they can figure out some way to pull off this upset, it would be of epic proportions. It would be one of the biggest upsets of all time and would destroy a lot of brackets that they have not destroyed already.
North Carolina is looking to be the one that makes Cinderella cry. Although they will likely be without their starting point guard, they will still be looking to win this game. They are looking to send out Tyler Zeller right and are playing some pretty good ball right now.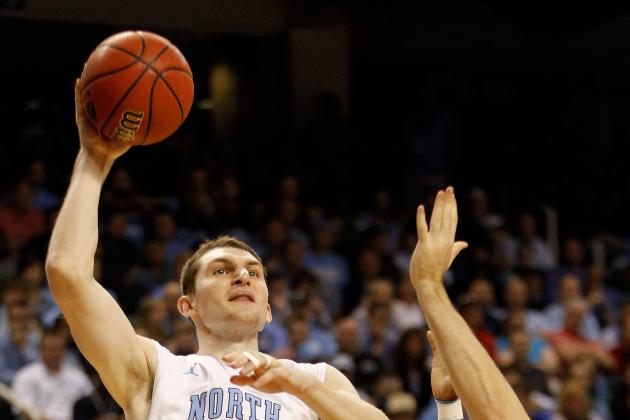 Streeter Lecka/Getty Images

North Carolina 82, Ohio 67
It's hard to see Ohio winning this game. North Carolina is just too good. They are so good, that they are just going to rip apart Ohio. Cinderella is going to lose its shoe.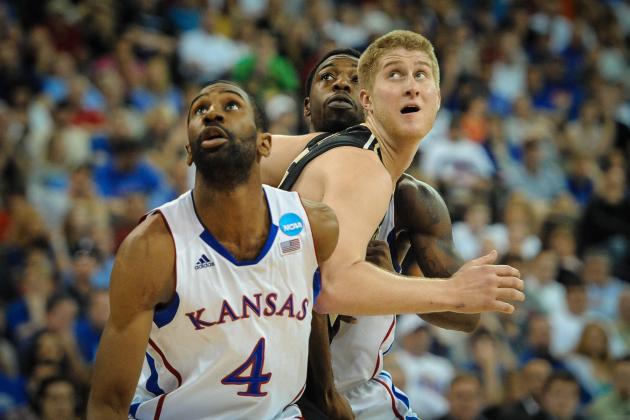 Eric Francis/Getty Images

NC State is coming off a close game, but they did make it to the Sweet 16. Not many could have guessed that they would have made it this far in the tournament. After barely getting in, they should be happy with how far they have gotten so far.
Kansas is coming off a scare from Robbie Hummel and the Purdue Boilermakers, but they are looking to get back on track against NC State. Lucky for them, they get to face a relatively weak opponent, but after almost losing to a 10 seed, an 11 seed could yield the same.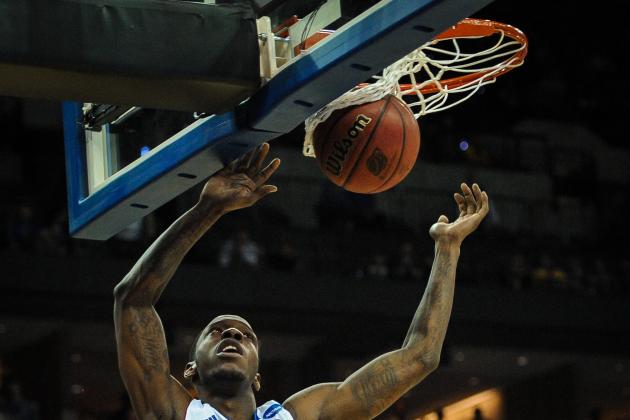 Eric Francis/Getty Images

Kansas 68 NC State 66
I think Kansas is going to inch this one out. After getting scared against Purdue, they should get out there and get at it from the go.
North Carolina State isn't going to back down, though. This should be a great one to watch.