NCAA Tournament Scores 2012: Elite Scorers Who Will Torch Teams in Sweet 16
March 22, 2012

Mike Ehrmann/Getty Images
Defense wins championships, but somebody has to put the ball in the hole. During the Sweet 16 round of the NCAA tournament, a few players will be on display that count that skill as one they have mastered.
Here are four elite scorers to watch for in tonight and tomorrow's games:
Tu Holloway - The Beast on the Perimeter
It's a shame more people don't know about Holloway. He's a dynamic scorer, but you don't often hear his name when people discuss the best guards in the nation.
He's averaging 17.2 points per game in this, his senior season. That's down from the 19 he scored as a junior. The dip is primarily due to him taking less shots overall, and specifically, less three-point shots.
One reason Holloway isn't on the tips of tongues is because he's a bit of a tweener. At 6", he's definitely a shooting guard, trapped in a point guard's body. As a potential pro, his challenge will be to prove that he can run an offense.
For now, Holloway would be content to light up one more college team when the Musketeers face Baylor on Friday night. So far in the tournament, Holloway has averaged 23 points per game, on over 50 percent shooting.
He has the full complement of tricks a small guard needs to score. A solid shot from three, quick first step and the ability to hit the fades and leaners.
Holloway is the premier perimeter scorer in the Sweet 16.
Draymond Green - The Dual Threat
Jamie Sabau/Getty Images
Many people think Green is also stuck between two positions as a NBA prospect. It's true, a player listed at a generous 6'7", 230 pounds, that is built similar to a power forward, isn't a prototypical 3 in the NBA.
That said, Green is a player, who will be a pro because of his toughness, attitude, leadership, oh—and he can score as well. Green is averaging 20 points per game in the tournament, and he has shown he can do it inside and outside.
He is 4-8 from three-point range in the tournament. His ability to knock down the three will also be a big weapon on the next level.
Green has tons of intangibles that people love, but don't sleep on the fact that the guy can score.
Jared Sullinger - King on the Block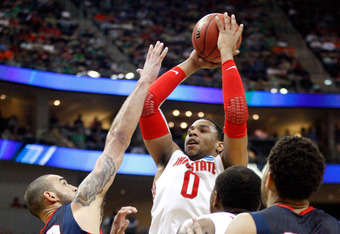 Jared Wickerham/Getty Images
Sullinger is the best post scorer in the nation. He has extended his range to make threes, but his meal ticket is on the block. His wide body, great footwork and touch make him the toughest low post cover in the country.
He rode those skills to a 17 point per game average this season and this will likely be his final year at Ohio State.
In the NBA, he may find the going a little tougher, as he isn't an explosive athlete and he's only about 6'9".
But on this level, there are few that can contain Sullinger in the post.
Brady Heslip - The Sniper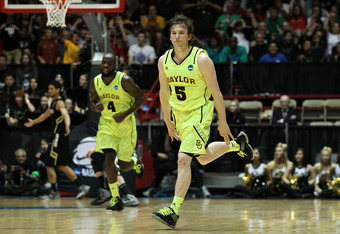 Christian Petersen/Getty Images
Heslip has been insane from the three in the NCAA tournament. His shooting display for Baylor against Colorado was bananas. Heslip had 27 points on nine threes. For the tournament he's 14-22 from beyond the arc.
For those that may have been unaware of Heslip before last week, this is nothing new. Heslip shot 45 percent from three all season, and he is one of the nation's premier three point bombers.
This sophomore sharpshooter knows his role as a sniper, and he plays it better than anyone.