Where does Indiana's matchup with Kentucky rank?
Jed Jacobsohn/Getty Images
March 22, 2012
The NCAA Tournament field of 68 teams has dwindled down to just 16. With eight intriguing match-ups on the docket for today and tomorrow, let's rank in order the most exciting games the Sweet 16 has to offer, starting with least exciting and working our way up.
8. No. 1 North Carolina vs. No. 13 Ohio
Although the injury to Kendall Marshall provides an interesting subplot to this matchup, the Tar Heels are easily the better team and they should have their way with the Bobcats.
The backcourt duo of D.J. Cooper and Walter Offutt is capable of keeping it close for Ohio, but in the end Harrison Barnes, John Henson and Tyler Zeller will be too much for the undersized Bobcats who have very minimal inside presence.
Ohio has no player taller than 6'8" that has played any significant minutes all year long, paving the way for the Carolina front court to have a field day.
7. No. 1 Syracuse vs. No. 4 Wisconsin
This game appears to be a battle of defenses with Jim Boeheim's zone scheme up against Bo Ryan's classic man-to-man style.
Unfortunately for the Orange and the Badgers, defensive match-ups won't typically net you big points in power rankings and this is no exception.
Wisconsin standout guard Jordan Taylor pitted against a strong Syracuse backcourt makes for an interesting scenario, but at the end of the day this game doesn't have enough offensive firepower to be ranked any higher than seventh.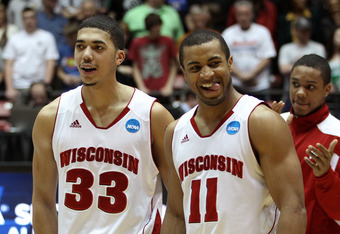 Christian Petersen/Getty Images
6. No. 2 Kansas vs. No. 11 North Carolina State
The Wolfpack have become a tournament darling thus far, pulling off two upsets on its way to the Sweet 16.
Kansas struggled early on against a tough Purdue squad, but Bill Self's team roared back from a second half deficit to punch its ticket to the Sweet 16.
Both these teams feature high octane attacks (N.C. State is ranked 51st in the NCAA in scoring, Kansas is ranked 36th).
Both teams feature star forwards: C.J. Leslie for the Wolfpack and Thomas Robinson for the Jayhawks. Seeing the two of them square off head-to-head will be worth the price of admission.
However, the game's main intrigue is whether or not N.C. State can keep its magical journey alive.
5. No. 3 Marquette vs. No. 7 Florida
If you want to watch a battle of high octane offenses, this game is for you. Both Marquette and Florida average over 75 points a game and its possible this game could be the highest scoring of all the Sweet 16 match-ups.
Neither team came into the tournament particularly hot, but both have looked spectacular so far, saving their best basketball for when it matters most.
Although their seeds differ by four, the Golden Eagles match-up with the Gators could be the most hotly contested game of the Sweet 16.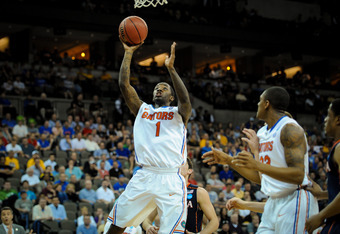 Eric Francis/Getty Images
4. No. 3 Baylor vs. No. 10 Xavier
Similar to the Florida vs. Marquette matchup, Baylor's showdown with Xavier promises to be a close, high-scoring affair.
Two of the most electric guards in the nation will be on display in the Bears' Brady Heslip and the Musketeers' Tu Holloway.
Both of these teams are extremely athletic and aren't afraid to engage in a track meet of sorts, seeing as both squads average over 70 points per game.
Baylor's Perry Jones III against Xavier's Kenny Frease also makes for an interesting battle inside.
3. No. 2 Ohio State vs. No. 6 Cincinnati
The state of Ohio has done remarkably well in this years' Big Dance. Tonight, two of the top teams in the state will battle it out with a ticket to the Elite Eight on the line, making the subplots of this game particularly intriguing.
The campuses of Cincinnati and Ohio State are separated by just 100 miles, but the teams have squared off only once in the last 50 years.
Although the focus will be on the fact that both of these teams hail from the Buckeye State, the on-court match-ups are worth looking at as well.
DeShaun Thomas has been great in the tournament so far (24.5 ppg) for Ohio State and it will be interesting to see how the Bearcats try to shut him down.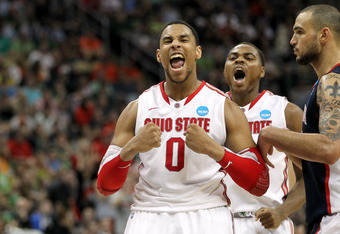 Gregory Shamus/Getty Images
2. No. 1 Michigan State vs. No. 4 Louisville
The West regional semifinal features two of college basketball's elite coaches in Tom Izzo and Rick Pitino. The two legendary coaches have 11 Final Four appearances between them and the winner of this game will be one step closer to adding to that impressive collection.
All eyes will likely be on Draymond Green, the phenomenal senior forward for the Spartans who has been brilliant in the tournament so far, leading his team in points, rebounds, assists and steals.
The battle of two of the best minds in college basketball is the reason why I ranked this match-up so highly.
1. No. 1 Kentucky vs. No. 4 Indiana
Looking for a college basketball game that has it all? Well, look no further. For the second time this season, Indiana will take the floor against Kentucky, but this time the stakes couldn't be higher.
Indiana will be looking to dispose of Kentucky in similar fashion like it did the first time around while Kentucky enters the showdown with revenge on its mind.
Two of the NCAA's top big men, the Hoosier's Cody Zeller and the Wildcats' Anthony Davis will be on display as will two of the nations top offenses.
Both teams rank among the top 20 nationally in points per game.
The Hoosiers and the Wildcats will be highly motivated to perform. Anytime a rematch of a regular season game occurs in the NCAA Tournament, it is an exciting time, but especially when it's between two of the most storied programs college basketball history.
Like the new article format? Send us feedback!