Now That Bears Have Paid Michael Bush, Team Must Work out Matt Forte Deal
March 22, 2012

Jonathan Daniel/Getty Images
The Chicago Bears signed free-agent running back Michael Bush on Thursday and now they must turn their attention to locking up Matt Forte. 
Forte was less than happy with the Bush signing and expressed his displeasure on Twitter: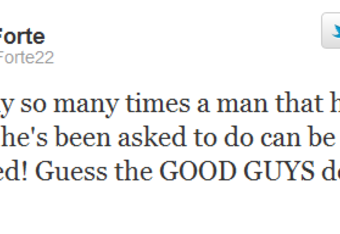 The guy has a point. After all, Forte didn't holdout when the Bears continually low-balled him on an extension before last season. Then he went out and was on his way to having the best season of his career before he missed the final four games of the season with an MCL sprain. 
Now, it would appear that Forte's leverage in contract negotiations is gone since Bush has the ability to carry the ball consistently as a No. 1 running back. Bush's best fit is as a power back and a complement to a guy like Forte, but Chicago is not in a position where it can lean on him if they need to.
The Bears have consistently low-balled Forte in contract negotiations and it appears things have not progressed at all since the team used the franchise tag on him.
Bush was given a four-year, $14 million contract, making him the third running back the Bears have brought in on a multi-year contract while Forte has waited for an extension. Chester Taylor and Marion Barber came before and were essentially backups who were paid more than the team's starter. 
I wouldn't be surprised if Forte finally does holdout. This is a big-time slight and everyone around the league sees it that way. The Bears should be focused on locking up the guy who has been their most consistent offensive player ever since they drafted him in 2008.