NCAA Tournament Scores 2012: 3 Blowouts That Have Shaped Tourney
March 22, 2012

Andy Lyons/Getty Images
The 2012 NCAA Men's basketball tournament starts up again today as the Sweet 16 kicks off, but the tournament has already been shaped by a few key blowout games.
In a system which strives for parity, there is always going to be that one game that only the fans of the winning side come away talking about how great it was. For a tournament that lives off of the drama last second shot, there has been plenty to keep it going this year.
Major upsets to Duke and Missouri set the tone for what could become the year of the underdog. But soon after these losses, the conquering minnows were vanquished themselves in blowout games.
Here are the three that will shape the tournament going forward.
Syracuse  75-59  Kansas State
Following the Orange's close and controversial victory in the first-round over UNC-Ashville, many wondered how long the No. 2 overall seed in the tournament would last. The late scratch of Fab Melo from the lineup due to injury was a damper on their title hopes. The first-round struggle made it look even more unlikely.
However, two days later the 'Cuse rebounded with a resounding win over eighth-seeded Kansas State.
The Wildcats, who finished middle of the pack in a tough Big 12, dispatched Southern Miss. In the first round with a late surge. Shooting 50% from the field made them look threatening down the stretch.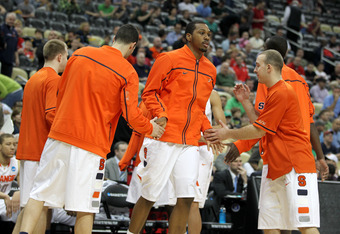 Gregory Shamus/Getty Images
But with only two days to game plan against Syracuse, they were forced to rely more on their talent than anything, which did not stack up well against what Jim Boheim can field.
The two teams went into the locker room at the half separated by a point, but when they came out, Syracuse took command and looked like the team we all expected on the first day.
The win itself and even the margin of victory is not exactly surprising. But it is significant as it has quieted any doubts about what this team can do and again made them a favorite to come out of the East.
Florida  84-50  Norfolk State
The Gators came into the tournament under-seeded in many people's opinions. The committee seemed to judge them purely off of results and not necessarily how they play.
Florida may have caught a bit of break meeting Norfolk State in the second round, who upset Missouri. But they took full advantage of it by blowing them out from the first whistle.
Never did they let them get into the flow of the game or find any kind of momentum. They clamped down hard on defense and used their superior athleticism to get out into transition. Billy Donovan made sure his tram recognized what can happen when you let your guard down for even a moment.
Norfolk had their only lead 3:30 into the game (5-4), but from then on it was all Florida.
Right now there are not many hotter teams in the tourney. Florida also blew out Virginia 71-45 in the first round. Outside of No. 1 seeds, no one has played better in both of their games, making the Gators a dangerous opponent.
Marquette should be nervous when they square off today, as it looks like no one can slow down this team.
Kentucky  87-71  Iowa State
On paper this means little to anyone. Why should the No. 1 team in the country not be able to blowout a lowly No. 8 seed? But it is in fact very indicative of why the Wildcats are favored to win the whole thing.
Everyone expects the potential top pick in the NBA draft, Anthony Davis, to have a stellar tournament. But he is still a kid and still can be stopped. Should Kentucky face another big, strong forward and Davis not have his best night, he could potentially be quieted.
Though he grabbed 12 boards and had 16 points, it was not the star that shone the brightest. Guard Marquis Teague had a career night, scoring 24 and getting seven assists.
What's even more spectacular is how he got those points. In the college game, the high-scoring guard is usually lethal from deep. Not Teague. He only attempted three 3-pointers and made only one. He penetrated, pulled up and shot mid range jumpers, killing the Cyclones, who were worried about Davis.
It has been proven time and time again that it is not always the best players who win an NCAA championship, but the team with the most depth. This win means nothing when seen from a distant perspective. But if you look at how it was achieved, it very well could be the most telling sign that this will be the team that finally gets John Calipari his NCAA title.
Follow me on Twitter: @thecriterionman