Sweet 16 2012: Jae Crowder and More Players Who'll Have Breakout Games
March 22, 2012

Andy Lyons/Getty Images
There have been few players who have meant more to their team than Marquette's Jae Crowder. His ability to score will be the reason why his team moves past the Florida Gators in the Sweet 16 and onto the Elite Eight.
However, Crowder will not be the only player who has a monster game, propelling his team into the next round. These other players will be as instrumental to their team's success. 
Jae Crowder
Crowder has been the go-to guy during Marquette's two tournament games. He's averaging a double-double with 21 points and 14.5 rebounds. Crowder is continuing his stellar play, as coming into the NCAA tournament Crowder was putting up double-doubles in the Big East tournament, averaging 18 points and 13 rebounds.
Against the Gators, Crowder will continue to feast on SEC opponents. 
When the Golden Eagles played two SEC opponents earlier in the year, Crowder went off for 22 points and nine rebounds against LSU and 16 points and 10 rebounds against Vanderbilt. 
Crowder will get his chances to shine in the Sweet 16, as he will lead Marquette to the Elite Eight with 19 points and 14 rebounds.
Brady Heslip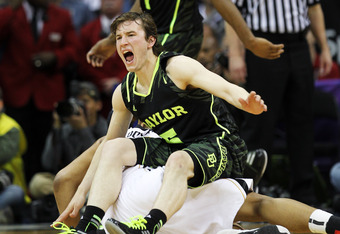 Jamie Squire/Getty Images
Heslip has been a game-changing player in Baylor's first two games in the NCAA tournament. 
In their opening game against South Dakota State, Heslip drained five three-pointers, helping the Bears put away their first opponent 68-60. However, he had an even better game in their second-round game against Colorado, hitting nine three-pointers for 27 points.
Helsip comes into the Sweet 16 averaging 17 points per game and 4.8 three-pointers made. 
Heslip will find room against Xavier in the Sweet 16, which will result in another 20-point game for the talented sophomore.  
Jared Sullinger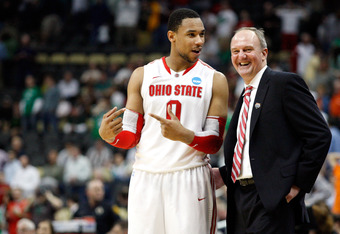 Jared Wickerham/Getty Images
Ohio State's victories over Loyola (Md.) and Gonzaga were due in part to Sullinger's ability to be a dominant force on the glass and as a scorer. 
Sullinger has improved in Ohio State's two victories by having a moderate 12 points in their first game, only to carry the Buckeyes with 18 points against Gonzaga. 
In the Sweet 16, Sullinger will be a big reason why the Buckeyes will move onto an Elite Eight matchup against the winner of Wisconsin and Syracuse. Sullinger will explode against Cincinnati, carrying the Buckeyes with 22 points and 14 rebounds.
These three players will lead their team's in scoring and will have all of us talking about their excellent play after the game.