College Football 2012: Mike Leach's Return Is Great for the Game
March 22, 2012

Jamie Squire/Getty Images
As the Washington State Cougars get set to start their 2012 spring football drills, there is one thing that should make the college football world rejoice: Mike Leach is back.
Whether you're a fan of the coach or not, this is something that should absolutely be celebrated in college football. Leach, the Pirate himself, is back in the game, folks.
But despite the joy that fans should have over the return of the enigmatic coach, this has been far from an easy road back to the sideline. There was the Texas Tech fiasco that cost him his job and firmly put Craig James in the awful category with college football fans.
Then we saw the coach, who was embroiled in a lawsuit, get his own radio show on Sirius. There were the failed attempts at employment with Miami, sponsored by Donald Trump, and, of course, at Maryland. Leach was supposed to have the inside track in College Park through Kevin Plank, but we all have seen how that disaster turned out  when athletic director Kevin Anderson hired Randy Edsall instead.
That takes us to the end of November, when Mike Leach finally got his shot to coach again. The spot? Pullman, Wash., a place not much different from Lubbock, Texas, where he got his first chance to be a head coach.
Both are remote locales. Both are hungry to get some consistent wins. Both want to be relevant within their conference. The list of parallels in the two school's situations is quite lengthy as talent doesn't pour onto campus and coaches must find a way to win against teams much higher in college football's hierarchy.
However, when Leach took over Texas Tech, the Red Raiders were in far better shape than the Cougars are right now. Spike Dykes had taken Texas Tech to five bowl games in six years. Washington State has not been to a bowl since Bill Doba's one-and-only bowl trip, the 2003 Holiday Bowl.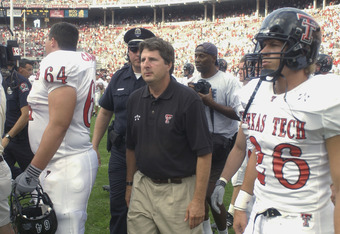 Mark Lyons/Getty Images
While Tech was in a better spot, the history is on Wazzu's side as the Cougars have four Rose Bowl trips to their credit; including one in the BCS era, in the 2002 season under coach Mike Price.
So now starts the Mike Leach era in Pullman.
On the field, that means transitioning from Paul Wulff's offense into the Air Raid that Leach worked to fine-tune with his mentor Hal Mumme. Leach has had success everywhere, from Kentucky to Oklahoma to Texas Tech, with his scheme.
The Pac-12 is his new challenge. Leach has a quarterback battle on his hands as Connor Holiday and Jeff Tuel vie for the lead spot. Tuel is the elder statesman but Holiday saw plenty of action last year as a freshman.
Defense always has been a bit of a bugaboo with Leach, and with Mike Breske installing a 3-4 system this is going to be a trial by fire. Talent is not up to snuff at Washington State and the 3-4 is being brought in as a way to make use of the pieces that the team has.
On-the-field results are what will ultimately sustain the program and create opportunities to increase the talent level. Leach's team will find a way to score. The beauty of the Air Raid is in its simplicity and the ability to get players in space where they can be successful.
There are not expansive route trees, mind-numbing checks or elite arm-required throws. It is, in its most basic sense, an offense that maximizes what a limited talent-level team can do. Leach will make defenses cover the entire field. And as teams adjust to stop what he is doing, he'll push receivers vertical to capitalize on blown coverages and mismatches.
Off the field, though, is where Washington State, the Pac-12 and college football as a whole will reap the most benefits from Leach's return. He is a big story. From the Craig James situation to the years prior when he was talking about "fat little girlfriends" and waxing philosophically about pirates; Leach is a story. A story that college football is going to enjoy as he makes his debut in Pullman.
When you couple a good sound byte, a great interview and a coach whose teams play exciting football, you have a plus for the game. As coaches like Nick Saban play hardball with the media, giving them nothing more than is required, and guys like Lane Kiffin dial themselves down to focus on getting to a title; Leach is a guy who will open up and entertain the masses. Whether his team wins 45-42 or loses 56-24, Leach is going to give folks something.
That means eyes will be trained on Pullman. That means eyes will be on Washington State football. That means television will be following the Cougars, and that is something that Wazzu and the Pac-12 have not had in nearly a decade.
The Washington State Gameday travelers will have something to swing their swords about, and that's a good thing for everyone.