World Football Strange but True: Anton Ferdinand and His Boy Band Past
March 22, 2012

Scott Heavey/Getty Images
It's a sad day for music. Anton Ferdinand, it seems, could have been a pop star.
Alas, it wasn't to be. Ferdinand is just a plain ol' footballer, not a professional "musician."
So here's the deal. Ferdinand, 26, is friends with Marvin Humes, who is a member of the British boy band JLS. According to The Sun, Ferdinand could have been a member of JLS if not for his pesky football career.
We were the original JLS. We used to sing a lot together when we were younger and do talent competitions.

We had a group of friends that used to go round each other's houses and sing.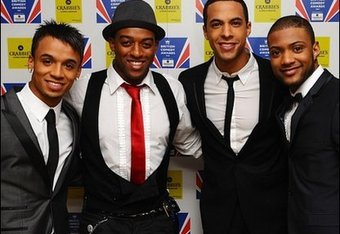 This all sounds very manly, of course. As does JLS, a group I had never heard of before Thursday but whose acronym apparently stands for "Jack the Lad Swing."
I'm not really sure what that means, but their name was UFO before that.
Regardless of their questionable choices in naming themselves, the boys from JLS have put out three albums, all of which have gone platinum in the United Kingdom. Their eponymous debut, released in 2009, reached the top spot on the British charts.
The Guardian's review of this modern classic included these words of praise:
Whether singing doo-wop or signed to Motown, black boybands have been integral to pop, infusing it with soul, rhythm and blues. By placing themselves in the British boyband, JLS ignore this illustrious history, ­choosing to recreate the anaemic pap of the likes of Westlife and Blue in the 1990s.
Don't cry for JLS, though. Anton has only played for three clubs and the England Under-21s. Oh, and he was allegedly racially abused by John Terry.
Could Ferdinand return to music when his football days come to an end? Maybe so.
"I'd definitely like to think about a collaboration with them in the future," he told The Sun.