Arsenal: Aaron Ramsey Is in Danger of Losing His First-Team Place for Good
March 22, 2012

Stu Forster/Getty Images
The Welsh midfielder's talent is undeniable. That was, after all, what convinced Arsene Wenger to dispense £5 million to secure the Cardiff City maestro's services back in 2008.
Since that move, however, Ramsey has seen his stock as one of the brightest young lights in European football dim somewhat.
Now, when the future stars in midfield are named, his name is rarely among them.
To say his career has stagnated at 21 would be harsh indeed.
It is fair to say that his future prospects have been reevaluated. What had once been lofty heights has been lowered somewhat.
That is not all his fault. Ramsey missed almost eight months from February to October 2010 of what would have been a crucial stage in his development after suffering that horrifying double leg break against Stoke City.
It would have been enough of a set-back to knock most of us down for good. But by the end of that year, Ramsey was back training, and eventually playing on loan deals with Nottingham Forest and Cardiff City.
He wasn't at the top of his game during the 2010-11 season—after all, how could he have been?—but he did have some highlights.
Ramsey was named team captain of the Wales national team, and after returning to the club, he scored the game winner for Arsenal against Manchester United at the Emirates in April.
Big things were expected ahead of this season.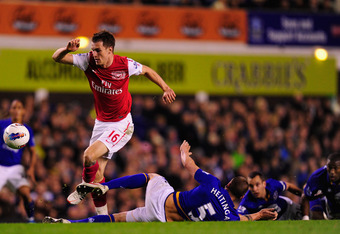 Stu Forster/Getty Images
Ramsey was going to be healthy, and he was going to be needed to alleviate the blow of the losses of midfield mainstays Cesc Fabregas and Samir Nasri.
The season started off well enough, but his performances never served to fully captivate. In many ways, he still looked somewhat off the pace, as if he were still reintegrating himself into the pace and furor of EPL football.
There were passes that didn't come off right, and there were bits of footwork that fell flat.
Essentially, when Arsenal needed a fulcrum in the middle of the park, Ramsey floundered instead.
That's not to say he hasn't had his highlights—the winner against Olympique de Marseille was essential for securing qualification for Arsenal in the last 16 of the Champions League, but they have been too infrequent.
And that has been insufficient. In 21 league matches this season, Ramsey has two goals and four assists, and about 50 failed attempts at intricate trickery that would make Cristiano Ronaldo blush.
Somewhere along the line, the starlet who supplied bountiful efficiency and little wasted movement was lost. The Ramsey we see today, who scuffs half-volleys (like we saw against Everton), fails to finish passing movements, and can't complete dribbles surfaced.
He was a step slow into challenges. A stark contrast to the image of Tomas Rosicky sliding in with that sweeping motion he displays so uncannily to win the ball back with impressive frequency.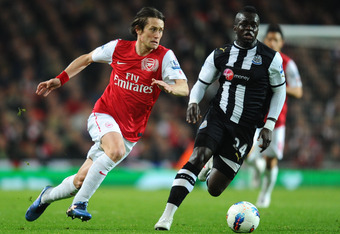 Mike Hewitt/Getty Images
If Ramsey wants to keep getting starts for Arsenal, he will have to do much better. 
Rosicky, who started on the left wing against Everton (but drifted into a more comfortable central position whenever he got the chance), will likely reassume that attacking midfield role next time when Alex Oxlade-Chamberlain starts.
Rosicky has simply been better than Ramsey. His passing has been more precise, his movement more calculated, his drive more complete. There's a reason Wenger rewarded him with a new contract at 31. He deserved it.
There are nine games left in the season for Ramsey to reassert himself. Can he do it?
The ball's in his proverbial court.