Duncan Keith: Will His Errant Elbow Wake Up the Slumbering Vancouver Canucks?
March 22, 2012

Jonathan Daniel/Getty Images
It's no secret—over the last several weeks, the elite Vancouver Canucks have strung together some very average on-ice performances. When you see a team losing to Eastern Conference cellar-dwellers Montreal and getting shut out by Western weaklings Minnesota, it's hard to keep believing that team is the cream of the crop, better than all their rivals, ready to challenge for the Stanley Cup once again starting in just three weeks.
In Vancouver, all eyes were on the Canucks vs. Blackhawks match on Wednesday night. If the team couldn't get energized and give a strong performance against their hated playoff rivals, surely that was the end of all hope.
In the end, there were no simple answers—just more questions. 
How badly injured is Daniel Sedin after Duncan Keith's elbow to the face?

Will Keith face supplementary discipline, and if so, what length is the suspension?

Is mild-mannered captain Henrik Sedin using the incident as a rallying cry to fire up his teammates for the stretch run and beyond?

If these two teams meet in the playoffs for the fourth straight year, will they play by "last man standing" rules instead of the traditional best-of-seven?
On the scoreboard, the 'Hawks prevailed with a 2-1 overtime victory. But let's ignore Keith's elbow for a moment.
Despite the loss, there were a few promising signs for the Canucks, compared to recent games. Roberto Luongo played solidly and consistently. Mason Raymond logged 20 minutes of ice time, five shots, three hits and was a presence.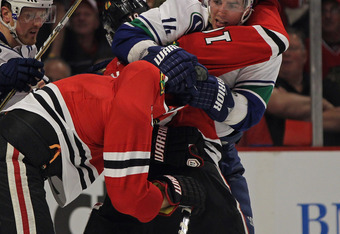 Jonathan Daniel/Getty Images
Sammy Pahlsson was lights-out covering Manny Malhotra's face-off duties, going 13-3 in the circle. Penalty-killing was solid, particularly through a rough stretch in the second period. And the Canucks were a physical presence right from the opening puck-drop, ultimately outhitting Chicago, 38-24. Old enemies like Alex Burrows continued their agitating ways, while new-kid Zack Kassian wasted no time getting into the spirit of the rivalry.
Some call it the best rivalry in hockey. For now, it's certainly no closer to resolution as the Canucks and Blackhawks wrap up their season series with results that couldn't be more even. In four games, each team has one win and one loss in regulation, and one win and one loss in overtime. Each team has a win and a loss in 2011, and the same in 2012. 
Last year's first-round playoff series came down to overtime in Game 7, and if Vancouver and Chicago meet again this year, there's no reason to think the margin between them won't be just as narrow.
Tonight, the Canucks can take the single point, and perhaps their renewed sense of self. We'll start to see if they can keep up their feisty play on Thursday, when they play the much-improved Dallas Stars. After not meeting for more than a year due to a scheduling quirk, the new-look Stars have beaten the Canucks twice in the last month, so there should be no shortage of bad blood ready to boil at the American Airlines Center.
The idea of the Canucks losing their Art Ross Trophy winner in Sedin for any period of time is a scary one. If Daniel is hurt, one need look no further for inspiration than the 'Hawks themselves, who have gone 10-5 during the 15 games their captain Jonathan Toews has missed with a concussion of his own.
Sometimes a little adversity is what it takes to get the juices flowing again. The Canucks' prolonged retaliation to Duncan Keith's hit tonight looks like the Norris Trophy winner may have inadvertently woken up a team that's been hitting the snooze button for much of 2012. 
Timing is everything when it comes to a successful playoff run.  Is this the Canucks' turning point?