Why Monta Ellis and Brandon Jennings Are "Marbury/Francis: The Sequel"
March 22, 2012

Chris Chambers/Getty Images
Brandon Jennings and Monta Ellis: two shoot-first, pass-second point guards paired together in the hopes of creating one of the most electric backcourt tandems in the NBA.
If the script sounds familiar, then it should. Because we've seen this movie before.
Six years ago, the New York Knicks engineered a trade that brought point guard Steve Francis to Broadway. The thing was, New York already had a point guard by the name of Stephon Marbury.
At the time, Marbury and Francis had very similar skill sets. But since both were fantastic offensive talents in their own right, putting the two of them side-by-side would result in a duo so dynamic that they couldn't possibly be contained.
Or so the theory went.
It was a move so bold, so daring, so puzzling, that it led then-Knicks general manager Isiah Thomas to utter the following statement in defense of the deal: "It's so crazy, it just might work!"
But it didn't.
The Marbury/Francis combination only suited up for a total of 55 games—a short time in the annals of basketball history, but a far longer run than that of the HBO series Luck. Unfortunately, luck wasn't on the New York's side in the months that followed that ill-fated trade.
The Knicks' record with both Francis and Marbury in the lineup? 18-37.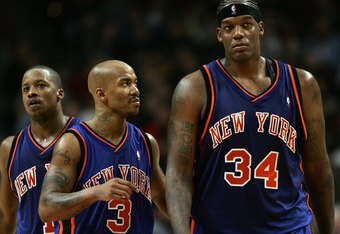 Jonathan Daniel/Getty Images
The results weren't surprising. After all, the Marbury/Francis pairing was the brainchild of Thomas—a man who not only wreaked his special brand of havoc in the front offices of two NBA franchises, but helped destroy an entire league.
Bucks general manager John Hammond is no Thomas, but he clearly failed to learn from the mistakes of the current Florida International head coach. Because if he had, then he never would have brought Ellis to Milwaukee.
In Hammond's defense, it's easy to understand why he decided to pull the trigger on the deal. Part of the impetus behind a move such as this lies in a single phrase: "matchup problems."
On their own, Brandon Jennings and Monta Ellis are exceptional basketball players. Both are lightning-quick ball-handlers who can score 35 points on any given night.
And while each has flaws—Jennings suffers from questionable shot selection, while Ellis struggles on defense—both present potential matchup problems for opposing teams.
Together, the storyline for the two players changes quite a bit. As talented as Ellis and Jennings are, much like Francis and Marbury, their talents are more duplicative than complementary.
The main issue is that both of them need the basketball. A lot. Jennings and Ellis are among the top 12 players in the league in terms of field-goal attempts, and Oklahoma City's Russell Westbrook and Kevin Durant are the only set of teammates that averages more shots per night than the newly configured Milwaukee tandem.
In a perfect world, Jennings and Ellis would each be paired with a bigger guard who can operate without the ball in his hands. Instead, one (or perhaps both) of them will be forced to refine their respective game and, as a result, will be less effective.
The fact that Milwaukee won their first two games with Ellis in the lineup is meaningless. As several financial institutions have taught us, past performance is not an indicator of future results. And as the movie industry has taught us, sequels—with Beverly Hills Cop II as one of the few exceptions—are rarely better than the originals.
Simply put, the Ellis/Jennings experiment cannot work.
Scratch that. It can work. In video games.
As any seasoned veteran of NBA 2K12 will tell you, an Ellis/Jennings backcourt is the stuff of dreams. Then again, so was the combo of Marbury and Francis back in 2006.
Just ask Isiah Thomas.