Los Angeles Angels: Bold Predictions for Albert Pujols and the New-Look Angels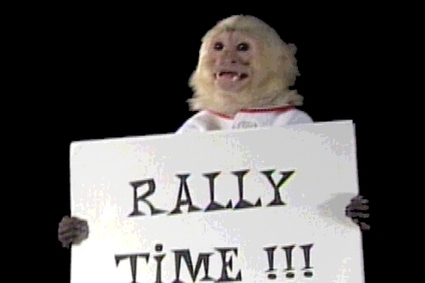 No disrespect to the Yankees, Red Sox or Phillies, but with one huge splash in one day, the Angels are the best team in baseball on paper and the favorite to win it all. Without a doubt, there could be potential injuries, luck, and other issues that could alter the course of the season and sabotage a promising squad. Here are six bold predictions about the 2012 Angels.
Begin Slideshow

»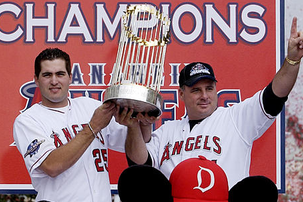 Surprisingly, the Angels haven't made it back to the World Series since their miracle run in 2002 when Disney still owned the team. They have been consistently competitive under the ownership of Arte Moreno, which include big-time free agent signings highlighted by Vladimir Guerrero and Torii Hunter. The team also made ballsy trades for Scott Kazmir, Dan Haren and Vernon Wells with mixed results. This year will be the year the Angels make it back to the World Series.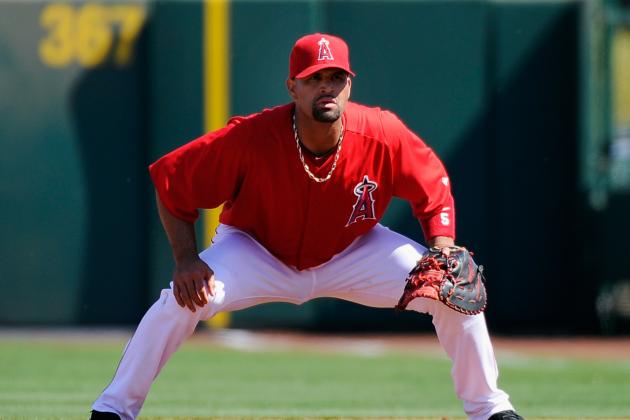 Kevork Djansezian/Getty Images

There has been some rumblings, mainly from St. Louis, that Pujols is a. not worth the money b. faked his birth certificate and/or c. patter of declining production. I don't buy it. In fact, I am pegging Pujols as the early season favorite for AL MVP.
The main argument against Pujols from ageist over at Fangraph, sabermetric fanatics, and Cardinals fans is that his production went from .327 47 homers in 2009 to .312 42 homers in 2010 and .299 37 homers last season.
The problem with this argument is that his 2009 and 2010 difference is almost negligible. His BA downturn in 2011 could be attributed to a horrible start in the first half due to contract distraction. Once Pujols put that behind him post all-star break, he went back to being the Pujols we know.
Nothing lasts forever, but Pujols is worth every penny from a marketing and team valuation standpoint. You have to be willing to pay premium money for once-in-a-lifetime talents such as Pujols and A-Rod. He has been grossly underpaid his entire career (look at the contracts of Mark Teixeira, Ryan Howard, etc). No one has any illusions that Pujols will still be the same player in his early 40s, but it balances out the time when Pujols was underpaid.
Needless to say, there are plenty of precedents of players who manage to stay productive into their late 30s and early 40s. Frank Thomas, Jim Thome, Chipper Jones, Jeff Kent, Barry Bonds, Rafael Palmeiro and Gary Sheffield.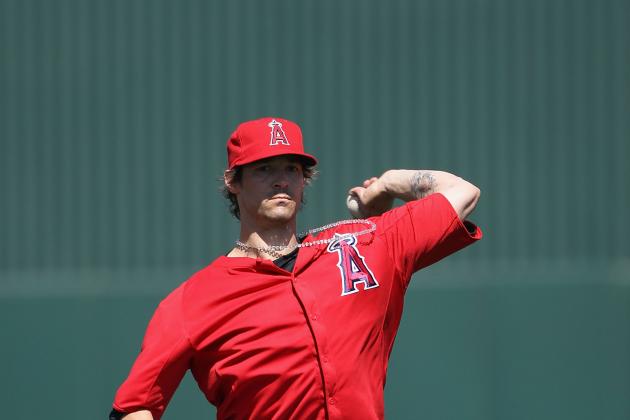 Christian Petersen/Getty Images

With the Yankees' rotation full of band-aids and the Red Sox' final two rotation spots still up in the air, the Angels' underrated rotation is one of the best in baseball. No offense to Tampa Bay (Matt Moore lacks the track record, and James Shields will most likely regress) and Texas (Arlington is never kind to pitchers), the Angels hands down have the best rotation in the AL.
Both Dan Haren and Jered Weaver are early favorites for the AL Cy Young award. CJ Wilson had back-to-back solid seasons in an extreme hitter park. His return to his local SoCal root bodes well to his success and immediate comfort level. Ervin Santana had solid seasons in three of the last four years and seems to be entering his prime. At worst, Santana is a decent inning eater.
Jerome Williams is a potential feel good story. He is only 30 year old, but he went from can't miss prospect in the early 2000s to pitching in Taiwan when he was only 28. If he doesn't work out, the Angels have the resources to acquire someone else midseason or take over another reclamation project. (What about Jeff Weaver?)
All kidding aside, smart money says that career NL-leaguer Hiroki Kuroda and Michael Pineda, who pitched in pitcher haven Safeco Park last year with an extreme home-away split and already having velocity issues, will not do very well in the bandbox known as Yankees Stadium. Ivan Nova and Freddy Garcia are both prime candidates for regression/correction. Phil Hughes, who is probably better off as a reliever, and Andy Pettitte are both huge question marks.
The Red Sox are in an even more precarious position. They brought in Vicente Padilla, Aaron Cook, Carlos Silva, Andrew Miller, Daniel Bard, Alfredo Aceves and Felix Doubront to fill the last two spots of the rotations vacated by John Lackey and Daisuke Matsuzaka. They should had given franchise icon Tim Wakefield one more chance, but that boat has sailed.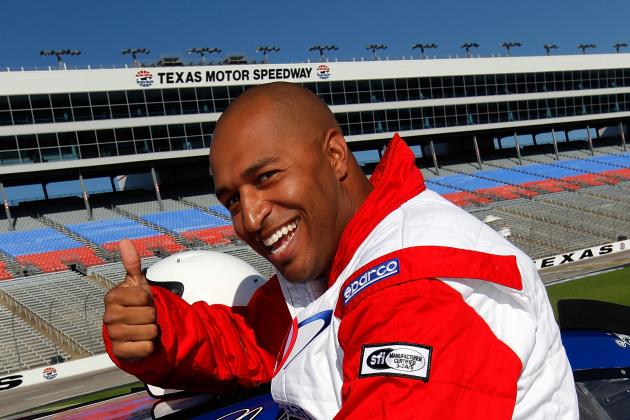 Tom Pennington/Getty Images

Every year, a few veterans the media has written off come back with a vengeance. Frank Thomas in 2006. Chipper Jones in 2007 and 2008, Lance Berkman last season, Ken Griffey in 2007, Jim Thome in 2006 and 2010 are some of the more recent examples.
The Angels have quite a few vets who had success in the past. Torii Hunter, Vernon Wells, Bobby Abreu and Kendrys Morales are all question marks who had down seasons last year. Morales has the highest upside, but he hasn't played in almost two years. Wells has an up-and-down career, especially the past few seasons. He may have a mini-resurgence, but don't expect anything drastic given his mediocre number away from Toronto's hitter-friendly park. Abreu's power has completely vanished, but he is still a professional hitter who knows how to get on base. Basically he is the opposite of Mark Trumbo's all or nothing approach at the plate.
Torii Hunter, who had a solid second half, is the best bet to return to his career norm. But the odds are great that one of them end up putting up a surprisingly good season.
Jeff Gross/Getty Images

Let's get one thing straight: Trout is no Brandon Wood or Dallas McPherson.
Amid the hype about Bryce Harper, Yu Darvish, Yoenis Cespedes and Matt Moore, Trout is the forgotten can't-miss prospect.
Trout is still only 20 years old. In his brief big league cameo last season, he was extremely raw but he did flash both speed and power. He has 5-tool potential. He already showed much more than Wood and McPherson ever did.
Remember K-Rod's meteoric rise during the Angels' 2002 championship run? Trout could be that guy this year. Mike Scioscia is not shy about using rookies during the stretch run.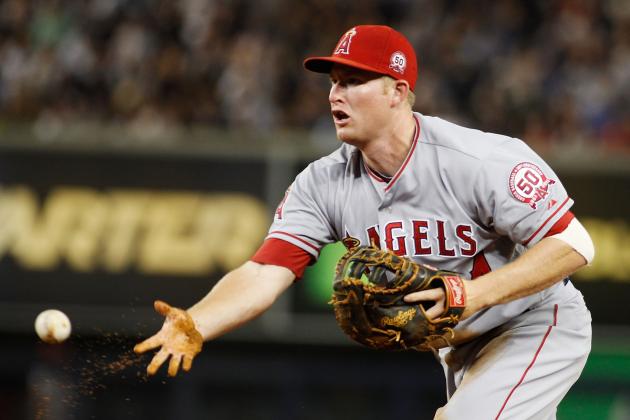 Mike Stobe/Getty Images

Or at least he should be.
Not trying to hate on the guy, but I never warmed up to Trumbo last season. His 29 homers is deceiving. His all-or-nothing plate approach resulted in a horrible .291 OBP. His .768 OPS is below average for a first baseman. I didn't understand the uproar when he didn't win AL ROY last year.
Replacement level players like Trumbo are dimes a dozen. Some recent examples include Mike Jacobs and Russell Branyan. Is he good enough to be a major league player? Maybe. Is he an everyday player in the bigs for a contender? Hell no.
I hope the Angels ship him out before he gets exposed as another Mike Jacobs and his trade value completely evaporates.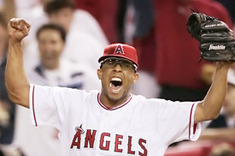 This is not a Rex Ryan-styled official endorsement that the Angels will win it all this year. But at the current juncture, with their experience, continuity of management, stability and deep-pocketed owner, they are the best team on paper very much like the Phillies at this stage last year. Anything short of a parade in Anaheim would be a disappointment. It's been 10 years since the miracle run in 2002. The Angels have come a long way as a franchise. They came from the darkhorse of the darkhorses to a perennial contender. Maybe this year is the year they put everything together.