NCAA Tournament Sweet 16 2012: 8 Players Who Will Carry Their Teams to Elite 8
Jonathan Daniel/Getty Images
The Sweet 16 is scheduled to begin tomorrow night in Boston, MA ,where Syracuse will take the court to take on Wisconsin.
That game will begin the slate of the eight scheduled over the next two days, including every No. 1 seed and a number of teams many didn't expect to make the Sweet 16, including Xavier, North Carolina State and Ohio.
For these teams to move on to the Elite 8, they're going to need big efforts from some of their key players; these are the games where stars are born and NCAA tournament legends are made.
In that spirit, here's a guy from each team that will have a big game, lead their team to the next round and send their opponent home only dreaming of tournament glory.
1 Syracuse vs. 4 Wisconsin: Scoop Jardine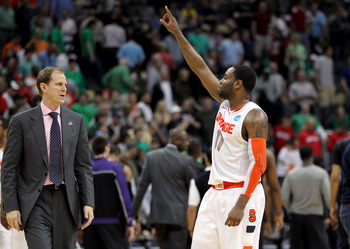 Gregory Shamus/Getty Images
For the majority of the round of 32 game against Kansas State, Syracuse was locked in a defensive struggle, trading baskets with the Wildcats off of turnovers and offensive rebounds they were allowing.
But apparently, Scoop Jardine got tired of waiting for that type of game to play itself out. Jardine began the dribble penetration that led to three pointers for James Southerland that helped increase the lead to the point Kansas State had no chance to come back.
Jardine is one of the unquestioned leaders of the Orange. He'll face a similar counter part in taking on Jordan Taylor, the Wisconsin senior point guard who is widely considered one of the top players at that position in the country.
Scoop will have to go right at Taylor in the flow of the Syracuse offense, especially since they'll have no inside post game without Fab Melo.
Syracuse will ride his penetration and shifty defense in the 2-3 zone into the next round, where they'll face the winner of the next game on this list.
2 Ohio State vs. 6 Cincinnati: Aaron Craft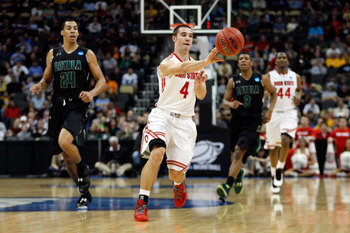 Jared Wickerham/Getty Images
In the four guard system that Cincinnati favors, conventional wisdom says Ohio State's Jared Sullinger or Deshaun Thomas will have a big night.
But I'm going to take it in a different direction, saying Craft will have a big night to lead the Buckeyes to the victory over the Big East tournament runner-ups.
Craft will be instrumental in making sure Ohio State is running fluid on both offense and defense, and if Cincinnati chooses to double Thomas or Sullinger down low, Craft could be the recipient of kick-out passes from the post.
Ohio State will ride their point guard to the next round, fending off a pesky Bearcat squad to make it to an Elite 8 matchup with the Orange in one of the more highly anticipated games of the tournament.
1 Michigan State vs. 4 Louisville: Draymond Green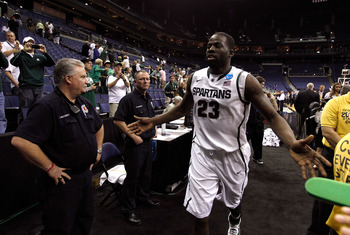 Rob Carr/Getty Images
Who else but Draymond Green? The do-it-all forward recorded his second triple-double of his NCAA tournament career last week (Oscar Robertson and Magic Johnson are the other two), and he carries the load on both ends for coach Tom Izzo's squad.
Louisville's many guard attack doesn't feature the kind of versatility Green brings to the game, begging the question: Who can guard Draymond?
The answer is nobody, and Green should have his way in Michigan State's offensive sets as he finds mismatches inside and out.
One concern for Michigan State could be the ability of the Cardinals to get out on the break and out-athlete the Spartans. But Green will captain his squad the same way he has for his four years on campus, and Michigan State will move on to face the winner of Marquette and Florida in the bottom of the West bracket.
3 Marquette vs 7 Florida: Jae Crowder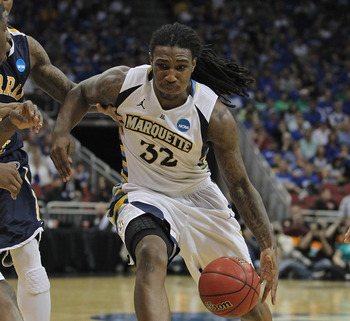 Jonathan Daniel/Getty Images
Marquette is a very physical basketball team. They'll have the size and strength advantage over the Florida Gators, who primarily use a three-guard lineup with Kenny Boynton and Bradley Beal running the show.
Jae Crowder is no exception. He is the Draymond Green of the Golden Eagles, using his size and creativity to run the show on offense and create easy baskets for his teammates on the fast break. Marquette pounded their way to a win against Murray State, a team widely expected to make a deep tournament run, making them work for every shot.
Crowder will have much of the same responsibility against Florida, when his teammate Darius Johnson-Odom will go up against Bradley Beal, one of the more exciting 1-on-1 matchups of the entire tournament.
That should lead to more isolation and passing opportunities for Crowder, who propels the Golden Eagles to the Elite 8 to face the Michigan State Spartans.
3 Baylor vs. 10 Xavier: Quincy Acy
Ed Zurga/Getty Images
Acy will likely take on the defensive assignment of Kenny Frease, the man who was in the middle of the Xavier-Cincinnati brawl early this season. While that is a big task, since Acy gives up four inches, it's more important that Acy pushes the intensity level and toughness up for the Bears to a level not there when he isn't on the court.
Let's face it, Baylor coasts at times. They have top flight players in Perry Jones, Quincy Miller and Pierre Jackson, but it seems like against teams that push back, Baylor seems to fold.
If they want to have any chance to beat Frease, Tu Holloway and the Xavier Musketeers, Acy will need to rev the engines of his Bear teammates and make sure they don't coast against a team capable of punching you in the mouth (see Cincinnati game).
I think Baylor has too much talent not to ride it to the Final Four. While Jones, Miller, Jackson and sharpshooter Brady Heslip will likely have a higher influence on the box score, Acy will have to do the little things right on Friday to help Baylor reach the Elite 8.
1 Kentucky vs. 4 Indiana: Anthony Davis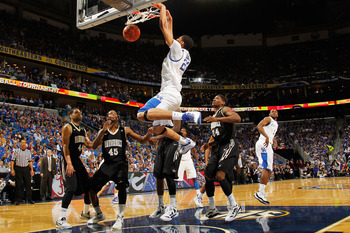 Chris Graythen/Getty Images
In these two teams' first meeting, Christian Watford's three-pointer at the buzzer left No. 1 Kentucky stunned, ending their perfect season and leaving Hoosier fans free to storm the court.
Anthony Davis, the consensus No. 1 overall selection if he chooses to enter the 2012 NBA Draft, had an average game against Cody Zeller and Indiana during that game, only scoring six points and grabbing nine rebounds to Zeller's 11 and seven.
That will have to change for the Wildcats to continue their impressive run and move on to the Elite 8. Indiana has already shown the ability to match up well position-by-position with Kentucky, even though Kentucky boasts some of the best talent in the entire country on one roster.
Look for Davis to flash an improved perimeter game and higher motor than he did in December when these two teams first met. Davis won't let Zeller or the Hoosiers better him this time, and Kentucky will move on to play Baylor in a very intriguing matchup of athleticism and talent.
1 North Carolina vs. 13 Ohio: Harrison Barnes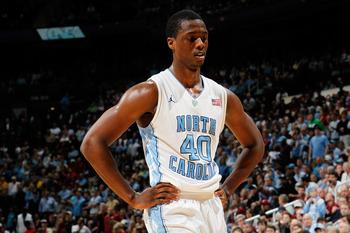 Kevin C. Cox/Getty Images
Ohio is no joke. They've disposed the three-point barrage of Michigan and clawed their way through a very good defensive team in South Florida. The loss of Kendall Marshall won't be easy to overcome, especially with the guard-heavy Ohio squad eager to make their first Elite Eight since 1964.
Lucky for the Tar Heels, they have a top talent in Harrison Barnes. Much like Perry Jones' freshman season, many were disappointed Barnes didn't have a better campaign during his first crack at the collegiate level.
But he's picked it up a notch this season, shooting better from the field, attacking the basket more and showing a more rounded version of the player so many were high on coming out of high school.
There isn't a player for Ohio that can cover Barnes in a 1-on-1 situation, so here's to Barnes taking advantage of that, and the interior defense of Tyler Zeller and John Henson, on the way to their next game.
2 Kansas vs. 11 North Carolina State: Jeff Withey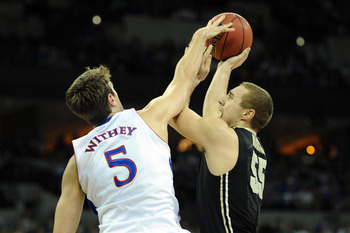 Eric Francis/Getty Images
The 7'0" center from Kansas hasn't had the kind of impact he had in the regular season so far in the tournament, but now would be as good a time as any to make Kansas as tough a team to beat as any.
The shot-blocking and length on offense for Withey can't be overlooked against NC State, who boast several long athletes on their front line (CJ Leslie). But Withey has neutralized other big men this season, and his rebounding will allow Kansas to keep NC State off the glass better than Georgetown was able to in the round of 32.
I think this will be the closest game of the entire Sweet 16. NC State is clicking and playing their basketball at the right time, so they will not be an easy out. But Kansas has been here before, and Tyshawn Taylor and Thomas Robinson will be able to carry the Jayhawks on offense while Withey does the dirty work in taking care of the length of NC State.
Kansas pulls it out in the end, and Withey will be right in the middle of it.
Keep Reading