Roy Oswalt Rumors: Why Chris Carpenter's Re-Injury Means Cardinals Need Oswalt
March 21, 2012

Rob Carr/Getty Images
It was announced earlier today that Cardinals ace Chris Carpenter will not be able to start on Opening Day after suffering a setback recovering from a bulging disk in his neck.
He is now likely to open the season on the disabled list, and Kyle Lohse has been designated as the team's Opening Day starter.
Lohse enjoyed the best season of his career last year in St. Louis, going 14-8 with a 3.39 ERA and 111 Ks in 188.1 innings. The 33-year-old is in the final year of a four-year, $41 million contract and will be pitching for one more big-money deal.
After Lohse will be left-hander Jaime Garcia, who won 13 games for the second straight season and at 25 could be ready to take the next step as a front-of-the-rotation starter.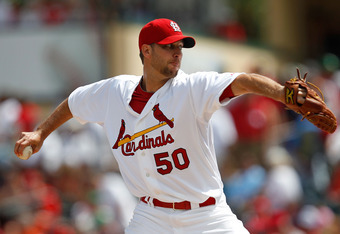 Sarah Glenn/Getty Images
The third starter will be Adam Wainwright, who is coming back from Tommy John surgery after injuring his arm in spring training last season and sitting out the entire year. He has been nearly flawless in nine innings this spring, allowing just two hits and one unearned run. The Cardinals won't push him early, but he should be back to ace form at some point in 2012.
Rounding out the rotation as the team breaks camp will be veteran Jake Westbrook and 2011 setup man Lance Lynn, who steps into the rotation with Carpenter down.
Last season saw Westbrook take a step back, as he went 12-9 with a 4.66 ERA and was left off the postseason roster until the World Series.
Lynn made 18 regular-season appearances with the team last season, including two starts. He went 5.1 innings against the Giants in his big league debut and allowed five runs on four hits. He followed that up with a victory over the Astros as he went five innings and allowed just one run.
While the rotation is still a strong one, the team has little to no depth should someone else be derailed by injury.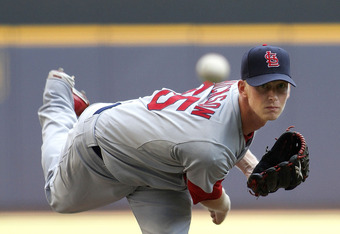 Mark Hirsch/Getty Images
Right-hander Brandon Dickson made his big league debut last season, appearing in four games and making one start. He would likely be next in line if someone were injured, but at 27 years old he doesn't have much upside and the team would be in trouble if he were in the rotation for a long stretch of time.
With that lack of depth in mind, coupled with the injury to Carpenter and the fact that Wainwright is recovering from injury, the Cardinals may be wise to revisit talks of signing free-agent Roy Oswalt.
It was reported in late January by a handful of media outlets that the Cardinals had agreed to terms with the 34-year-old right-hander, but those proved to be premature and he remains a free agent at this point.
With no one coming forward with an offer to his liking, Oswalt has indicated that he will continue mulling his options and would be open to joining a team at midseason.
Looking to stay close to his Arkansas home, there may be no more appealing a destination for Oswalt than St. Louis. If the Cardinals were to come forward with an offer similar to the one-year, $11 million deal that Edwin Jackson signed, they would likely be able to sway him considering he was originally seeking a one-year, $8 million deal earlier this offseason.
Should the Cardinals make that signing, it would give them a rotation that would rank among the best in all of baseball, and would likely mean a move to the bullpen or trade for Jake Westbrook, who has underperformed since signing a two-year, $17.5 million contract last winter.
Despite the loss of Albert Pujols, the Cardinals still have as good a chance as any team in the NL Central, and adding another top-tier starter, even if he comes with some injury concerns, would not only improve their depth in an ever important area, but could be exactly what they need to return to the postseason.