WWE Wackiness: 10 Funny Wrestling Photoshops from Across the Internet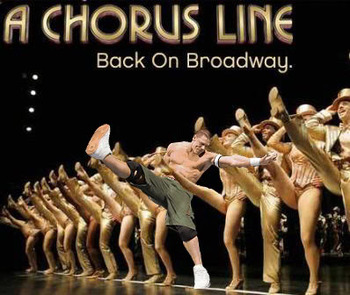 Photo courtesy of officialfan.proboards.com
If you see it on the Internet, it must be true, right? Well, not exactly.
As if people making up news and rumors just for the hell of it wasn't bad enough, we now have a whole new avenue for wrestling ridiculousness: Photoshop.
The Internet is chock full of thousands upon thousands of hilarious Photoshopped pictures in which wrestlers are mocked for everything from their eating habits to their political beliefs.
Each week, I'm going to take a look at 10 of these hilarious Photoshops purely for entertainment purposes because, well, they're awesome.
Let's gets started, shall we?
10. Crying Batista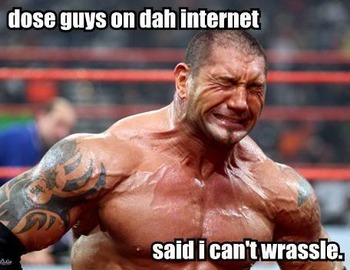 Photo courtesy of photobucket.com
You've probably seen this one before.
Former WWE star Batista has developed a reputation (perhaps unfairly) on the Internet for being a terrible wrestler who was pushed to the moon only because his veins looked like they were going to explode out of his body.
Did I ever say that? No. Of course not. Never. Not in a million years. Well, maybe.
Apparently, Batista doesn't like to hear that, though, and his response is either that he's really upset or is having an incredibly difficult time dropping a deuce.
Or maybe he found out that basketballs do hold grudges after all.
9. Dissing Mr. Kennedy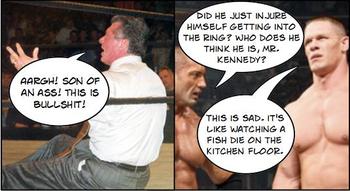 Photo via ewrestlingnews.com
At the 2005 Royal Rumble, Vince McMahon managed to do what I thought was impossible and tear both quads by walking.
I guess that must run in the McMahon family, huh? Anyway, John Cena and Batista seemed to be utterly confused as to how such a simple task could result in not one, but two major injuries.
I mean, that would basically be like me tearing both biceps when filling out my taxes.
Perhaps that's why Cena and Batista liken Vinny Mac to Mr. Kennedy, who has a history of injuries that's labeled him as "injury prone."
Well, I don't know. Maybe Randy Orton can ask him at the next WWE live event if that's true.
Oh wait, that's right...
8. Nash Never Jobs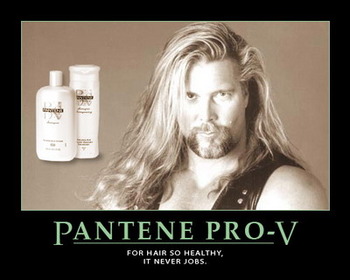 Photo via ewrestlingnews.com
Back when Kevin Nash could actually walk to the ring, he was known for never losing or wanting to put any other wrestlers over.
Despite the fact that pro wrestling is scripted, Big Daddy Cool felt the need to win every match. Every year. Throughout his career.
In layman's terms, Nash "never jobs."
His incessant need to win resulted in his own line of shampoos and conditioners, and it has also inspired other wrestlers to come out with their own lines of products as well.
Rumor has it that the next product coming out is an Irish Spring body soap, the tagline of which is, "Never loses clean."
Although not confirmed, it's believed that John Cena will be the spokesman for this new product.
7. You Can't Stevie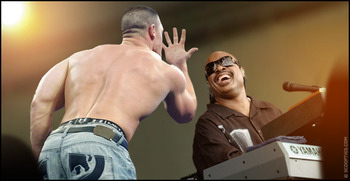 Photo via ewrestlingnews.com
I feel really bad that no one has ever told John Cena that we can actually see him.
It's almost like Cena's the kid from Big Daddy who thinks that wearing sunglasses makes him invisible, but instead of sunglasses, it's waving his hand back and forth in front of his face that gives him super-powers.
Insert Super Cena joke here.
Yet we can see Cena. In fact, we see him everywhere: at the opening of Raw, in the main event of the last 25 WrestleManias, in 17 highlight packages during Raw, etc.
Gosh, I never thought I'd envy Stevie Wonder.
6. Jurassic Push
Photo via ewrestlingnews.com
Although this is based 100 percent on rumor, I hear that Hulk Hogan guy has gotten a push or two throughout his career.
I'm not saying he's been pushed more than any star in wrestling history because of his charisma and gimmick rather than his poor wrestling skills. That's just the word on the street.
People are saying that this Hogan guy made it to the top of wrestling and stayed there for years upon years, working in the main event of just about every show ahead of guys who were far more talented.
Again, this is just something I've heard.
Can someone fill me in?
5. Who Invented Jobbing?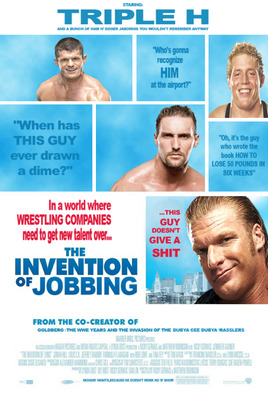 Photo via ewrestlingnews.com
I legitimately chuckled at this movie poster spoof, which is proof that some people just have too much time on their hands.
Triple H has taken a ton of criticism for making just about everyone he faces look like a jobber. I'd ask Chris Masters if that was true, but I think he's off trying to sue David Otunga for stealing his gimmick.
I'd also try to ask Evan Bourne or Jack Swagger, but I think Bourne's in Vince McMahon's office begging not to get released, and Swagger's probably busy having his mom help him make his comb-over look perfect.
I guess we could go straight to the source and ask Triple H if he truly is the inventor of jobbing, but if he's unavailable for comment, I'll just ask Randy Orton, John Cena or even Sheamus instead.
4. John McKane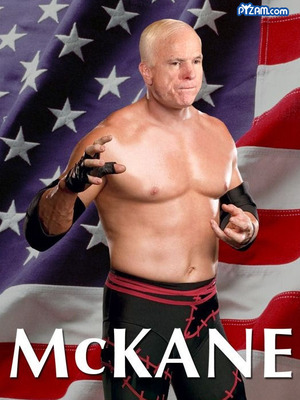 Photo courtesy of pyzam.com
It probably helps to know a little background about the man behind the Kane character, Glen Jacobs, to get this one.
When he's not in the ring, Jacobs is heavily involved in politics. He's been a big supporter of Republican presidential candidate Ron Paul, he once hosted his own political podcast and he writes about his political views on his own blog.
Jacobs is a libertarian at heart, and this Photoshop is rather ironic because Kane threw his support behind Paul, not John McCain, in the 2008 presidential race.
I'm guessing this is what would happen if Kane and McCain got together and had some sort of love child.
Suffice it to say, this is undoubtedly the the worst bastard child I've seen since Mae Young made love with Mark Henry and gave birth to a prosthetic hand.
3. The Republican Kid
Photo via ewrestlingnews.com
As is the case with many other wrestlers, Shawn Michaels has established himself as a staunch Republican.
I don't care too much for politics, but I get a big kick out of people who get so into politics that they almost go insane when supporting their favorite Republican or Democratic candidate.
Obviously, there is no better Republican supporter than HBK himself.
I could imagine going to a Republican rally and seeing the Heartbreak Kid wearing a pair of tighty whities while playing "Sexy Boy" on his guitar and super-kicking the living crap out of any Democrats that might be in attendance.
Hmm, I wonder what Michael Cole's political affiliation is...
2. Orton vs. Cena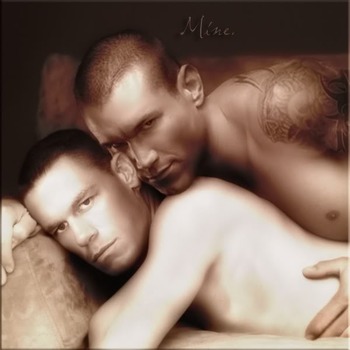 Photo via officialfan.proboards.com
Nothing I say can do this one any justice.
1. MattDonald's
Photo via ewrestlingnews.com
"I'll take a Big Matt with cheese."
"Excuse me, sir. Do you still sell MattFlurrys?"
"Yes, I'll take a 20-piece of chicken MattNuggets."
"All I have is a dollar, so just give me a MattDouble."
"Were the MattRibs discontinued?"
I could go with these all day, but screw it—I'll just go to Dunkin Donuts (scroll down) instead.
Note: As part of the new WWE blog, I'll be asking all of the B/R wrestling readers for questions for a new mailbag that I will post on Fridays. It will be a slideshow featuring 10-20 questions and answers on a wide range of topics. You can submit questions either through Formspring or Twitter, and the best ones will be answered in the B/R mailbag.
Keep Reading