BenJarvus Green-Ellis to Bengals: Deal Analysis, Grade and Twitter Reaction
March 21, 2012
Elsa/Getty Images
In a move that almost certainly ends the Cedric Benson era in Cincinnati, the Bengals signed free-agent running back Benjarvus Green-Ellis to a three-year deal Wednesday afternoon.
ESPN's Adam Schefter first reported the move.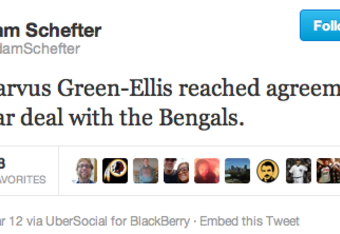 Given a time-share role in the New England Patriots backfield last season, Green-Ellis rushed for 667 yards and 11 touchdowns. Arguably his best season came in 2010, when the "Law Firm" ran for 1,008 yards and 13 scores.
Overall, Green-Ellis has scored 29 NFL touchdowns since entering the league as an undrafted free agent out of Mississippi in 2007.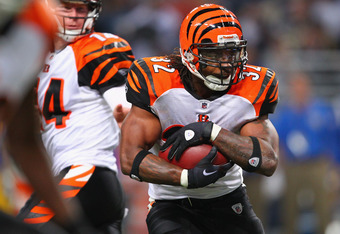 Dilip Vishwanat/Getty Images
He's likely to replace Benson in Cincinnati, as the aging running back is also a free agent and has gained very little interest on the open market.
Despite the signing of Green-Ellis, the Bengals are still expected to move towards a running-back-by-committee approach next season. As he did in New England, Green-Ellis will be splitting carries, mostly likely with Bernard Scott and a potential draft pick in April's NFL draft.
A shifty runner who can find holes, catch the ball out of the backfield and pass-block, Green-Ellis is a likely candidate to play a lot on third downs and in obvious passing situations.
According to Pro Football Focus, Green-Ellis played on almost 70 passing downs last season and gave up no sacks and just three quarterback pressures. He's also never fumbled in his NFL career, so the Bengals can feel confident handing him the football late in games.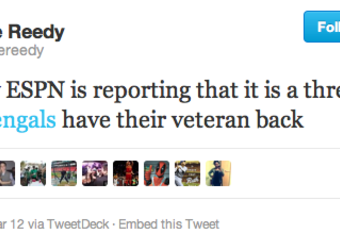 I wouldn't expect Green-Ellis to completely replace the numbers Benson posted during his time in Cincinnati. In four seasons with the Bengals, Benson rushed for over 4,000 yards and only once (2008) failed to go over 1,000 yards in a season. He also scored 21 touchdowns.
Bank on the Bengals looking to the draft to add another impact runner and then throwing a combination of Green-Ellis, Scott and Draft Pick X at defenses next season.
In that role, and at a certain price, the move for the former Patriots running back makes quite a bit of sense. Not a franchise-altering acquisition by any means, but this is still a low-risk move for a team on the rise.
Grade: B