Liverpool FC: Dirk Kuyt Looks to His Anfield Future with Belief of More to Come
March 23, 2012

Mike Hewitt/Getty Images
It has been six years since Liverpool acquired Dirk Kuyt from Feyenoord Rotterdam before the start of the 2006-07 season.
Looking back, all you can do is applaud the hard work and effort that the tireless Dutchman has given to the club.
He joined as a striker, but has spent the majority of his time as a right midfielder.
Although it was never his natural position, he made it his own under Rafael Benitez, and did so with class. What he lacked in talent and skill he made up for with a work ethic beyond comparison.
Kuyt has also been one for the dramatic, as he has been the savior of the Reds on multiple occasions, including his recent substitute goal and penalty conversion against Cardiff City in the Carling Cup to win his first piece of silverware in Red.
Last season when the Reds sold Fernando Torres to Chelsea, it was Kuyt who stepped in to provide the firepower for Liverpool as he scored nine goals down the stretch to keep the club from finishing in an even more painful spot than sixth.
The Reds missed out on European competition this season, but Kuyt stayed faithfully dedicated to the Reds and new manager Kenny Dalglish.
However, this season his starting role has been less significant than in previous seasons, with Jordan Henderson seeing the bulk of the action on the right flank while Andy Carroll partners with Luis Suarez, or the Uruguayan is left solo in attack.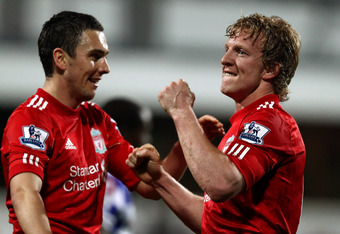 Ian Walton/Getty Images
At 31, Kuyt still has some good years left. Steven Gerrard is also the same age and is looking back to his old self.
But for Kuyt, it is not yet time for him to start taking a backseat at Liverpool. Having recently scored his 50th league goal for the club, there is every hope that he will remain a key part of the Reds' future.
The future at Liverpool for Kuyt, though, looks more like a role as a supersub, when he is without a doubt the most physically-fit player on the squad and has been since he came on board in 2006.
You could argue that much of the reason behind his lower goal return this season can be attributed to less starts and less time on the pitch to make an impact.
None the less, Kuyt has the ability to be an impact player off the bench just as his old Feyenoord strike partner Salomon Kalou has done at Chelsea.
Being relegated to that for Kuyt will almost be like forced early retirement for a player that feeds off of hard work and dedication on the pitch and not on the bench.
Kuyt has said that he can see himself staying a Red for the rest of his career, but it remains to be seen if that will happen. His interview from ESPNsoccernet.com can be read here by following the link.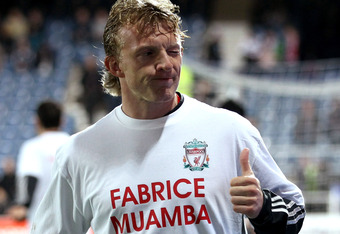 Ian Walton/Getty Images
I believe if he leaves this summer it would be premature to his belief in the club, but it could still happen.
In the long run I truly hope he remains at Liverpool as his hard work and dedication both on and off the pitch is something that the upcoming players like Jordan Henderson, Sebastian Coates and Andy Carroll can all learn from.
A constant professional, whether Kuyt leaves Liverpool or stays he will always be a legend in my heart that I am proud to honor with a shout of, "You'll Never Walk Alone!"
Thanks for reading and be sure to check out more on Bleacher Report and at the links below. You can follow me on Twitter @thedailyatz and Facebook, or visit my website.