WWE WrestleMania 28: 7 Good Reasons to Support a John Cena Victory over Rock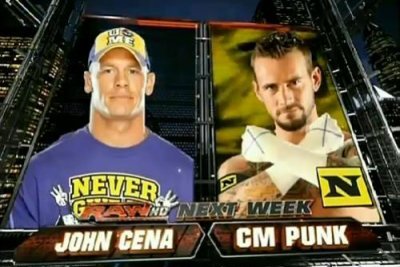 http://superstar-cena.skyrock.com/2967957503-John-Cena-vs-CM-Punk-a-Raw-le-17-01-2011.html
As both a fervent Cena critic and a passionate CM Punk fan and supporter, I've finally managed to come to a reasonable compromise regarding WrestleMania 28's outcomes...
For a while now, I've been under the impression that the only way I could walk away from watching the WrestleMania 28 broadcast happy is either if Cena turned heel or Rock beat him. I've come to realize that, ultimately, as unlikely as both of those possibilities are, everything's going to be okay in the end!
I recently read an article stating five reasons to be on Cena's side during the match. In fact, there have been quite a few. Not to skunk fellow writers (who will remain nameless), but the reasons stated were flimsy, weak and not convincing whatsoever.
So many of us here in the Internet Wrestling Community criticize Cena for being a corporate puppet that does nothing to make wrestling interesting and just tows the company line, trots off on photo ops and insists on fooling people into thinking that he's "edgy," "rebellious" and "mature," yet has a heart of gold to match that.
And here WE are, as the ever smart, cutting-edge and witty IWC, coming up with the same nonsense reasons why an IWC pariah should be cheered, towing our line just as heartily. "It's good for business;" "it's what the kids want;" "it draws ratings." Blah blah blah. Same old song and dance, and none of it gets any more accurate.
These kinds of arguments are not helping, not working, and they're proving more counterproductive by the day. All they serve to do is make the casual visitor to these sites think we're losers who support the cult way of thinking, and some of us actually have bigger intentions in mind.
So, the fervent Cena critic that I am, I'd like to present my SEVEN reasons to support a Cena victory.
DISCLAIMER: These are real reasons. Notice, no "HUMOR" tag at the beginning. These are real arguments; they're genuine insights and are not intended to be sarcastic, fatalistic, or overly cynical in any way. Do they come with an immense amount of criticism? Sure! But they're real reasons that I do believe.
Begin Slideshow

»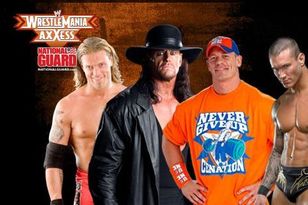 http://www.wrestling-superstars.com/meet-wwe-superstars-at-wreslemania-xxvi/
Some people call John Cena "the Face of WWE."
It basically means that since Cena is the most decorated, most viewed, and most talked-about active wrestler on the regular roster. Cena's success is basically WWE's success, and vice versa. WWE has basically accomplished what John Cena has: it used to be the biggest thing in wrestling and has since dropped in popularity a considerable amount, but is still publicly visible.
Just look at the photo I chose for this slide. Cena is by far not the most talented of the men pictured, and yet, he still stands out the best. If any of you wonder why it aggravates grown men that Cena appeals to kids, this is the reason. It's not about his talent or charisma or character. It's the fact that he's wearing a colorful shirt that kids immediately gravitate towards looking at.
Could that change? I'm confident it might. Even if that change doesn't lift Cena out of the position and instead allows him to move over so that others can share that spot with him, that would still be fine, however John Cena still represents WWE in everything he says and does.
Does this mean that The Rock DOESN'T represent WWE? Not necessarily. The Rock represents a WWE from years ago, and that deserves respect on its own. Everyone who knows Dwayne Johnson's work in Hollywood movies is aware that he was a pro wrestler in his former life. Cena just represents the current WWE's approach, level of notoriety, and maximum level of fan and media support.
In other words, with Cena staying as he is, WWE on the whole will have a certain amount of popularity with viewers. Cena has carried the company in the past, and his Cenation of loyal followers is strong. But with Cena staying as he is, not changing his image in drastic ways as the times change, never losing, and certainly not putting himself or WWE in a position to win over new OR old fans, he has effectively created a cut off of viewership and popularity that WWE will not be, and has not been, able to overcome.
WWE's fate rests on John Cena's shoulders, not Rock's. In essence, WWE can only accomplish as much as Cena can accomplish as he is. Cena won his first major world championship in WWE as a babyface seven years ago, and all 11 or 12 since have been as the same exact babyface, except with less unique a character. No heel turns, no motivation changes, no growth, it's all been identical.
He's accomplished a lot in his career, and much like Cena, WWE can't do much more than it already has.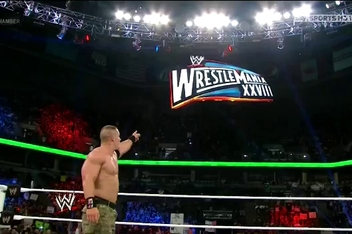 http://withleather.uproxx.com/2012/02/wwe-raw-open-discussion-thread-22012-the-road-to-wrestlemania-re-re-begins
Thing about WrestleMania 28 is, although I believe Rock is one of the few that is able to beat John Cena (even if he doesn't actually do it), he may not be the right person to break Cena's technical undefeated streak. Yes, Cena has "lost," but it's been years since he's lost clean and straight in a normal, one-fall match that didn't involve some kind of distraction, shady dealings, cheating, or dirty business.
WrestleMania 28's big attraction match isn't quite as easy an equation as some people make it out to be (i.e., if Cena loses, WWE loses, and if Cena wins, etc.), but it's similar.
If WWE relies on Cena, then Cena's popularity or failure will guide WWE's success going forward. That's why so many people clamor for a heel turn. Because if Cena is the most viewed character in WWE, such a move will take the least work to get the most heat AND, most importantly, the most people talking, bringing in ratings, which will bring in ad revenue, which will give WWE more resources to put on better shows, which will bring in higher ratings, etc.
Not only that, but it would inevitably SCREAM for more new talents to step into main event spotlight and challenge a guy who has already been established as the strongest in the company long before such a change.
Personally, I've come to realize that a Cena heel turn isn't necessary for him. But in hopes of being able to explain WHY it's important, that's the most important reason why people want it to happen.
In order for Cena to represent the future, we need to take into account what he's accomplished. Countless world titles, countless WrestleMania and PPV main events, countless pushes in various dramatic angles that have seen him come out pretty much flawless and unchanged by the end, countless victories over powerful rivals, at least one Royal Rumble victory.
The guy's been around, and all those accolades help establish him as one key thing that he's been for a long time...
The man to beat. You want to rise to superstar immortality? You gotta go over Cena. Not an easy task, as we've seen, but should someone do it, they'll gain the ever-important "rub."
Building new superstars typically follows a certain balancing act: you build build build one superstar, milk him for all the crowd response you can get, then when their rush of support is leveling off, you have a rising parallel star defeat him so that the new person can carry the strength and momentum of the built megastar. That new guy gets a big push, gets built built built, then another parallel rising star defeats that person, carrying the subsequent momentum of beating seemingly better and better talent. And so on and so on.
Another reason people hate John Cena? No rising parallel stars have been able to beat him clean and decisively to take that momentum with them to becoming huge.
Cena beating The Rock at Wrestlemania would be a great thing for Cena to put on his résumé. Why? Because The Rock is an established name that clearly hasn't lost a step in all the time he's been away from WWE.
Thus, despite many of us feeling that Cena really can't gain much more cred than he already has, beating The Rock would serve to ensure Cena has the maximum amount of spotlight, notoriety and visibility available to him.
Meanwhile, this past year, WWE fans were treated to one guy in particular that looked more poised than even The Rock to finally unseat John Cena's untouchable streak, and that guy was CM Punk. Punk's victories against Cena on PPV (Money in the Bank and SummerSlam) were both tarnished, one by interference and distraction, and the other by Triple H's bad call as special guest ref.
The victories stand in the record books, but they have no doubt placed Punk's credibility in the eyes of Cena's fans into serious question.
They support Cena more than anyone, and this little tattooed loudmouth comes along, tears Cena apart verbally (as a heel, by the way), and then calls himself "the best" after "pinning" Cena twice on PPV with questionable calls? That's not going to turn Cena's fans into Punk fans, or even get Cena's fans to respect Punk all that much.
It's only going to make Cena's fans angry at Punk because they feel their guy has been cheated. And yet, Punk still gets more cheers than Cena on any given night. Remember that.
After all, had Brock Lesnar's victory over The Rock at SummerSlam been a largely cheated win, Brock never would've received the rub he got from beating Rock. And although Paul Heyman had inserted himself into the match numerous times, Rock fended him off enough so that Paul's interference was rendered about as harmless as Alex Riley's interference in the main event of WrestleMania 27.
Brock beat Rock, pretty much fair and square. At that moment, he truly held the title of being "The Next Big Thing." Rock left soon after, and Brock Lesnar was the company's main attraction for a short while, but it was an exciting short while.
Before Brock left, Eddie Guerrero achieved his lifelong dream of becoming WWE Champion after doing the impossible and defeating Brock Lesnar, and John Cena himself even gained a strong bit of babyface boost by standing beside Chris Benoit as co-winners on Team Angle at Survivor Series, defeating Team Lesnar.
Rock gave the ball to Brock, Brock gave the ball to Cena. Cena's never let go. However, in Punk's case, maybe it's a good thing it's happened this way.
Had Punk beaten Cena clean over the summer, it may have done a lot for Punk at the time, but we have to remember, Cena was already scheduled to face Rock at WrestleMania 28 when Punk stepped up to challenge him. During their contract signing for Money in the Bank, Cena even arrogantly pointed that out.
So...how sure are we that WWE didn't make the decision right then and there that Cena should beat Rock at Wrestlemania for a larger purpose?
True, Punk beating Cena clean at Money in the Bank and/or SummerSlam would be a feather in his cap, but it would've given Cena a huge loss on his record and make him look less credible and threatening against Rock come April 1. Clearly, WWE has been going for their epic babyface vs. babyface format for their main event, so that's really not something WWE wanted to risk. That's their logic, anyway. I don't agree with it, but I get it and it does make sense.
Now, imagine Punk beating Cena clean AFTER Cena goes over Rock at WrestleMania 28 in what is being billed as the biggest rivalry ever. Hell of a lot bigger feather for Punk's cap, no?
Like Punk or not, he's still not there as WWE's TOP guy, and that's because Cena is smirking and waving from the other side of the glass ceiling, looking downward at all those who struggle below him. It's my opinion that WWE could just be waiting for the right time to break that glass.
Maybe they don't want to turn him heel right away, but using Cena to give credit and respect to other superstars is not something that should be out of the question.
They have been putting a lot of effort into ensuring WrestleMania 28's biggest attraction match gets the most attention. But honestly, what will Cena be up to once his key feud goes poof?
Maybe WWE falls back on their old staple and they have Cena go after the WWE Championship. Especially after he's beaten Rock, he'll feel like he's the best. And yet, there will be another who will have just finished solidifying his status as "Best in the World."
Should Cena and Punk feud again (title or none on the line), you have to admit, it would go very different than Cena's feud with Rock.
Cena won't be able to pull the "you left, I'm always here" card. Punk's been killing himself for years, too. Try again, "Champ."
Cena won't be able to tell Punk that his catchphrases and schtick from years ago is getting old, Punk's just getting started in working at becoming a top draw, developing one or two scant catchphrases and still selling his promos and delivery like a pro.
And which of the two has an old washed up slogan on his back? Oh yeah, Mr. Hustle Loyalty Respect, right...
Bottom line here: If you honestly believe that WWE will book Cena to win in the name of business, then you have to believe that if Punk is the champion after WrestleMania, the best way for them to capitalize on Punk's growing momentum and popularity would be for him to truly solidify that status by defeating John Cena in a clean, straight, untarnished match.
Say what you like about Rock doing the right thing for the company and taking a fall to make an active wrestler look good and just showing up for the paycheck and visibility. I believe he'd do all those things.
But if Cena deserves the victory over Rock at WrestleMania because he's all about WWE and hasn't left, then Punk deserves a clean, straight, untarnished victory over Cena to cement him as the theoretical "next big thing."
Fans deserve to see new faces at the top when the current crop of main event talent isn't bringing in new fans or offering anything new to ratings.
There's something to be said about impressing fans enough that they go completely against what they're meant to do and cheer for who THEY want on their own.
Earlier, I mentioned the Brock/Rock SummerSlam match. Rock was the babyface there, but a lot of people were cheering for Brock Lesnar. Brock had put on such an amazing showing and the match was truly dramatic in its back and forth progression. The fans had no choice but to give Brock some adequate respect.
How many really high-quality, five-star matches has Cena had?
I mean, really high quality. High quality, as in, the talent put into the moves employed, the back and forth suspense, the drama of the moment, the gravity of what's at stake, etc. Even if there have been some, they're mostly watered down by overly similar "title hunts." Big deal.
Only one I can remember, Cena/JBL at WrestlemMania. Had I been watching live, I would've been rooting for Cena the whole way. JBL was great as a heel, but I was done with hearing him talk, and I wanted Cena to stomp him and take his belt. No joke whatsoever, I was rooting for Cena hardcore that night.
Neither Rock nor Cena are the best wrestlers on Earth, however given the gravity of this match and how much of each man's pride is at stake, even if they just go for a long time, they carry the match for at least 30 good long minutes, and there's lots of genuine and compelling back and forth surprises to leave people wondering for longer and longer who will come out on top, then it might give Cena a teeny bit more real credibility.
If not as a wrestler, then as a performer.
People criticize him for being a bad wrestler. I just say there are more talented wrestlers I'd rather watch wrestle than him. Cena's an adequate enough wrestler for his position. Any worse, and he'd be treading in David Otunga territory. Otunga is a great character, but he'll never compete in main event matches with the skills he has. Cena's wrestling skill, while deservedly in question, isn't nearly his biggest problem.
He's referred to as "Superman" because he never sells his opponent's ability whatsoever. Thing is, The Undertaker was marketed as a supernatural being. Cena's just a guy, and yet...
He never sells his opponent's words as digging him.
He never sells a beatdown as hurting him.
He never sells that his opponent is strong in any way.
Bottom line, Cena putting on a long, drawn-out match, with quality suspense won't require incredible wrestling skills, but it will require him to sell that Rock may pull out the victory and that Cena's genuinely getting frustrated and worried that he won't live up to the pressure. Maybe it's something that can't be experienced from way up in the nose-bleed seats, but it's still important.
At least then, the match might earn him some amount of respect for delivering something solid to fans wanting a suspenseful encounter on a big stage to make their money feel worth it.
If Cena wins by putting on a more legitimate looking effort than his previous joke matches, where he arrogantly brushes off beatdowns and shrugs during trash talk, then he will at least DESERVE respect for being a talented entertainer, even if he doesn't receive such respect.
In this match, more than any other match Cena has participated in, they need to release the holds they place on him skill-wise, and force him to apply every bit of acting he can to every aspect of this match to make it seem as urgent and dramatic as possible.
After all, this match is more about Cena than Rock. Yes, people will be watching Rock, because it's been a long time since they've seen him compete at WrestleMania. But this match is all about Cena, and Cena needs to somehow develop his character further into something new, even if that something new is completely subtle.
Let's face it...Cena used to be beloved by a VAST majority of fans. Not just clumps in various regions in the country. The WWE Universe loved him without question! Now, he can't visit a city in America without getting booed heavily by at least half the crowd.
If WWE has no plans to turn Cena into a heel, then they need to find a way for him to gain credibility as a performer. Could a well-coreographed match with Rock in the main event of WrestleMania 28 be that catalyst for more cred? Maybe. Personally, I doubt it will be enough, but WWE needs to do something.
All this floundering on what to do with Cena is wearing really thin. The split crowd reaction isn't cute or funny or unique. It's damaging.
In retrospect, John Cena's throwaway feud with Kane seems to have been just that, a time-killer and a filler to keep Cena occupied en route to WrestleMania 28.
Some are saying that Cena's "edgier" now. I firmly disagree. He's wearing different shorts than last year, he's wearing a black ensemble instead of a colorful one, and he's using a bit more profanity, but really that can just be attributed to Rock doing it first when calling Cena out on all of his ridiculousness.
Cena's basically doing what he's done for years whenever a guy in a heel position comes to challenge him: go on the defensive, laugh off the opposition's claims, give no real reasoning why the person accusing him is necessarily WRONG, and then defeats him in a match. I know, calling Cena childish isn't fair, because Punk and Rock use childish tactics, too. Then again, their tactics get the fans to cheer. They're supposed to get the fans to cheer; they're faces. John is a face, yet this past Monday on the Rock/Cena/Once in a Lifetime special, Cena said, "I don't pander to the fans; I'm not there to make them cheer."
How much does he need to say before we're all in agreement that he has no clue how this business works?
Cena's critics will still criticize him even if he curses and belittles divas and continues his inconsistent approach, while Cena's fans continue to support him unconditionally. In other words, if Cena were to defeat The Rock, the split of the most vocal fans out there would end up being even stronger than ever.
Some of Cena's fans may become even more active in support of their hero. Then again, staunch Rock fans will hate Cena more than ever.
At some point, people who are loud enough do make their voices heard, and if Cena wins, that undeniable polarity in the WWE Universe may in fact get stronger and even harder to leave as is any longer.
Most nights on Raw, WWE management can likely turn the other way when Cena bounds through the curtain, says his little snippet to the camera, salutes and skips under the bottom rope, all the while the crowd is in a festively negative uproar.
In Miami, on April 1, try as WWE might, the crowd will largely be behind Rock. And as such, when Cena wins, while some may be cheering, the sound we hear will largely be boos. And that many people crammed into that arena for the event? After all the things Punk, Miz, Truth, Rock, Piper and Kane have all said about Cena?
There is no way WWE will be able to ignore it a moment longer.
Ask yourself honestly...if Cena wins, will more fans cheer him? Truly? Seriously? The answer is no. He may deserve more respect for putting on a compelling show, as my previous slide claimed, but no more fans will cheer Cena than already do.
A win over Rock is not going to convince anyone Cena is "better." Rock helped define a generation, Cena rode the tail end of that generation and stagnated the company. One is more revolutionary and fan-friendly than the other and will always be.
That's what I love most about Cena's fans. They'll look you dead in the eye, while Cena is getting booed uproariously, and say, "This guy is the most popular star in WWE." And yet, when the debate over what's happened to WWE's ratings and credibility comes up, they'll be completely stymied and confused and lack a real answer.
Well, you're in luck. I just gave it to you.
Rock could lose to Cena and still get cheered the next night, but Cena could come out the victor at WrestleMania and actually end up with more boos than he got going in. It's not guaranteed, but think about it. It could actually happen that way. But like DDP said, that's not a bad thing, that's a good thing!
Again, I'm not saying a heel turn is necessary, but you know it would have inevitably happened already if, far and away, enough of an undeniable percentage of the WWE Universe were against Cena. He still gets an adequate amount of support to warrant keeping him a babyface on Monday nights, but if he defeats Rock, it will cause a lot more people to make their voices heard, whether for or against.
The night of, as well as the night after, WrestleMania will have Bleacher Report blowing up with cliche articles, stating "Why Cena winning is the right choice," "Why WWE booked Cena to win," "John Cena is still the face of the company," "WWE shot itself in the foot booking Cena to win," and so on.
People who haven't even been watching all year will see their favorite wrestler ever, The Rock, the mighty Great One, get beaten by John Cena, who I guarantee, in one single night worth of promo work and backstage segments, will still not look as strong a character as The Rock. Those fans will not be happy, and guess what, they're not "IWC nerds." A lot of them were around during the Attitude Era; they've never once touched a dirt sheet, and they will be more pissed than ever that Cena won.
Not only that, but truthfully, Cena winning yet another WrestleMania main event is not going to convince new fans that he's really the best to watch.
Cena winning could get a lot of people outraged. Being a fan during the Attitude Era, I can tell you, outrage tends to get things changed. It tends to make WWE question its methods and its ways of doing things.
Cena winning seems to be the most "logical" solution to their big rivalry, business-wise, but I'm just wondering if they're willing to deal with the impact it could have.
They've already delayed certain inevitabilities for long enough. Maybe having Cena win is an attempt to speed those inevitabilities up some. WWE is a business giant. They weren't about to turn Cena heel between WrestleMania 27 and 28 when they could make Cena/Rock look like the epic war of babyfaces that we're anticipating now.
It wouldn't have paid a single dividend, and any of us who thought Cena would turn heel this year, after the mega-match of the decade was made, was officially stupid to think it would happen.
By the way, I include myself in that statement.
Point is, a Cena victory may cause both sides of the "Let's Go Cena/Cena Sucks" argument to strengthen their feelings. Cenation will get a boost to morale, and the infidel heathens that don't subscribe to the Cenation Commander-in-Chief's promos will want to riot and cause more anarchy than ever before.
If they end up making their voices louder as well? Who knows what changes could occur down the road.
As I've said in the past, I personally feel that a far better story is told in watching Cena fail and seeing how he humanly deals with that failure. Does he take it personally and lash out? Does he stick with his three-word motto and Hustle to offer Respect and be Loyal to the fans? Does he fear failure and/or lack faith in himself so much that he takes the easy way out?
Quality storytelling seems to be set aside for only certain people in this day and age of WWE, and one of the reasons for that has been WWE's reliance on John Cena as a main event talent.
Whether you like him or not, you have to agree with one thing: WWE has effectively exhausted every possible storyline that could come close to making Cena look like a deep, compelling character. No question.
I'm sorry if there are some people out there who think that doesn't matter, but I remember watching wrestling and seeing interesting personal struggles occur. I remember a time when a top-level superstar could have personal demons, and occasionally LOSE the battles they fought against lust, greed, sloth, wrath, and any other of the seven deadly sins you've come to fancy.
Cena has the uncanny ability to fend off every one of these with lightning efficiency, and unfortunately, that ability doesn't impress nearly as many people as it used to.
However, while I personally think WrestleMania 28's story can offer fans a deeper and more interesting John Cena by having him lose, perhaps a better story is to be told if he wins.
After all, Cena's at a point where despite everything he's achieved in the company, he has thousands and thousands of detractors, "haters," critics, and so forth. If he goes to the big dance and beats The Rock, we have a current, real-time and present-day proof of Cena being "better" than a future Hall of Famer who hasn't lost a single step upon returning after a long absence.
As much as Cena needs the human character development in dealing with loss, maybe we can see a deeper Cena upon winning. He wins, he comes out the next night not just with self-condience, but proof that he's better! He'd have ammo, he'd have physical, inarguable proof that he was the best WWE has to offer.
Will fans in attendance agree? Maybe, maybe not. But if Cena's babyface attitude changes ever-so-slightly as a result of winning this match, maybe that will make it worth it. As I said, a heel turn might not be necessary, but it'd be nice if Cena could actually act like a character on-screen as opposed to just being himself all the time.
Defeating The Rock could have a hand in that growth.
He wouldn't only have a cocky attitude about him, but he'd have reason to be even cockier! He'd defeated The Rock. Cena understands that people doubt him; they've been doubting him since his debut match. Probably before that. So doubt isn't new to him.
But while some can wait till Cena pulls some massive heel swerve, I'll be asking exactly how much Cena will have to accomplish before he officially loses his patience and bluntly asks, "seriously, WWE Universe, how much do I gotta do before you give me some respect?"
How much will the guy have to do before he goes out to the ring, looks at the crowd, shakes his head, and says into the mic, "really? I just beat The Rock. You're not going to cheer me for beating The Rock? Tell you what, how about we get The Rock, Hulk Hogan, Chris Jericho, Undertaker, and every other legend of 10 years ago, put them in this ring, I'll beat them all at once...you still won't respect me, will you?"
No one has the amount of patience he does. Eventually, Cena needs to snap. His little hissy fit on Swagger and Kane months ago? Doesn't count by a long shot. His feud with Rock at least LOOKS real, even if it couldn't be faker. It's at least a bigger issue.
Cena's patience needs to wear thin. His desire/need for respect needs to be more at the surface. If beating The Rock doesn't get him respect, what can?
That's what he needs to be demonstrating. That's what he could be demonstrating if he wins at WrestleMania.
Let's see if it happens.
It's a lofty hope, but WWE could always pull a fast one. They love pulling fast ones. Look back on the past year and you'll see a ton of "fast ones."
Hell, last WrestleMania was, in itself, a fast one. Most Cena fans expected Cena to bulldoze Miz and rip the WWE Championship back for himself. Instead, we saw a potentially disappointing double countout get restarted by the host of the show, only to see said host Rock Bottom the company's biggest star and the decredited heel retain his championship.
Only for another month or so, but still, WrestleMania 27 went down that way.
So, here we have Rock and Cena battling it out, two guys involved in the main event of last year's show. The Miz, up until a week ago, was all but left off the WrestleMania card. Now, he appears to have a legit reason to show up.
However, what if Miz were to interfere? Rock interfered in the Miz/Cena matchup, and he wasn't really invited to do so.
Cena and Rock are both, for all intents and purposes, babyfaces. When Cena walks into Miami, the majority (a slim majority, and that's at the very least) of the crowd will be behind Rock, but as classifications go, they're both babyfaces. Do we really think WWE isn't going to do something in this match?
What if they go to a double countout like last year? It seemed like that was over, but this year, by the time the main event goes down, we'll have a set in stone General Manager of both Raw and Smackdown.
In essence, we'll have a new "boss." It's my prediction that John Laurinaitis is taking the victory home and Teddy Long will be saying adios.
Let's say Rock and Cena go to a double countout. Not impossible, is it? WWE wants to make both guys look strong. A double countout is a cheesy way to do it, but it still accomplishes that. Laurinaitis appears to make the call that the match will be restarted as a No DQ match.
Extremely similar to last year, no?
The match gets restarted, Rock and Cena stumble to their feet, they make it to the ring, Miz runs in, Skull Crushing Finale on Rock, Cena is stunned at first, but makes the pin anyway to the shock of everyone in attendance. Ref counts Rock's shoulders down...
John Cena wins! But with a clump of huge asterisks...
Right here, you've just witnessed a John Cena victory that would be a hell of a lot more compelling and deep than Cena simply hulking up after a 20 minute beatdown, catching Rock with an AA and pinning him clean.
Suddenly, the 2012-2013 wrestling year in WWE just got a whole lot more interesting.
The beautiful part is, Cena doesn't even have to turn heel necessarily. WWE can have Cena spin it so that he's doing it for the company, doing it for the guys in the back, doing it for the legacy of WWE, and not for some movie star. He can still be himself, without becoming some evil villain.
And yet, he's still done something rather shady. Maybe Kane's mission to help Cena embrace hatred will have worked after all?
Look, bottom line for all this, I'm still one of John Cena's fervent critics, and despite these ideas, I'm not exactly rooting for Cena at WrestleMania 28.
However, thinking of these things recently have at least allowed me to get to a place where I can appreciate WrestleMania 28 regardless of the ending.
I'm not trying to put out the same washed-up Cena rhetoric about how he represents everything good and clean in the universe, that better values will prevail with a Cena victory, that our troops overseas will fight harder knowing Cena won, or anything equally as ridiculous.
I'm stating facts that are of a sound mind. Simple as that. I'm stating facts that I can get behind and appreciate.
I used to be at a place where if Cena won, I would've hated the whole event, regardless if Sheamus makes good on his Rumble win, and Punk retains, etc. Coming to these conclusions have helped me realize that WrestleMania 28 will still be an amazing and exciting event, and I can't wait for it to go down live on April Fool's Day.
Do I have my preference as to who I'd rather win the big match? Do I have my preferred way that I would book the match's outcome? Yes and yes.
At least now, I can ensure I walk away from the broadcast happy, and not hate WWE simply because they went a way I wouldn't.