Packers: Under-the-Radar Signing of Manny Lawson Could Be a Significant Upgrade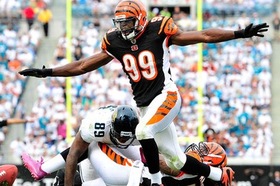 Manny Lawson could benefit from playing alongside Clay Matthews.

Numbers never lie. Statistics tell an unbiased story of what occurs on the football field, regardless of a player's popularity or reputation.
However, sometimes football fans fail to look past the statistical surface.
Leading the league in tackles doesn't necessarily mean that player is among the league's best linebackers, and being among the league leaders in passing yards doesn't always correlate to being an elite NFL quarterback.
When it comes to pass rushers, most people look directly at a player's sack numbers. While a sack total gives a good representation of how effective a player is at getting to the quarterback, it doesn't tell the whole story.
Pro Football Focus does a tremendous job at analyzing every play of every game and critically grading every player on the field. They require one to have a membership, which can be purchased for $29.99 for one year, but the in-depth research and analysis is well worth it, in my opinion.
PFF gives individual grades for performance against the run, rushing the passer, pass coverage, and subtracts points for penalties and missed tackles. To get these numbers, they factor in several statistics such as QB sacks, hits, pressures, batted passes, tackles and tackles for loss.
They also grade out teams as a whole. For the defense of Green Bay Packers, the results from 2011 weren't exactly pretty.
Green Bay finished 28th in the league in PFF's total defense statistic, with a grade of -60. To put that in contrast, the 49ers led the league in total defense with a grade of +240.3.
PFF's grades mirrored the standard final team defensive statistics, the Packers finished 2011 dead last in the NFL allowing 411.6 yards per game, and recorded just 29 sacks—tied for 27th in the league.
The Packers pass rushing department struggled mightily last season, despite having one of the league's best outside linebackers in Clay Matthews. On the other side of Clay Matthews, the platoon of Erik Walden, Frank Zombo and Brad Jones failed to rise to the occasion and grab the starting job.
Walden played far more regular season snaps than the other two—933 compared to 146 apiece for Walden and Jones.
Including their divisional round loss to the New York Giants in the Playoffs, the Packers played 17 games in the 2011 season. Walden was active and on the field for every game, yet received a negative grade from PFF in every one of those games except five.
PFF gave Walden a pass rush rating on the season of -1.9 and a run defense rating of -15.9. Taking all statistics into account, Walden earned an overall defensive rating of -20.5. This was by far the worst rating for a 3-4 OLB in the entire league.
There was a report from the Milwaukee Journal Sentinel that Green Bay is interested in OLB Manny Lawson. Lawson played OLB in a 3-4 for five seasons with the San Francisco 49ers, before transitioning to a 4-3 with the Cincinnati Bengals last season. He's totaled a modest 16 sacks in his six seasons in the NFL, but that doesn't tell the whole story.
Prior to the 2006 Draft, two players from North Carolina State tore up the NFL Scouting Combine—the eventual number one overall pick Mario Williams, and the 22nd pick by the 49ers, Manny Lawson. Lawson measured 6' 5" and 241 pounds; he was clocked at 4.43 seconds in the 40-yard dash, recorded a 39.5 inch vertical jump, and equaled Clay Matthews's 23 reps of 225 pounds on the bench press at the 2009 Combine.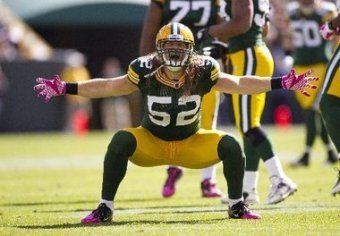 The Cincinnati Bengals, like Green Bay, played one game in the playoffs. Lawson was active for all 17 games, and received four negative grade from PFF, three of which were just barely below the zero mark of average. He earned an overall defensive rating of +10.6 from PFF, a sizable difference from Walden's -20.6.
Lawson's PFF grade for pass rushing was +1.1, which looks good next to Walden's -1.9. Walden's atrocious -15.9 grade against the run isn't even in the same ballpark as Manny Lawson, who received a +8.1 grade in that department.
While statistics paint a clear picture of the truth and Pro Football Focus puts those statistics under a microscope for further examination, the naked eye told the truth last year: the Packers need an improvement at right outside linebacker.
When the Packers traveled to Philadelphia to play the Eagles in the Wild Card round of the 2010 Playoffs, Green Bay's speed and athleticism on defense helped them contain Eagles QB Michael Vick and move on to the next round. Manny Lawson, at the very least, has elite athletic ability and would fit seamlessly into the right outside linebacker position in the Packers 3-4 scheme.
Packers GM Ted Thompson isn't a big spender early in free agency, but he's not afraid to pull the trigger if he can find an affordable acquisition to help the team. Manny Lawson fits that profile.
This article is
What is the duplicate article?
Why is this article offensive?
Where is this article plagiarized from?
Why is this article poorly edited?

Green Bay Packers: Like this team?