NBA Rumors: Boris Diaw and Charlotte Bobcats Reportedly Agree to Buyout
March 21, 2012

Streeter Lecka/Getty Images
With his playing time whittling down to basically nothing, it had pretty much become a foregone conclusion that the Charlotte Bobcats and forward Boris Diaw would be parting ways at some point. Well, it appears as though that time has finally come.
According to Rick Bonnell of the Charlotte Observer, the French big man and the Bobcats organization have agreed to a buyout of his contract. Diaw's contract is expiring after this season anyway, so he only had a prorated amount of his $9 million remaining.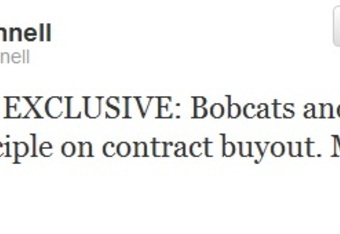 Diaw has had a rough season with the league's worst team as he is averaging 7.4 points, 5.3 rebounds and 4.3 assists per game. He is also shooting a career-worst 41 percent from the field. When Diaw is on his game and being utilized correctly, however, he can be a major asset.
He had nearly identical per-game averages in the previous two seasons with over 11 points, five rebounds and four assists per contest, while shooting much closer to 50 percent. At 6'8", Diaw is one of the best passing bigs in the game and possesses a skill set that some contenders will certainly covet.
It isn't yet known where Diaw might land, but it stands to reason that plenty of teams will be vying for his services. He isn't likely to be a starting player like he has been for the Bobcats over the past few seasons, but he can be a quality piece off the bench that can really help a championship-caliber team.
Although Diaw doesn't have a ton of playoff games under his belt, he was a big part of the Phoenix Suns' deep run in 2005-06 as he averaged nearly 19 points, seven rebounds and five assists per game in the postseason. With that type of résumé, his agent is sure to be fielding a lot of calls in the coming days.