UFC: Has the Time Finally Come for Fedor Emelianenko to Enter the Octagon?
March 21, 2012

Tomokazu Tazawa/Getty Images
Fedor Emelianenko might finally be set to sign for the UFC, three years too late. Everything was in place for him to join in 2003, but the greed of his M-1 management pushed him to Strikeforce instead where he put in a disastrous and potentially career-ending 1-3 run.
There is no doubt that Fedor is no longer the force he once was. The debate over his place in the history of the sport will continue, but no one disagrees with Dana White anymore when he says Fedor is not top 10.
He could still be set to finish his career in the UFC as he is now a free agent and his poor form has probably forced M-1 to reconsider some of their more ridiculous demands and it is the UFC who holds all the cards when it comes to negotiation.
The options for Fedor are limited. ONE FC is now the biggest organization in Asia and he could sign with them which would set up potential fights with Rolles Gracie and Renato Sobral and would also allow him to fight on the next DREAM New Year's Eve show, assuming it actually happens.
ONE FC would be a good option for Fedor and he could continue to headline big one-off events in Russia, but I hope he holds out for the UFC because there are so many heavyweight matchups there and he is still a big enough name to headline a show.
The loss to Dan Henderson was Fedor's third in a row, but he came so, so close to winning that fight and was moving in for the kill when Henderson completely turned things around with one punch. I certainly don't see Fedor as being finished on the basis of that performance and he has won two straight since leaving Strikeforce.
I believe the time has finally come for Fedor to enter the Octagon. He is not as good as he was three years ago, but he would not be the worse fighter in the heavyweight division and he might even surprise a few people.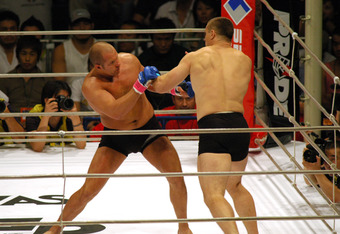 Tomokazu Tazawa/Getty Images
I would not want to see him thrown into the Lion's Den and given a fight with Junior dos Santos, Cain Velasquez or Alistair Overeem straightaway, but there are plenty of opponents who would provide a real test of the 2012 Fedor.
Shane Carwin has lost two fights in a row after rising up to become one of the top two heavyweights in the world and will be ready to return from injury soon. He would be the perfect opponent to welcome Fedor into the UFC and, if not, a rematch with Fabricio Werdum would also make sense as Fedor was doing well in that fight until he got caught with the submission.
Fans with long memories would love to see Fedor face either the recently retired Randy Couture or Mirko Cro Cop and neither fight is completely impossible. A Mark Hunt rematch is an alternative if Hunt can beat Stefan Struve.
There are so many good fights for Fedor and if he can win keep winning then the opportunities for him inside the UFC are endless. He should have signed up in 2009 and I wonder if he regrets not doing so now but it's never too late and now is the time for "The Last Emperor" to finally enter the Octagon.