He's Back: Knile Davis Is Healthy Again, and Ready to Pick Up Where He Left off
March 21, 2012

Kevin C. Cox/Getty Images
Men who are tipping the scales at nearly 230 pounds should not be able to run a 40-yard dash in under 4.4 seconds. It's not fair, it's an abundance of riches, and it also makes life difficult for the 11 men wearing different uniforms who have the task of bringing down this phenomenon once he musters up a full head of steam.
This combination of size and speed is something we rarely see out of running backs, even in today's game which produces more freaks than ever before. There are sensational speedsters like Oregon's De'Anthony Thomas and consistent runners like Wisconsin's stat-sheet destroyer Montee Ball, but neither of these talented backs have this kind of sheer mass to move. 
Arkansas, however, has a back with this kind of size and speed. It's been a while since you've seen this locomotive in motion, but have no fear, you're about to become awfully familiar with him in 2012.
This past season was supposed to be a breakout year for Knile Davis. As a sophomore in 2010, Davis ran for more than 1,300 yards and 13 touchdowns while averaging 6.5 yards a carry. Look a bit deeper, however, and it's obvious why many were anticipating a monumental 2012.
Through the first three games of 2010, Davis picked up just 79 yards on the ground while getting only 14 carries. As the season progressed, so did Knile's production and workload. In the last five games, including the team's Sugar Bowl loss against Ohio State, Davis racked up 770 yards and eight touchdowns. He, much like the team until the final seconds in their final game, was absolutely rolling.
In the offseason, Arkansas QB Ryan Mallett headed to the NFL and some Heisman chatter began to surface for Davis as the 2011 season approached. This was before we knew that Tyler Wilson would step in and quickly become one of the best throwers in the country.
It was Knile's team now, and it was supposed to be the kind of breakout season he deserved. On August 11th, however, this all came to a disturbing, crashing halt.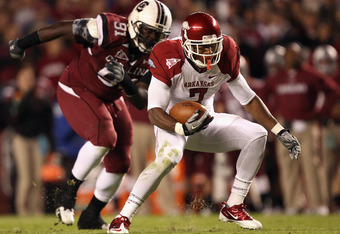 Streeter Lecka/Getty Images
In practice Davis had his ankle rolled up on awkwardly by a defensive tackle, which according to someone watching the practice, caused Knile to let out a scream "so loud it will haunt us in our dreams."
In an instance, his season was over and the disappointment was felt through Hog nation and beyond. We got a taste of what he was capable of in 2010, and college football missed out on one of the game's true up-and-coming talents in 2011.
Arkansas recovered nicely from this situation and went on to have a brilliant season. Their lone losses came to Alabama and LSU, and they headed into this offseason with a convincing win over a good Kansas State squad in the Cotton Bowl.
Their rushing numbers were down nearly a half-yard per carry, but as a whole the stable of backs headlined by Dennis Johnson and Ronnie Wingo Jr. did a nice job filling in—except for the team's two losses. In these games, the Razorbacks ran for a combined 64 yards.
Throughout the ups and downs of the 2011 campaign, however, Davis healed. He was on crutches early on, rehabbing to get back, anxiously waiting for his opportunity to return to the field. The injury was serious enough to keep him out of the entire regular season. While rumors of his return were floated around as the Cotton Bowl approached, in the end this was not to be. Davis healed further.
And now, Davis is most certainly healed.
Each spring the feats of strength and speed tend to circulate through various camps as players test themselves before practice begins. Healthy again, Davis tested his bad ankle and the results were eye-opening.
Sporting News reported that Davis posted a 4.33 in the 40, which was actually clocked at a 4.22. The Arkansas staff added just over a tenth of a second because he ran this on the Hogs' speedy track.
You can question this 40 time all you want, and your argument will likely have some merit. If Davis were to run the 40 in front of scouts in a different environment, he certainly wouldn't run a 4.33. If you're counting the tenths of the seconds here, however, then you're missing what's truly most important. Knile Davis is clearly healthy again, which is wonderful news for Arkansas and a terrible thought if you're the rest of the SEC.
Clearly the talent and athleticism is still there, as are the expectations from fans for Davis to be the catalyst of the offense. Tyler Wilson, who could be the second quarterback drafted in next year's NFL draft, is back. Jarius Wright and Joe Adams, Wilson's favorite targets from a year ago, are not.
Davis heads into this season with a combination of insane expectations accompanied with anxiety and nervousness. There's an enormous canyon between these two vastly different outlooks, but somehow each feels somewhat appropriate given the outcomes of the past two seasons.
The glimpse of greatness was so great that the prospects of a full, healthy year is rousing. He's one of the nation's most exciting talents, and could soon get national recognition for being just that. Then again, he's coming off a very serious injury and it's impossible to predict what will happen before and during the fall.
Arkansas will take on LSU and Alabama once again this season, and both games will be played in their home stadium. If Davis can stay healthy throughout, things could look very different this time around.