Mike Ciesnolevicz: 'I Have Unfinished Business in the UFC'
March 21, 2012

Rob Tringali/Getty Images
Imagine your entire house shaking.
An immediate thought might be an earthquake.
However, if you grew up in the Ciesnolevicz household you would have known it was far from it.
"I remember my entire house shaking from me hitting the heavy bag so hard when I was just 14 years old," Mike Ciesnolevicz told Bleacher Report.
"My parents used to tell me to take it easy," Ciesnolevicz said, laughing. "It was really at that moment when I set the goal to one day make it to the UFC."
Unfortunately for Ciesnolevicz, not everyone believed his dream to be a reality.
Instead, the Williamstown, Pa., product found himself with his back against the wall as he was living in an area where the sport of mixed martial arts was nearly unheard of.
"A lot of people laughed at me and said I would never make it because I was from a small town where there weren't a lot of options for martial arts and progression," Ciesnolevicz said. "However, I was determined and used that as motivation."
"I trained in karate two times a week privately in my hometown with John Korab. He was a former Marine who was a trainer and training partner of world champion Joe Lewis, who was one of the greatest karate fighters of all time," Ciesnolevicz said.
Ciesnolevicz would prove the critics wrong en route to earning a spot on the UFC 95 fight card when the UFC traveled to London, England.
When action began it wasn't long until Ciesnolevicz saw his childhood dream become a reality in a matter of 63 seconds. Ciesnolevicz locked in an extremely tight heel hook, allowing him to defeat the much larger Neil Grove in his UFC and heavyweight debut.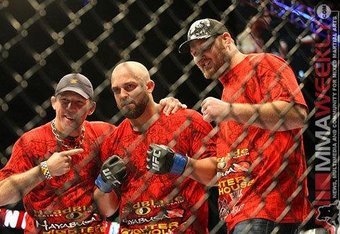 "It was a great moment, but I was kind of let down in a way. My debut was on short notice, I wasn't overly prepared but I wasn't nervous either.  It was a huge burden off my back to finally compete in the UFC. I was sick of people asking me when I was going to fight in the UFC," Ciesnolevicz said. "One misconception the general public has is that they think if you're not in the UFC then you're not a good fighter."
"Pat Miletich and I set a game plan for that fight and it literally worked without a flaw. The last thing he told me before the fight was to baseball slide underneath that big guy and get his leg and that's pretty much what happened."
Ciesnolevicz fell short in his next bout to Tomasz Drwal, a fight that marks one of the biggest regrets of his career. "Mike C" not only took the fight on short notice, but continued to battle through a serious knee injury.
Regardless, Ciesnolevicz refused to miss yet another opportunity to compete at the highest level in the world.
After spending some time away from the Octagon, the former UFC heavyweight will now begin to hike the comeback trail, which could possibly lead him back to the bright lights.
"I would love another crack at the UFC. I feel like I have unfinished business there. I went 1-1 in the UFC and would like another shot to see how things play out," Ciesnolevicz said. "It's very realistic for me to get back in."
"I'm a much more mature and complete fighter these days," he said." I've really worked hard to develop my skill set even in my time away from competing."
As Ciesnolevicz continues his run back towards the top, he's often reminded of the reason he's been given this opportunity in the first place.
His parents.
"My parents really made everything possible for me to begin with. They allowed me to have the car to drive every day of the week to a different gym to train," Ciesnolevicz said. "My dad actually pursued John Korab to train me when he was only teaching people privately."
"I credit all my success to my parents."
For additional information, follow Garrett Derr on Twitter.