2012 Fantasy Baseball NL-Only Outfielder Rankings
March 21, 2012

Christian Petersen/Getty Images
Here are the 2012 LestersLegends outfielder rankings for NL-only leagues.

1. Matt Kemp, Los Angeles Dodgers 
Matt Kemp was one home run shy of reaching the 40-40 club. Throw in 115 runs, 126 RBI and a .324 batting average (.986 OPS) and you have the most complete fantasy outfielder in baseball.

2. Ryan Braun, Milwaukee Brewers 
Assuming that his production won't dip following his failed test and overturned suspension, he's a fantasy monster.

3. Carlos Gonzalez, Colorado Rockies 
CarGo was a disappointment, but he still managed a .295-92-26-92-20 campaign despite missing 35 games.

4. Justin Upton, Arizona Diamondbacks 
Hard to argue with a .289-105-31-88-21 line, especially from a 24-year-old.

5. Giancarlo Stanton, Miami Marlins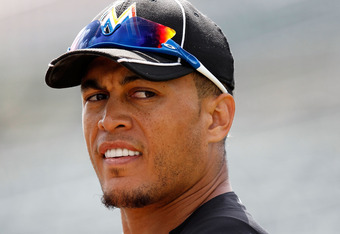 Sarah Glenn/Getty Images
Stanton slugged 34 HRs last year, and the addition of Jose Reyes should provide more RBI opportunities. He could easily lead the league in HRs and RBI.

6. Andrew McCutchen, Pittsburgh Pirates 
McCutchen had a rough season (.259 average) by his standards, but he saw his power jump to 23 HRs. He should be a solid contributor in all five categories.

7. Jay Bruce, Cincinnati Reds 
The power is definitely there. He slugged 34 HRs last year with 97 RBI. He already has 100 career home runs and he'll turn just 25 in April.

8. Matt Holliday, St. Louis Cardinals 
Albert Pujols is going to be missed. How could he not be? Still, Holliday is coming off a .296-83-22-75-2 line in 124 games. At 32 he's not quite ready to lose OF1 status.

9. Hunter Pence, Philadelphia Phillies 
Nothing wrong with a .314-84-22-97-8 line. He was even better for the Phillies, posting a .324 average and .954 OPS.

10. Michael Bourn, Atlanta Braves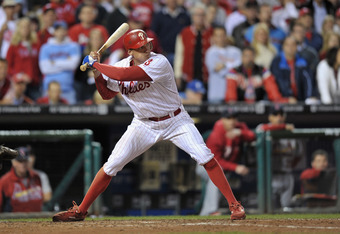 Drew Hallowell/Getty Images
I don't like overpaying for steals, but Bourn gets you so many. He has averaged 58 SBs over the past three seasons. He should post a decent average and approach 100 runs.

11. Michael Morse, Washington Nationals 
He followed up a strong 2010 second half with a .305-73-31-95-2 line. I'm a believer.

12. Corey Hart, Milwaukee Brewers 
Hart has averaged 28.5 HRs over the past two seasons, and has hit 20 or more in four of the past five. He'll also steal you a few bases.

13. Andre Ethier, Los Angeles Dodgers 
Ethier was a shell of himself last year with 11 HRs. He combined for 74 HRs his previous three seasons, though. Health is an issue as Ethier has missed 50 games over the past two seasons.

14. Shane Victorino, Philadelphia Phillies 
Fresh off a .279-95-17-61-19 season, you know what you're getting from Victorino. A solid run total, decent HRs, and nice SBs. It's a bonus if he can get his average back around .290.

15.  Jason Heyward, Atlanta Braves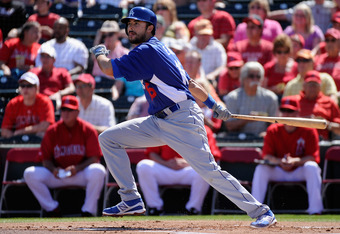 Kevork Djansezian/Getty Images
Heyward had a tough year (.227-50-14-42-9). I feel he's too good not to bounce back.

16.  Drew Stubbs, Cincinnati Reds 
He's a power/speed combo guy, but his 40 SBs were more impressive than his 15 HRs.

17.  Cameron Maybin, San Diego Padres 
Swiped 40 bases last year. He will turn 25 this year, so he likely just scratched the surface.

18.  Jayson Werth, Washington Nationals 
Werth missed playing at Citizens Bank Park. He still managed 20 HRs and has the potential for more.

19.  Michael Cuddyer, Colorado Rockies 
Cuddy hit 20 last year for Minnesota, a number that could increase in Colorado.

20.  Carlos Beltran, St. Louis Cardinals 
After injuries cut short his 2009 and 2010 seasons, Beltran rebounded with 22 HRs.
2012 Fantasy Baseball First Base Rankings
2012 Fantasy Baseball Outfielder Rankings
2012 Fantasy Baseball Starting Pitcher Rankings
Additional 2012 Fantasy Baseball Outfielder Options
2012 Fantasy Baseball Sleepers