NIT 2012 Bracket: Minnesota Golden Gophers Most Dangerous Team Still Alive
March 21, 2012

Jonathan Daniel/Getty Images
The NIT is all about which team is playing its best basketball at the moment, and few teams are as hot as the Minnesota Golden Gophers.
Tubby Smith's squad has won two NIT games by a combined 27 points. In their second-round game against Miami (one of the strongest teams in the tourney), the Gophers jumped out to a 12-0 lead and never looked back. The team ended up hitting a blistering 58 percent of their field goals (28-of-48) as it has now shot over 50 percent for the second straight game.
Leading the charge is Rodney Williams. He has scored 21 points in both games and hit a ridiculous 9-of-10 shots against Miami. After struggling for the majority of the regular season, scoring 11.2 a game, the junior looks as if he finally "gets it" and is now one of the hottest players in the entire tournament.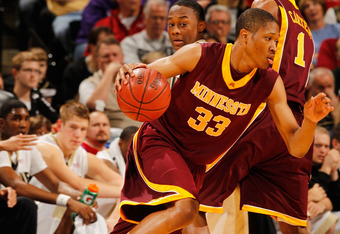 Jonathan Daniel/Getty Images
The other big reason for the Golden Gophers' success has been on the glass.
Minnesota has held an eye-popping 67-to-39 advantage in the rebounding department in NIT play that has led to a plethora of second-chance points.
So what's ahead for the hottest team in the tournament?
On Wednesday it'll face No. 4 Middle Tennessee, a team that relies on its quick guards to create high-percentage shots (it's fourth in the nation in field-goal percentage), but the Blue Raiders don't have a player to match Williams. Their rebounding issues will also come to fruition.
Minnesota, in its potential semifinal, would meet No. 1 Washington, a team that resides in the laughably overrated Pac-12. As long as Minnesota can control the tempo and limit the possessions of the Huskies' high-powered offense, its physicality inside will prevail. The Gophers defense will be a major factor as well.
The other side of the bracket features teams that the Golden Gophers will all be favored against…lower seeds with flaws much more glaring than the Gophers.
Nobody would have ever guessed that a team with a 6-12 conference record would be in position to win the NIT. It's a real testament to how strong the Big Ten has been in the 2011-12 season.
Watch out for the Golden Gophers.
Click here for updated NIT bracket