NCAA Tournament 2012: Florida Gators, Meet the Marquette Golden Eagles
March 21, 2012

Doug Pensinger/Getty Images
The Florida Gators-Marquette Golden Eagles matchup in the Sweet Sixteen has the potential to be one of the best offensive games of the NCAA Tournament.  These two small-ball teams are going to be rolling with offensive confidence, a green light to shoot, and high-energy play.  Their defenses can be an impact on the game with an athletic ability to be disruptive and force turnovers; but, as is the case with both teams, it's only a matter of time before the offense explodes on the court.  
The Florida Gators are an easy read.  This is a shoot-happy team that showed us in round two they'll force the perimeter offense (even when it's not working), but proved they can win without it.  Their press defense is smothering, and their athletic double-teams force bad mistakes and generate fast break opportunities.
Marquette is a different story.  They aren't nearly as predictable or one-note.  Ever since the loss of big man Chris Otule to injury, the Golden Eagles play a variety of styles from game-to-game or even substitution-to-substitution.  The difference falls to the role of Davante Gardner. 
How Marquette's head coach Buzz Williams uses his 6'8", 290 pound sophomore is the style guide to the offense.  Using a little of Gardner means a far quicker, speedier style that revolves around the abilities of Jae Crowder and Jamil Wilson.  These two can play as the team's "big men" and can really hurt you with their offensive range and surprising strength inside.
If Gardner gets more court time, suddenly it becomes about stopping a beast of his size in the paint.  Gardner can battle inside for points and boards, and the fact that he's a .755 free throw shooter means putting him on the line isn't a full-proof strategy.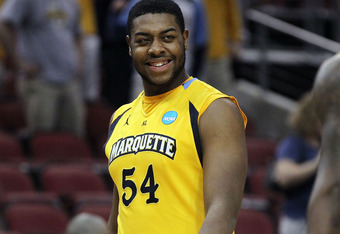 Jonathan Daniel/Getty Images
The match-up to watch would be right there.  Gardner versus Young could make for some entertaining post battles.  However, since Williams likes to run a toss-up, mix-up style of play, it's a possibility this doesn't happen much, instead opting to commit more minutes to Gardner when Young is resting.  Florida has a hefty bench, but not where the frontcourt is concerned; so if there were a better time to easily take command of the paint, it's going to be in Young's absence.
For Young, however, the five shooters make for a greater challenge.  He'll be stretched out and forced to move between the paint and the perimeter in the half court.  This is where that Florida press defense becomes vital.  Florida plays with high energy, deep substitutions, and well-placed double teams.  It'll help cover up slowed rotations by forcing the Golden Eagles into a bad pass and a rushed shot.  This benefits the Gators greatly since these circumstances surround Marquette's 2012 season failures. 
Marquette lost seven games this season.  In a majority of those losses (five to be exact), the team shot terribly.  We're talking about .363 from field when they're averaging .459 on the season.  The Murray State game saw similar struggles from the field (.382), and, while they're coming in with some momentum from the win, early defensive stands may be enough to recreate those struggles again. 
As far as Marquette's defense is concerned, the Gators will have their hands full.  The Golden Eagles are on a good run defensively.  In their last four games, they've been holding opposing teams' shooting percentages to .366 from the field, and, as it directly pertains to Florida's offense, are not unfamiliar defending screens (just ask Wisconsin).  They have given up quite a few perimeter shots, but not at a reliable enough efficiency. 
Florida has momentum in their corner.  At .764, the Gators lead the postseason in field goal percentage and are averaging 1.46 points per shot, which is behind only two teams still remaining in the NCAA Tournament (Kentucky and Ohio, respectively).  It will not be easy to top the Golden Eagles' defense, but all of this team's offensive weapons (thankfully including Kenny Boynton) should be able to match it with success.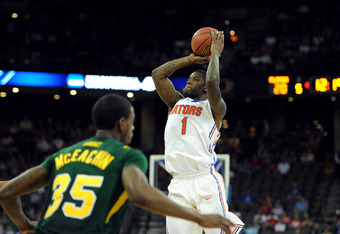 Eric Francis/Getty Images
The other edge is depth.  The teams that beat Marquette this year ran seven or eight guys in decent minutes (10+).  Florida has the depth to wear a good team down.  We saw Billy Donovan work in constant substitutions in the last two games.  With all of their athleticism and all of their speed, there's an expectation that Scottie Wilbekin, Casey Prather, and Mike Rosario are going to get decent minutes on Thursday night.
The Florida player to spotlight in this game is Erik Murphy.  When you look at the teams that beat Marquette, the bigger men with range managed to have great games against the Golden Eagles.  Kris Joseph, Hollis Thompson, and Jeffery Taylor (just to name a few) were 6'7" to 6'8" guys that had exceptional games from the perimeter, on the glass, and in overall efficiency.  Murphy has great range and, if you overlook the Virginia game, has had a decent string of production since the team's second game against Kentucky.
The seven next to Florida's seeding is just a number.  This team is playing well right now, and Marquette is coming off an iffy game with struggles on the offensive side of the ball.  The Golden Eagles are athletic, but Florida has the athleticism and the shooting ability to match them.  If the game is a battle of strength, Young can handle the paint battles with nicely timed double teams (similar to what we saw against Norfolk State's Kyle O'Quinn).   Bradley Beal (it's almost an injustice it took this long to mention him) should continue showing his greatness, Erik Murphy should be able to have his biggest game of the tournament, and Kenny Boynton becomes a very watchable player with his slump broken.