Tom Lewand: Detroit Lions' Unsung Hero of the Offseason
March 22, 2012

Leon Halip/Getty Images
In Mayhew We Trust.
This is the mantra among Detroit Lions fans, as general manager Martin Mayhew continues to astound us with roster moves that shock and confuse (even anger) us, only to have those moves result in an extremely talented core group of players.
Mayhew listens to his scouts, and he knows talent when he sees it. It's because of him and Jim Schwartz that the Lions needed all of three years to go from winless to (potential) perennial playoff contender.
But there was a fair amount of doubt surrounding this offseason, because the Lions were stationed squarely in a hellish salary cap situation with a handful of major free agents set to hit free agency.
And it was neither Mayhew nor Schwartz who came to the rescue this time around. The Lions didn't need to go out and find talented players in free agency. They had to keep their already talented players away from free agency.
It was Tom Lewand's offseason to win or lose. And he has thus far pulled some magic that rivals anything Mayhew or Schwartz have done with the team to this point.
Now, I don't intend to draw divisions between front-office responsibilities. Any roster moves that get made are a result of cooperation and collaboration between Lewand, Mayhew, and Schwartz. You can see that quite clearly from Schwartz' midnight rendezvous to Kyle Vanden Bosch's house in 2010.
When it comes to sticking a guy at the negotiating table and getting him to sign/re-sign, though, that's primarily at the hands of Lewand, the business guy.
For acting president of the Detroit Lions, Lewand is a guy that doesn't get mentioned very often, except for that one time.
But he deserves mention here, because it's pretty much tireless work by Lewand that resulted in the Lions going from $11 million over the salary cap to re-signing every player they wanted (with the exception of Eric Wright, who was given more money by Tampa Bay than the Lions were going to spend on him anyway).
Were you left wondering how the Lions could make Calvin Johnson the most handsomely-paid wide receiver in the league, and save about $9 million in 2012 cap space with the same move? Lewand knows. Lewand is the one primarily responsible for engineering that move, too.
It's Lewand who approached Matthew Stafford, Ndamukong Suh and Nate Burleson about restructuring their deal to get under the salary cap.
And it's Lewand who used the salary cap room created from those two moves to re-sign Jeff Backus, Stephen Tulloch and Cliff Avril (sort of), without cutting any players from other areas of the team.
This is Executive of the Year-caliber material. The man came into the offseason $11 million in the red. Two weeks later, he has figured out a way to hand out big-money deals to every player the Lions wanted to keep.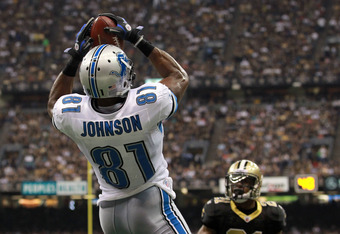 Ronald Martinez/Getty Images
If he can figure out a way to sign Cliff Avril, it's a complete win, but the fact that Lewand is holding firm and refusing to overpay him is shrewd in its own way.
With Tulloch re-signing for what basically amounts to the prime of his career, we're getting close to the point where the bulk of Lewand's free agency work will be done, and we will turn our attention to the NFL Draft, at which point Mayhew and Schwartz will (rightfully) retain the spotlight as finders of talent and architects of winners.
But before that happens, let's make sure Lewand gets his due. This was his offseason to shine, and though he has been very quiet about it, he has been absolutely brilliant.
So we may trust in Mayhew or Schwartz, and there's no reason not to. But this year, we learned we can trust in Lewand, too.
At the very least, Mayhew and Schwartz do.