Purdue Basketball: Robbie Hummel Will Go Down as One of the Great Boilermakers
March 20, 2012

Doug Pensinger/Getty Images
Robbie Hummel is done with his playing career at Purdue University. Sunday evening saw a lot of tears shed, not only from Hummel, but from fans of the Boilermakers. 
Anyone who has followed college basketball over the last four years knows of Hummel. A superstar that had potential as far as anyone. A kid that had a work ethic that could be matched by almost no one. A kid that suffered two ACL tears and a broken back, and still had a successful career. 
It would have been enough for most people to cave in and give up, but Hummel did not. 
Hummel kept fighting through all of the pain both physical and emotional, and took this team to new heights with his leadership and attitude. 
Rarely did you see Robbie Hummel get upset, but when he did it was likely because of disappointment in his own play. He had nothing to be disappointed in.  A career that featured 1772 points, 862 rebounds and 268 assists cannot be summed up by stats.
Hummel meant so much more to Purdue's program.
In 2010 during the Minnesota football game, which happened to be on the same day of the first practice for the basketball program of what should have been Hummel's senior year, really shows how much he meant to this program and university.
The student section was rowdy and crazed as the Boilermakers were leading the Golden Gophers when the news got out that Hummel had re-tore his ACL. The crowd went somber. Being in that crowd and thinking about what happened still gives me chills.  People were crying and hardly anyone had a smile on their face. It was truly a sad day for Boilermakers everywhere; that's how much this kid means to Purdue fans.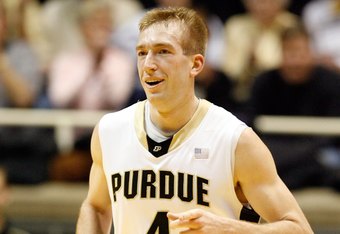 Andy Lyons/Getty Images
Anyone who can do the little things, while setting a good example, and always have a smile on his face is going to be crazed, but Hummel is different.
Robbie Hummel needs to be in the rafters of Mackey Arena, and surely he will be soon, even though not meeting all of the criteria. He exceeded it.
Sure, Drew Brees was great for the football program, and how could you not mention John Wooden for the basketball program? But Robbie Hummel will be immortalized as a legend of Purdue University.
It would be crazy to think he wouldn't be. I mean seriously, even Indiana fans like him.
On Sunday Purdue lost a great player to the NBA, but even more so, Purdue lost an even better person and example of a student athlete.