Big Ten Football: Ranking the Big Ten Quarterbacks
March 20, 2012

Leon Halip/Getty Images
Every Tuesday, The Big Ten Blog will rank the top player at each position for each team in the Big Ten.  Today, we start with the most important position on the field—quarterback.
12. Matt McGloin, Penn State
The losing Big Ten team in the Danny O'Brien sweepstakes just so happens to be the other Big Ten team in the basement of the QB rankings. Hardly a coincidence, that. Matt McGloin has struggled mightily leading the Penn State offense in his two years at the helm, and he's still been miles better than Rob Bolden. PSU can't afford another season down at 95th in total offense and 110th in scoring offense nationwide, and it requires an unreasonable amount of faith to think that McGloin's going to be the one that leads the Nittany Lions substantially higher than that.
11. Tre Roberson, Indiana
Roberson did not have a terribly successful 2011 campaign, but in his defense, Roberson was a true freshman last year on a team that didn't offer a ton of help around him—especially at offensive line. Roberson showed a good deal of potential with his scrambling ability and decision-making, and with Kevin Wilson running the show, it's not unreasonable to think a big 2012 season is coming for Roberson and the Hoosiers.
10. Kain Colter, Northwestern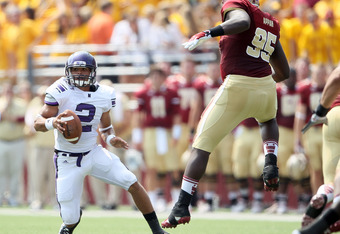 Elsa/Getty Images
Colter is here on the list simply by dint of having thrown the most passes in relief of Dan Persa in 2011, but he's competing with Evan Watkins and Trevor Siemian for the 2012 job. Colter's jaw-dropping versatility (he spent time at RB and WR last year too) means he'll be on the field no matter what next year, but if he's the best quarterback of the three, he'll be lining up under center.
9. Andrew Maxwell, Michigan State
Maxwell is one of the most enticing QBs on this list, not only for his physical skills but for the fact that he's stepping into what should be one of the best offenses in the Big Ten next year. All the top wideouts from 2011 are gone, but tailbacks Le'Veon Bell and Larry Caper are both back, and most importantly, the offensive line's struggles should be largely a thing of the past. Maxwell reminds me quite a bit of the No. 3 quarterback on this list, and he did all right last year.
8. Robert Marve, Purdue
Few quarterbacks have been as star-crossed as Robert Marve...and one of them happens to be backup Rob Henry. The two QBs have been hampered by leg injuries throughout their careers—this is actually Marve's sixth year of eligibility—but when it comes to actual on-field talent, Marve is the best that Purdue's got. Marve was outplayed last year by Caleb TerBush, as Marve was still recovering from his own ACL tear in 2011. TerBush is looking to retain the starting role in 2012, but if Marve is 100 percent he should play his way atop the depth chart fairly quickly.
7. Nathan Scheelhaase, Illinois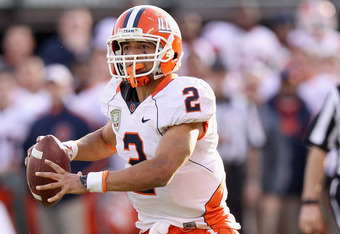 Ezra Shaw/Getty Images
Halfway through the 2011 season, it appeared that Scheelhaase was going to be far, far higher on this list than sixth. His two-man game with WR AJ Jenkins was lethal, and he was running both the pro-style offense and option attack with efficiency. The bottom dropped out for Illinois last year, though, and Scheelhaase actually found himself riding the pine in favor of Reilly O'Toole in some games late in the year. It'll be up to Tim Beckman as to how Scheelhaase is used going forward, but if Scheelhaase retains the starting role he's probably got some un-learning to do from the Ron Zook era.
6. MarQueis Gray, Minnesota
MarQueis Gray was one of the crown jewels of Tim Brewster's 2008 recruiting class and definitive proof that the former Texas assistant could bring top-tier talent to the hinterlands of the Big Ten. Neither Brewster's nor Gray's careers exactly complied with that idea, though, and Brewster quickly found himself out of a job while Gray had to endure academic penalties and a career that saw him bounce between QB and WR. Under Jerry Kill, however, Gray has found stability under center and he took massive strides last year. Gray has a devastating combination of size and speed, and he'll be counted on to put up huge numbers in this, his last opportunity to make good on his freshman hype.
5. Taylor Martinez, Nebraska
T-Magic has been something of an enigma in his first two years with the Huskers, dazzling fans with his blinding speed and then horrifying them with his poor mechanics and decision-making when it comes to throwing the ball. The drama between Martinez and head coach Bo Pelini seems to be largely behind the two men, and Martinez actually put together some decent passing numbers in the Big Ten (even as his rushing touchdowns basically evaporated, which is something to keep an eye on in 2012), but he's going to need to put it all together on a consistent basis here in his last two years with the Huskers.
4. James Vandenberg, Iowa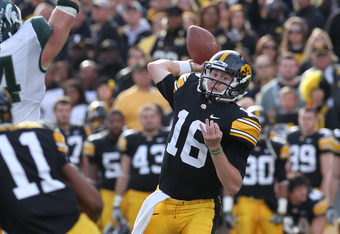 Reese Strickland/Getty Images
Vandenberg wasn't a thrilling prospect for Iowa fans coming into 2011, as he had only seen limited action in 2009 and wasn't highly recruited coming out of high school in small-town Iowa; many fans were wondering aloud before the season whether vaunted freshman A.J. Derby would be given a certain amount of snaps at QB as a change of pace.
That obviously didn't happen, and instead Vandenberg set Ferentz-era records at Iowa in both pass attempts and passing yardage; he also finished with 25 touchdowns and 6 interceptions while leading the Big Ten in passing efficiency after half the year. Vandenberg's going to miss Marvin McNutt, to be sure, but he's got Kirk Ferentz's trust in spades for his senior season.
3. Braxton Miller, Ohio State
Braxton Miller wasn't supposed to be thrust into the spotlight in 2011; he was the heir apparent to Terrelle Pryor, to be sure, but Pryor was committed to playing his senior year after incurring a suspension in late 2010, and Joe Bauserman was the putative starter for the five games that Pryor was assumed to be missing. Obviously, that didn't work out, and it quickly became apparent to then-coach Luke Fickell that Ohio State was better off taking its lumps with Miller learning on the fly as the starter.
OSU adjusted to a run-heavy offense, but Miller was the engine that made that rushing offense hum, leading the team in rushing yards and using his escapability to turn pass plays into big gains on the ground. Now Urban Meyer is the coach, and if anyone knows how to use a dual-threat QB, it's Meyer. Look for strong numbers this year and an unbelievably 2013 (and beyond) from Miller here.
2. Danny O'Brien, Wisconsin
When we first printed this list, Wisconsin was dead last, with just Jon Budmayr (who's suffering from lingering nerve problems in his throwing arm) and Curt Phillips (two ACL tears in his right knee) in front of Joe Brennan and walk-on Joel Stave. In steps Danny O'Brien, who was the ACC Freshman of the Year under Ralph Friedgen in 2010 only to be thrown under the bus by Randy Edsall one year later. Randy Edsall ruins everything. You should know this by now.
O'Brien looks like a logical fit for Wisconsin because not only is he a talented passer, he's got a creative offensive coordinator in Matt Canada aboard with him. Canada was especially talented at using multiple formations, misdirection, and timing plays to keep defenses off-balance. That plays into O'Brien's strengths, and since Montee Ball's still in the backfield, defenses will be looking run-first and giving O'Brien single matchups with the wideouts most of the time. That's mighty helpful too.
1. Denard Robinson, Michigan
Among quarterbacks returning for 2012, Denard Robinson led the Big Ten in rushing yardage. That much is obvious. When it comes to passing efficiency, though, the Big Ten leader was...Denard Robinson, once again. "Bad Denard" rears his head multiple times a game, and the end result is usually either an interception or a ball thrown so badly not even a defender can get to it, but his production is still undeniable. Look for one last triumphant season from Shoelace as he makes a push for Pat White's FBS record for quarterback rushing yardage—and, more importantly, for a Big Ten title.