Matt Jarvis Exclusive: Wolves Winger on EPL Survival, Euro 2012 Hopes and Muamba
March 21, 2012

Wolves winger Matt Jarvis is remarkably upbeat for a man whose team sits at the bottom of the Premier League, are without a win in 14 games and fresh off a 5-0 home defeat to Manchester United.
He's been in this spot before, of course—this will be the third straight relegation dogfight for Jarvis and Wolves since they came up from the Championship in 2009—and the 25-year-old is battle-hardened for the weeks ahead.
"The biggest part is to stay strong and positive as a squad," Jarvis says. "We've done that the last two years.
"We've got nine games to go and we can still get ourselves out of it. It's that old cliche of treating every game as a cup final from now until the end of the season."
Jarvis tells me the morning's training session focused on "leg work maintenance" and watching back videos of their humbling at the hands of United.
Wolves weren't helped by the sending off of Ronald Zubar in the first half on Sunday—which left Terry Connor's team painfully exposed and at the mercy of a ruthless United in the mood for a killing.
"As a team it's pretty demoralizing being beaten 5-0," Jarvis says. "We worked pretty hard to keep going and stay as solid as we could, but United are a fantastic side and very clinical.
"On a personal note, I was pleased with the part of the game I could influence, but it's not really about that."
Jarvis says Connor has brought fresh ideas to training and tactics since taking over from Mick McCarthy in February. He also leans more heavily on video analysis than the man he served as an assistant.
But thus far his approach is yet to bear fruit. Connor's four games in charge have yielded just a solitary point and his team has failed to score in its last three.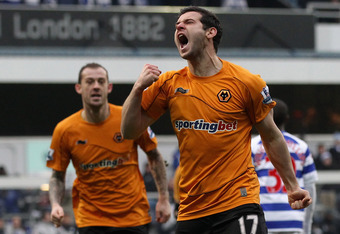 Clive Rose/Getty Images
It's not looking good, but if Wolves do go down, will Jarvis go with them?
"All I can say is I'll be doing my best for Wolves to make sure that doesn't happen," Jarvis says.
Jarvis will likely be in demand either way. He was named the supporters' player of the year at Wolves last season and his reputation has been steadily building with every impressive turn on their left flank.
"My role is to attack and get crosses in and to score goals," he says. "That's the part that gets the fans excited. I enjoy the buzz of taking on my fullback and putting in a cross.
"Every week you come up against world-class, international players. But at this level you've got to back yourself to beat anybody."
Arguably the high point of Jarvis's career so far was a call-up to Fabio Capello's England squad last March—an achievement he attributed at the time to his desire to prove Millwall wrong for releasing him as a 16-year-old.
He made his debut as a substitute against Ghana and, despite not featuring since, still harbors ambitions of making the squad for Euro 2012.
"I've got to make sure I keep playing consistently," he says. "If I can keep my form and score a few more goals, then we'll see.
"I enjoyed being part of the England squad and everybody treated me very well there."
When it comes to life in the Premier League this season, Jarvis says it's hard to say which is the best team he's come up against.
"United were clinical on Sunday, but Stamford Bridge and The Emirates are fantastic places to go as well," he says.
"We always seem do best against the big sides when they're not expecting it."
Next up for Wolves is a trip to face Norwich at Carrow Road on Saturday, followed by the visit of fellow strugglers Bolton a week later in what will be a crucial game for both teams.
By that time, the football world will be hoping for more good news on the condition of Bolton's Fabrice Muamba, whose cardiac arrest during their FA Cup tie with Tottenham at White Hart Lane this past Saturday has prompted an outpouring of support from everybody in the game.
"It just puts everything in perspective," Jarvis says. "When something like that happens you have to sit and take notice and just hope that he's alright.
"It puts everything else into the background. Nothing matters."
And with that I let Jarvis return to a well-deserved afternoon off—time he typically chooses to spend with family and friends, or perhaps indulging his new passion for golf.
Nine games remain for Wolves to save their season and their most consistently impressive player will be key to their chances. Having spent time talking to him, you can't help but hope they do it.
Matt Jarvis wears MetaSox performance socks, which feature advanced silicone technology designed to aid protection from injury, improve power and enhance comfort to the player. Available exclusively at www.prodirectsoccer.com