Hines Ward Retirement: Steelers WR Begins Hall of Fame Debate After Announcement
March 20, 2012

Karl Walter/Getty Images
A magical run came to an end Tuesday when famed Pittsburgh Steelers wide receiver Hines Ward retired. 
A man known for his aggressive play bowed out of the game gracefully in a press conference where he officially ended his 14-year career. 
NFL Network's Andrew Siciliano reported the retirement via tweet:
Press release: Steelers' all-time leading wide receiver, Hines Ward, has announced that he will retire after 14 seasons with Pittsburgh.

— Andrew Siciliano (@AndrewSiciliano) March 20, 2012
There is simply no way to paint a picture of his career with numbers assigned to it. More than his three AFC Championships, two Super Bowl trophies and one Super Bowl MVP, he was a polarizing player who ignited both sides of the sidelines. 
He played the game one way—hard. 
Now comes the question of where this star receiver fits in with the greatest to ever suit up. His winning accolades are as impressive as any other, winning a couple of Super Bowls for one of the most storied franchises in the league. 
His 1,000 receptions led to 12,083 yards and 85 touchdowns.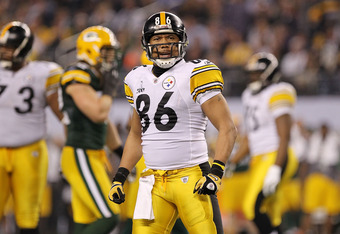 Doug Pensinger/Getty Images
He fits in right there with Art Monk, who finished his 16-year career with 12,721 yards and 68 touchdowns. The great Michael Irvin played 11 years and finished with 11,904 and 65 touchdowns. 
More than being the best that ever played, Hall of Fame players leave their mark on the game, forever changing how we think of how this great game is played. 
Ward was a true Steelers player—tough, aggressive and willing to do what it took to win. He took as much pride in setting blocks as he did in breaking off for a 40-yard receiving touchdown. 
It all meant the same to him if there was another win on the board. 
The man played for team first, and that is exactly why this announcement is so fitting for Ward. He enjoys a luxury that so few modern-day stars are afforded. 
Hines Ward came into the league as a third-round pick by the Pittsburgh Steelers and will leave 14 years later with the same team that drafted him.
He leaves behind a glorious black-and-yellow legacy, which is more than enough for him. The accolades will be icing on a fabulous career.
Hines Ward retired on Tuesday afternoon, leaving behind a hole in the game that will never be replaced.