Gilbert Arenas Won't Ruin Chemistry of Young Memphis Grizzlies
March 20, 2012

Gilbert Arenas is looking to show that he's still got the game to match his name, and the Memphis Grizzlies are a perfect landing spot for him as he pursues his road to return in the NBA.
After Arenas worked out with the Los Angeles Lakers and the team decided to pass on signing him, there were questions about how much he might have left in the tank despite making a "positive impression," according to Adrian Wojnarowski of Yahoo! Sports.
Two sources familiar with the workout said Arenas moved well and made a positive impression, but there was no sense of how quickly—if at all—the Lakers would pursue signing him to a free-agent contract.
Arenas has a bad rap among a great deal of fans for how the recent seasons of his career have gone.
After being traded to the Orlando Magic in 2011, Arenas struggled to adjust and turned in meager averages of 8.0 points and 3.2 assists on just 34.4 percent shooting.
Some simply wrote it off as Arenas being washed up, but that wasn't the whole story.
After Orlando used its amnesty clause to rid the team of Arenas and his behemoth contract before this season began, the point guard went off the grid in order to get his health in order.
In fact, Arenas got that "Kobe treatment" on his knees, according to ex-teammate Nick Young (via Truth About It).
"Yea, he's been working out. He said he got the—I don't know if I'm supposed to say this—but he got that Kobe treatment on his knees.

"Yea, yea…you could say it's the Kobe System, but he said it feels great, his knees feel great, and he's been working out. When I seen him last time, he looked like he was in shape. He lost a lot of weight."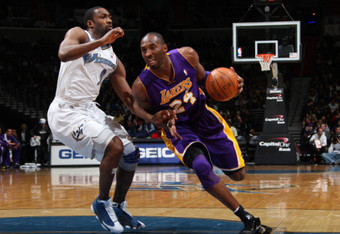 After Arenas worked out for the Lakers, we didn't hear much from him.
He did a lengthy interview with Sam Amick of Sports Illustrated (a must-read for any basketball fan) and opened up quite a bit about his recent struggles in the league and what was next for him, but we didn't hear much about potential landing spots for the veteran point guard.
Until now.
Following a workout for the Memphis Grizzlies, the team is expected to sign him to serve as a backup behind Mike Conley.
Ronald Tillery of the Memphis Commercial Appeal has the latest on Arenas joining the Grizzlies.
The Grizzlies, meanwhile, had already spent quality time with Arenas and now are on the verge of signing the 10-year veteran to a deal for the rest of this season, according to sources close to the process.

Arenas, 30, appeared slender and shot the ball well during the workout. Arenas only needed to pass a physical he was scheduled to take Monday afternoon and agree to a prorated veteran's minimum contract requiring the Griz to pay about $300,000.
According to Tillery, Arenas declined to comment when a reporter approached him following the workout and simply said "hope to get to know you soon."
This is a new Arenas. Everyone makes mistakes, nobody is infallible.
The Grizzlies hope that Arenas can provide an answer behind Conley, as the play from both Jeremy Pargo and Josh Selby has been inconsistent from the bench, and Arenas arrives with zero expectations in an ideal market.
The media spotlight won't be intense, nobody is expecting him to play a major role and Arenas seems genuinely excited about the chance to return to the league.
He's not coming in to do things his way, nor is he going to come in and be disruptive.
The Grizzlies are giving him the second chance that he's longed for, and he understands that there may not be another opportunity for him if this one goes south.
Memphis wasn't afraid to send Allen Iverson packing when the experiment to bring him did not work out, and they'll have the same philosophy with Arenas.
Arenas won't disrupt the chemistry of this hard-nosed Grizzlies team because he won't have the opportunity to do so.
It's a situation that could work out well for both parties, but Arenas has to buy in 110 percent.
Judging by his offseason quotes and desire to return to basketball, it sounds like there is a good chance of that happening.