Fantasy Baseball Sleepers 2012: Hunter Pence and Stars Ready for MVP-Type Season
March 20, 2012

Rob Carr/Getty Images
Every season presents the exciting prospect to watch and the various possibilities of players that will break out into a MVP-type season.
Last season saw Jacoby Ellsbury, Curtis Granderson, Justin Verlander all break out into some of the top players in the game, especially for fantasy purposes. All three of these players are projected to be drafted in the first three rounds this season.
Here are four players who have the potential of breaking out into an MVP-type season for you.
Hunter Pence, Outfield, Philadelphia Phillies
Pence was acquired by the Phillies at the trade deadline last season from the last-place Astros. Since joining the Phillies, Pence hit .324 over 54 games with 11 home runs and 35 RBI.
Pence will enjoy hitting in a more potent offense for a full season for the first time in his career. It is not out of the question for Pence to approach a .325/30/100 season this year. A more conservative number would be around .315/20/90.
Either way, Pence has the ability to put up MVP-caliber numbers this season for your fantasy team.
Giancarlo (Mike) Stanton, Outfield, Miami Marlins
In just his second full season last year, Stanton hit .262 with 34 home runs and 87 RBI. There is no reason to doubt that his numbers will only continue to grow.
With Miami signing speedster Jose Reyes this offseason, Stanton should have more players getting on base in front of him in the lineup. This would allow for more RBI opportunities which could help put him over the top.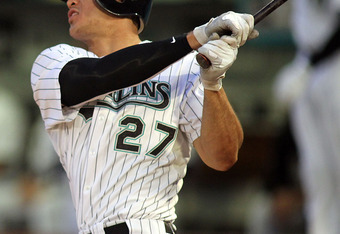 Marc Serota/Getty Images
The Marlins' new park has dimensions of 344' down the left field line, 386' to left-center, 422' to center field, 392' to right-center and 335' down the line to right. While that is a large power alley in the center of the field, those distances are easily manageable for the powerful Stanton.
A line of .270/40/100 is attainable by Stanton. He is a fantasy mainstay for quite some time in the future.
Evan Longoria, Third Base, Tampa Bay Rays
In an injury-shortened season last year, Evan Longoria hit .244 with 31 home runs and 99 RBI over 133 games and 483 at-bats.
That gives him a rate of a home run per 15.58 at-bats. With that rate, if he had even 90 more at-bats (which is how much he had in 2010), he would have hit another 5.8 home runs, creating a new career high for him with 37.
This all occurred during a season that was considered a down year for the third baseman.
His average will not stay at .244 this season. Longoria is too good of a hitter to have a low average like that. Expect his average to be right around .280 this season, with the ability to put up 35-plus home runs and more than 100 RBI for your team at a very thin third base.
Adrian Gonzalez, First Base, Boston Red Sox
Here's a secret for you. Gonzalez played last season not at full strength.
According to Rob Bradford of WEEI, Gonzalez had to alter his swing last season due to his shoulder. This caused his power numbers to drop.
Gonzalez hit a career-high .338 average in his first season in Boston with 27 home runs and 117 RBI. If he could do that with an injured shoulder, just imagine what he can do now that he is fully healthy.
His average is likely to dip down to just above .300 due to his abnormally high BABIP of .380 last season. However, he will still be valuable.
Expect a line of .305/30/115 out of the slugging first baseman for the Red Sox this season as he threatens for the AL MVP.